Nope. Most polls still don't show Ted Cruz beating Hillary Clinton in November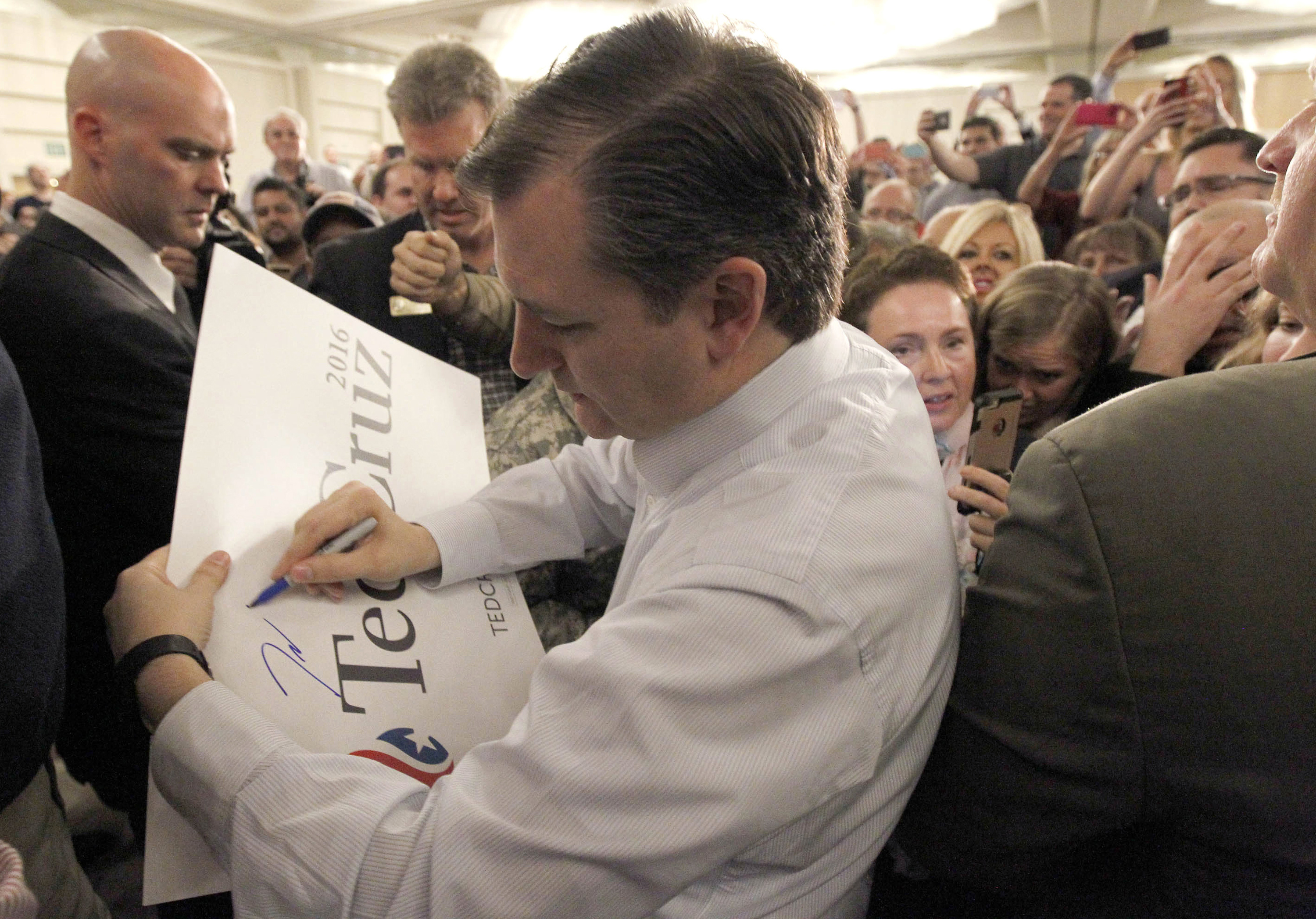 Republican presidential hopeful Ted Cruz brought his fiery calls for limited government and lower taxes to California on Monday, during stump speeches in Irvine and San Diego.
The Texas senator also brought a claim, one PolitiFact recently rated Mostly False, about what the polls show in a general election matchup between him and Democratic frontrunner Hillary Clinton.
"The polling shows over and over again that, unlike Donald Trump, that with me as the (GOP presidential) nominee, we beat Hillary Clinton," Cruz told supporters at an Irvine rally.
Sen. Cruz makes his claim about the polls at the 24 minute mark in the above YouTube video.
Here's the Mostly False claim PolitiFact examined, based on comments Cruz made on CNN on April 7.
"My focus is on beating Hillary Clinton, and poll after poll after poll shows Donald losing badly to Hillary. And poll after poll after poll shows me beating Hillary."
The claims are substantially the same. When rating the statement Cruz made in Irvine, PolitiFact California will apply the same research used by national fact-checking website PolitiFact when it examined Cruz' claim on CNN.
Why PolitiFact rated this claim Mostly False
PolitiFact found Cruz was right about polls showing GOP frontrunner Donald Trump losing to Clinton in a November matchup. It rated that statement True earlier this week.
But PolitiFact found Cruz wasn't accurate when portraying his own standing against Clinton in the surveys.
PolitiFact examined recent national polls archived on RealClearPolitics.com and found that the Texas senator is off.
It found: "Of the nine surveys released in the last month, Cruz beats Clinton in only one — a Fox News poll where Cruz scores 3 percentage points higher than Clinton. The two were tied in the latest McClatchy/Marist poll and in a CNN/ORC poll. The margins of error were +/- 3 percentage points.
In the other six polls, Clinton beat Cruz. In four of those surveys, Clinton's advantage exceeded the margin of error.
Cruz was looking stronger against Clinton in February, where he tied or beat Clinton in five of six surveys. But in only one of those polls was Cruz's edge greater than the margin of error.
If you use the most recent results from the various polling organizations since Feb. 4, Cruz wins in two, ties in two and loses in seven."
PolitiFact contacted Cruz' spokeswoman last week to ask about the results but didn't hear back.
It concluded: "So when Cruz says he beats Clinton in poll after poll after poll, he's short a poll or two."
Our ruling
PolitiFact rated Cruz' claim on CNN as Mostly False. That rating means it has an element of truth but ignores critical facts that would give a different impression.
Likewise, PolitiFact California rates Cruz' claim at the Irvine rally as Mostly False.
Click here for more on the six PolitiFact ratings and how we select facts to check.
https://www.sharethefacts.co/share/acdaa0a1-592b-435d-98ee-eeb5af77a286