No, Obama didn't give the Presidential Medal of Freedom to Cosby, Weiner and Weinstein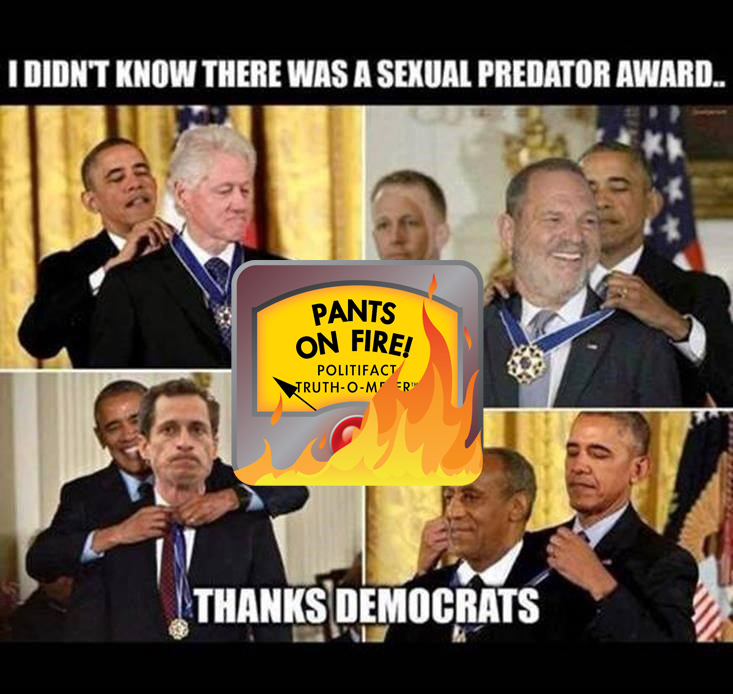 When news broke that financier Jeffrey Epstein had been arrested on sex trafficking charges, political rumors immediately started circulating on online.
Federal prosecutors allege that Epstein coordinated a sex trafficking scheme by paying teenage girls to engage in sex acts. News outlets and social media users were quick to point out his affiliation with the Democratic Party and his connections to politicians, including President Donald Trump and former President Bill Clinton.
While there is little evidence to suggest that such figures knew about Epstein's alleged crimes, Facebook users and pages are capitalizing on the link between Epstein and Democrats to post inflammatory claims that link the party to sexual misconduct.
One such post includes a meme with photos that claim to show former President Barack Obama awarding the Presidential Medal of Freedom to four men: Clinton, actor Bill Cosby, former congressman Anthony Weiner and former film producer Harvey Weinstein. All four have been either accused of or charged with sexual assault or misconduct in the past.
"I didn't know there was a sexual predator award… thanks Democrats," the post reads.
The post was flagged as part of Facebook's efforts to combat false news and misinformation on its News Feed. (Read more about our partnership with Facebook.) Several comments suggested people thought the page was real, and the meme has racked up thousands of likes, shares and comments. So we wanted to see if the photo was authentic.
Turns out, all but one of the images included in the meme are bogus.
A reverse image search for the entire meme brought us to a Snopes fact check from October 2017. Fact-checker Dan Evon reported that the photo of Obama awarding the Presidential Medal of Freedom to Clinton is authentic — Clinton was awarded the honor in November 2013.
But the photos of him purportedly giving the prize to the other three men are fake. For starters, only Cosby is included on the Senate's official list of people who have won the Presidential Medal of Freedom.
A reverse image search for the photo of Weinstein brought us to a HuffPost gallery with a photo of former Vice President Joe Biden receiving the medal from Obama in January. As Snopes first reported, it looks likes someone superimposed Weinstein's face over Biden's to make it look like the former man had won the award instead of the latter.
A reverse image search for the photo of Weiner brought us to a France 24 story with a video thumbnail of Tom Hanks receiving the medal from Obama in November 2016. It looks like the Weiner image was created based on the photo of Hanks.
No surprise, the photo of Cosby purportedly getting a Presidential Medal of Freedom is fake too — but not for the reasons you'd expect.
A reverse image search for the image of Cosby from the meme took us to a Mic story about Bruce Springsteen giving a concert at the White House. The article includes a photo of Springsteen receiving the award in November 2016 which, again, appears to be the base for the bogus Cosby image.
But Cosby has received the Presidential Medal of Freedom before. George W. Bush gave it to him on July 9, 2002, according to the Senate's list of winners.
Our ruling
A Facebook meme claims to show Obama awarding the Presidential Medal of Freedom to Bill Clinton, Bill Cosby, Anthony Weiner and Harvey Weinstein.
The Senate has only listed Clinton and Cosby as official winners of the Presidential Medal of Freedom. Reverse image searches on all the photos included in the meme reveal that all but the image of Clinton are doctored. Other fact-checkers have debunked this meme before.
The Facebook post is not accurate and makes a ridiculous claim. We rate it Pants on Fire!