Trump did not threaten to rename White House for Astros after World Series boos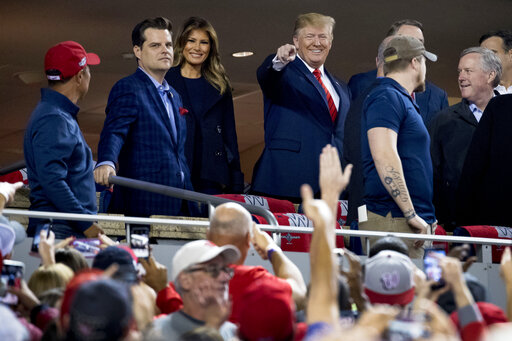 After a day in which he announced the death of terrorist leader Abu Bakr al-Baghdadi, President Donald Trump attended Game 5 of the World Series in Washington where he was met with some loud boos and taunts of "lock him up!"
The booing occurred at the end of the third inning when the Jumbotron showed Trump, wife Melania and other guests at the game.
On the same night, a viral screenshot of a tweet purportedly written by Trump rhetorically punched back with allegiance to the red state of Texas and its baseball team.
"Fine you boo me DC? Go #Astros, Texas loves me, I get the best kind of love there. I'll be renaming the White House the Orange House," stated the Oct. 27 post, which was posted on Facebook.
The post was flagged as part of Facebook's efforts to combat false news and misinformation on its News Feed. (Read more about our partnership with Facebook.)
Trump didn't really write that.
We looked through Trump's tweets on Oct. 27 and found he did not tweet about being booed at the game. We also searched through deleted tweets on ProPublica's Politwoops website and didn't find it there either. The screenshot appears to be created using a fake tweet generator, which mimics real accounts but is most definitely not.
We rate this statement Pants on Fire.