Facts are under assault in 2020.
We can't fight back misinformation about the election and COVID-19 without you. Support trusted, factual information with a tax deductible contribution to PolitiFact
I would like to contribute
If you maintain social distancing indoors "there's no reason to have an additional mask on top of that."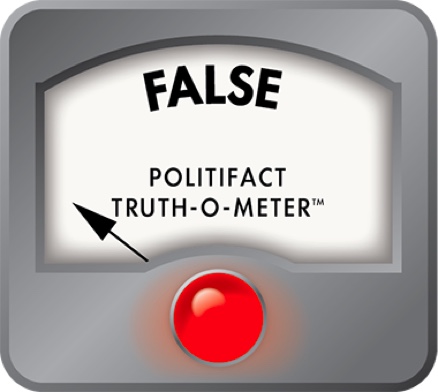 Florida lawmaker offers bad advice on masks and social distancing on CNN
If Your Time is short
Multiple scientists have encouraged people to wear masks in public in addition to other measures including hand washing and social distancing.

The CDC recommends that people wear cloth masks in public especially when social distancing is hard to maintain.
Florida state Rep. Anthony Sabatini brought his legal fight against local government mask mandates to cable news, saying the requirements violate "facial autonomy" and aren't very effective.
Sabatini, a Republican from Howey-in-the-Hills in Lake County, has filed at least eight lawsuits against local governments including Leon County, where a judge upheld the mask ordinance, and Hillsborough County. Republican Gov. Ron DeSantis has deferred to local officials and not issued a statewide order despite record-setting cases of the disease.
CNN's Brianna Keilar asked Sabatini if he wore a mask at the grocery store.
"Absolutely not," he replied. "I've maintained social distance though."
Keilar pushed Sabatini to explain why he is against masks when research supports wearing them to limit the spread of the coronavirus. 
"The studies that I have seen, the studies that have been most popular over the last 100 days of this crisis, have said mask or social distancing. So if you're maintaining basic social distancing, like I do, there's no reason to have an additional mask on top of that," Sabatini said July 15.
Is that really what the research shows? Scientists said he is wrong. 
"Doing both provides best but likely not complete protection," said Volker Mai, a University of Florida epidemiologist.
Federal government recommends wearing masks
Masks alone don't guarantee protection from the virus. But they can help slow down the spread.
The U.S. Centers for Disease Control and Prevention recommends that people wear cloth face coverings in public when around people who don't live in their household, "especially when other social distancing measures are difficult to maintain." Studies show cloth face coverings reduce the spray of droplets carrying the virus. 
Sabatini did not respond to our query about the recent studies he was citing by deadline. About a week earlier, Sabatini tweeted a link to a 2006 paper by researchers at the Center for Biosecurity of the University of Pittsburgh Medical Center in Baltimore about disease mitigation measures amid pandemics.
The paper, which included a couple of paragraphs about masks, stated that many in the public in Asia wore surgical masks during the SARS pandemic. "Studies have shown that the ordinary surgical mask does little to prevent inhalation of small droplets bearing influenza virus," it said. "The pores in the mask become blocked by moisture from breathing, and the air stream simply diverts around the mask. There are few data available to support the efficacy of N95 or surgical masks outside a healthcare setting."
We interviewed three of the co-authors of the 2006 paper about Sabatini's comment. Each one stressed the current medical advice that wearing masks reduces the likelihood that someone who is unaware that they are contagious will spread the virus. 
"That paper was 14 years ago and accurately reflected what was known at the time," said Dr. Tom Inglesby, who is now the director of the Johns Hopkins Center for Health Security. "We have learned a lot in the course of this pandemic."
Inglesby pointed to the current universal masking recommendation from the CDC leadership which cites research that found universal masking was associated with a significantly lower rate of COVID-19 among health care workers at a Massachusetts hospital system, it found.
"This and other current studies support the use of masking by the public, and I do recommend the use of masks and social distancing together," said Inglesby, who testified before a congressional committee in May in favor of cloth mask wearing.
Dr. Tara O'Toole, one of the coauthors, noted that the 2006 paper referred to masks as protection for the wearer. The point of wearing a mask during the COVID-19 pandemic is not to protect oneself, but to protect those around you. "I wear my mask to protect you. You wear your mask to protect me," O'Toole said.
RELATED: NC Republican wrongly says masks 'do not work'
PolitiFact has reviewed multiple studies ond mask use during the COVID-19 pandemic. A June study published in The Lancet medical journal found that "face mask use could result in a large reduction in risk of infection."
One reason experts recommend wearing masks and social distancing indoors is that a person can't always prevent others from coming within six feet.
"It is impossible — impossible — to always stay six feet away from others, indoors," said Andrew Noymer, a disease prevention expert at UC Irvine. "Someone brushes past in the grocery-store aisle. Someone is leaving the bathroom just as we go in. Indoor air circulation is unpredictable due to HVAC idiosyncrasies. Best practice is to mask AND distance."
Our ruling
Sabatini said on CNN that if you maintain social distancing indoors "there's no reason to have an additional mask on top of that."
Multiple scientists and the CDC say that it is best to wear a mask indoors in public in addition to other measures including social distancing and hand washing. We did not find research to support Sabatini's claim that if you social distance you don't need to wear a mask, too.
We rate this statement False.
CNN, Interview with State Rep. Anthony Sabatini, July 15, 2020
State Rep. Anthony Sabatini, Tweet, July 8, 2020
U.S. Centers for Disease Control and Prevention, Considerations for Wearing Cloth Face Coverings, July 16, 2020
Johns Hopkins, Johns Hopkins Center for Health Security Director Testifies at First Briefing Hosted by the US House of Representatives Oversight and Reform Select Subcommittee on the Coronavirus Crisis, May 13, 2020
JAMA Network, Universal Masking to Prevent SARS-CoV-2 Transmission—The Time Is Now, July 14, 2020
Biosecurity and Bioterrorism: Biodefense strategy, practice and science, Disease Mitigation Measures in the Control of Pandemic Influenza, 2006
Respirology, Use of non-pharmaceutical interventions to reduce the transmission of influenza in adults: A systematic review, April 14, 2015
WESH, State Rep. files lawsuit against DeLand over mask ordinance, July 2020
New York Times, Florida Coronavirus Map and Case Count, accessed July 16, 2020
Tallahassee.com, Judge upholds Leon County mask ordinance, says it 'does not violate any constitutional rights' July 10, 2020
PolitiFact, Multiple studies "all said for decades, masks do not work with viruses," July 9, 2020
Stories and fact-checks by PolitiFact, "Face masks, including homemade ones, are effective COVID-19 protection, experts say," posted May 18, 2020; "Masks for COVID-19 are effective, as a six-part Facebook takedown fails," posted June 12, 2020; "To fight COVID-19, CDC now says wear masks in public," posted May 1, 2020.
Email interview, Andrew Noymer, associate professor of population health and disease prevention, University of California-Irvine, July 15, 2020.
Email interview, Scott Pauley, Centers for Disease Control and Prevention spokesman, July 17, 2020
Email interview, Dr. Tom Inglesby, director of the Johns Hopkins Center for Health Security, July 16, 2020
Email interview, Tara O'Toole, Executive Vice President at In-Q-Tel, July 16, 2020
Email interview, Jennifer Nuzzo, associate professor in the Department of Environmental Health and Engineering and the Department of Epidemiology at the Johns Hopkins Bloomberg School of Public Health, July 17, 2020
Email interview, Volker Mai, associate professor Department of Epidemiology College of Public Health and Health Professions and College of Medicine, July 16, 2020
Browse the Truth-O-Meter
More by Amy Sherman
Support independent fact-checking.
Become a member!
In a world of wild talk and fake news, help us stand up for the facts.