Stand up for the facts!
Misinformation isn't going away just because it's a new year. Support trusted, factual information with a tax deductible contribution to PolitiFact.
I would like to contribute
Florida state Senate candidate Ray Rodrigues "is promoting illegal immigration."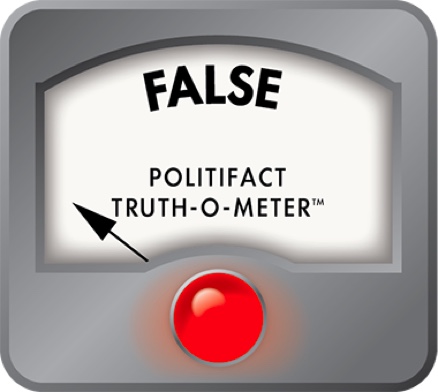 Ad wrongly says Florida Republican "is promoting illegal immigration."
If Your Time is short
Florida State Rep. Ray Rodrigues, R-Estero, voted in 2013 to allow Dreamers to apply for driver's licenses. That position was supported by virtually every member of the Republican-led Legislature.

But Rodrigues has voted other times to discourage illegal immigration, including votes for the 2019 sanctuary cities ban and voting against allowing Dreamers to be admitted to the Florida Bar or receive in-state tuition.
An ad in a competitive GOP primary in southwest Florida says that a Republican legislator has welcomed immigrants in the state illegally.
The ad's target is Ray Rodrigues, a state representative from Estero, who has taken money from the powerful sugar industry, which has a decades-long record of supporting multiple state and local campaigns. The ad calls him "Sugar Ray."
"Big Sugar has spent big money buying Florida politicians like Sugar Ray Rodrigues," says the narrator in the Facebook ad. "They know Sugar Ray will continue to roll out the welcome mat for illegal immigrants so they can keep profiting off cheap illegal labor. That's why they fought to stop E-Verify and why their pet politician Sugar Ray voted to give drivers' licenses to illegal immigrants. Sugar Ray Rodrigues is promoting illegal immigration because Big Sugar pays him to."
Rodrigues faces a fellow Republican state representative, Heather Fitzenhagen of Fort Myers, in an Aug. 18 primary for the Senate seat in southwest Florida.
The ad attacking Rodrigues is sponsored by In Florida We Trust, a political committee with ties to Fitzenhagen. The committee received money from the Everglades Water Trust, which is largely funded by the Everglades Trust which endorsed Fitzenhagen.
We reached out to the committee attacking Rodrigues asking for evidence that Rodrigues has promoted illegal immigration and did not get a response.
Rodrigues' voting record does not show he promotes illegal immigration
The specific vote cited was a 2013 state bill to allow immigrants with Deferred Action for Childhood Arrivals protection to apply for a drivers license. DACA, started by President Barack Obama, allows immigrants illegally in the country who came here as children to apply for a renewable, temporary protection that suspends deportation, as long as they meet certain requirements. DACA recipients are often referred to as Dreamers, named for federal Dream Act proposals.
Rodrigues voted in favor of the bill in 2013, which passed the House 115-2, along with support from Fitzenhagen. It passed the Senate unanimously but never became law because Republican Gov. Rick Scott vetoed the bill.
The ad also mentioned E-Verify legislation but omitted the details. Gov. Ron DeSantis sought to have all employers use E-Verify, a federal program to confirm eligibility of employees to work in the United States. But amid pushback from business-friendly legislators and private industry, the Legislature passed a watered down bill that required only public employers and contractors to use E-Verify. The compromise bill, which Rodrigues and Fitzenhagen voted for, left the agriculture industry largely exempt. 
A spokesperson for Rodrigues pointed to his votes on other immigration-related bills that show Rodrigues not favoring policies for immigrants in the U.S. illegally.
• In 2014, he voted against a bill that included a provision to allow Dreamers to be admitted to the Florida Bar. Scott signed the bill.
• In 2014, he voted "no" on a bill to provide in-state tuition to Dreamers. Scott signed the bill.
• In 2019, he voted in favor of a sanctuary cities ban, which DeSantis signed into law. There is no official definition of a sanctuary city, but it generally refers to any jurisdiction that refuses to hold people in local jails beyond their jail or prison sentence solely because federal Immigration and Customs Enforcement has asked the jurisdiction to do so. The ban put legislators on the record as siding with President Donald Trump, who has threatened sanctuary cities.
Our ruling
An ad attacking Rodrigues said that he "is promoting illegal immigration."
The ad notes that Rodrigues voted for a bill in 2013 to give Dreamers the right to apply for driver's licenses. The legislation passed the House overwhelmingly — including with the vote of his rival in the race, who is supported by the political committee behind the ad.
Our review of key immigration bills shows Rodrigues often opposed expanding rights for immigrants in the U.S. illegally, and he supported a sanctuary cities ban. He also supported a watered down E-Verify bill.
We don't see evidence that Rodrigues laid out the welcome mat for immigrants in Florida illegally.
We rate this claim False.
In Florida We Trust, Facebook ad, July 16, 2020
Tampa Bay Times, Sugar's decades-long hold over Florida Everglades came with a price, July 15, 2016
Everglades Trust, Endorsements, 2020
Florida House, HB 235, 2013
Florida House, HB 851, 2014
Florida Senate, SB 664, 2020
Florida House, HB 755, 2014
Florida Senate, SB 168, 2019
Fort Myers News-Press, Candidate questionnaire (accessed in Nexis), Oct. 16, 2016
Naples Daily News, FGCU students to legislators: Give undocumented Florida residents in-state tuition rates, March 31, 2016
Fort Myers News-Press, Estero's Ray Rodrigues rises in Florida House of Reps, Nov. 10, 2016
WINK, Without fanfare, DeSantis signs E-Verify legislation, July 1, 2020
Florida Politics, Will Everglades Trust-tied committee outspend Ray Rodrigues in SD 27? July 27, 2020
Sun Sentinel, DeSantis quietly signs abortion consent, E-Verify immigration laws, June 30, 2020
PolitiFact, On in-state tuition for illegal immigrants. May 2, 2014
PolitiFact, Says a bill he vetoed to give driver licenses to certain immigrants known as Dreamers would have changed "nothing." Oct. 20, 2014
PolitiFact, Ad wrongly says Florida Republican refused to ban sanctuary cities, July 10, 2020
Email interview, Erin Isaac, Ray Rodrigues spokesperson, July 28, 2020
Browse the Truth-O-Meter
More by Amy Sherman
Support independent fact-checking.
Become a member!
In a world of wild talk and fake news, help us stand up for the facts.