Facts are under assault in 2020.
We can't fight back misinformation about the election and COVID-19 without you. Support trusted, factual information with a tax deductible contribution to PolitiFact
I would like to contribute
Says voter registration in Wisconsin ends Oct. 14.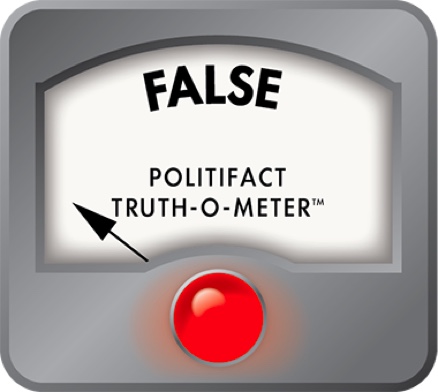 Podcast pundit off with Wisconsin voter registration deadline; state allows same-day registration
If Your Time is short
The deadline for Wisconsin residents to register online and by mail is Oct. 14, 2020.

But voters have until 5 p.m. Oct. 30, 2020 to register at municipal clerk's offices.

Voters can also register at their polling place on Election Day.
With only a few weeks left before the Nov. 3 election, Wisconsin voters are being bombarded with information on how to register and how to vote by mail.
At the same time, some of the rules are changing based on legal challenges and judicial rulings. For example, on Oct. 8, 2020, a federal appeals court reinstated a Wisconsin law that allows absentee ballots to be counted only if they are returned by Election Day, reversing a ruling that allowed more time.
So, with all of the changes and rulings, accurate information is vital.
Thus, an Oct. 7 2020, tweet from former Barack Obama staffer Jon Favreau, now a Democratic activist and co-host of Pod Save America with some 1.4 million Twitter followers, caught our attention. 
The tweet: "YO - 7 days left to register to vote in Wisconsin."
That would put the registration deadline at Oct. 14.
But Wisconsin is one of a handful of states that has same-day registration.
What gives?
Wisconsin voter registration
The Oct. 14 date Favreau referenced is one of several deadlines related to registration, but it's certainly not the drop-dead date. The website myvote.wi.gov offers these key dates:
Oct. 14: Deadline to register by mail. Voter registration form, along with proof of residence must be postmarked to your municipal clerk. 
Oct. 14: Deadline to register to vote online. This applies to voters who are able to match their name, date of birth, Wisconsin Driver License or State ID number, and address with records from the Wisconsin Department of Motor Vehicles.
Oct. 30 at 5:00 p.m.: Deadline to register at municipal clerk's office. Voters may register in-person during the clerk's business hours until 5:00 p.m. on Oct. 30, 2020.  
Election Day: On Nov. 3, polls are open from 7:00 a.m. to 8:00 p.m. Those who register can then vote in person.
According to myvote.wi.gov, all voters must provide a proof of residence document, which must include the voter's name and current residential address. The most common forms are a driver's license or state-issued ID, but other options include:
A current and valid State of Wisconsin Driver License or State ID card. 

Any other official identification card or license issued by a Wisconsin governmental body or unit. 

Any identification card issued by an employer in the normal course of business and bearing a photo of the card holder, but not including a business card.

A real estate tax bill or receipt for the current year or the year preceding the date of the election.

A university, college, or technical college identification card (must include photo) ONLY if the voter provides a fee receipt dated within the last 9 months or the institution provides a certified housing list, that indicates citizenship,  to the municipal clerk.

A gas, electric, or telephone service statement (utility bill) for the period commencing no earlier than 90 days before Election Day.

Bank statement.

Paycheck or pay stub.

A check or other document issued by a unit of government.

A letter on public or private social service agency letterhead identifying a homeless voter and describing the individual's residence for voting purposes.

Residential lease that is effective on date of registration. (Not valid if registering by mail.)

An intake document from a residential care facility such as a nursing home or assisted living facility. 
Favreau's tweet was deleted by Twitter the day after it posted, replaced by a note saying it "violated the Twitter Rules."
Attempts to reach Favreau through his Pod Save America website were unsuccessful, but it appears he simply lost something in the translation.
His tweet was in response to one from Ben Wikler, chairman of the Democratic Party of Wisconsin, that said: "HELP: We're near the final weekend of phone banking before Wisconsin's online voter registration deadline on Oct. 14!"
The Wikler tweet specifically -- and correctly -- referenced the online registration deadline.
Our ruling
In a tweet, Favreau claimed the deadline to register to vote in Wisconsin was seven days away -- or Oct. 14.
But that is only the last day to register by mail or online. Voters can register at municipal clerk's offices through Oct. 30. And they can even register at the polls on Nov. 3.
We rate this claim False.
Browse the Truth-O-Meter
More by D.L. Davis
Support independent fact-checking.
Become a member!
In a world of wild talk and fake news, help us stand up for the facts.