Bill McCollum and his supposed Planned Parenthood problem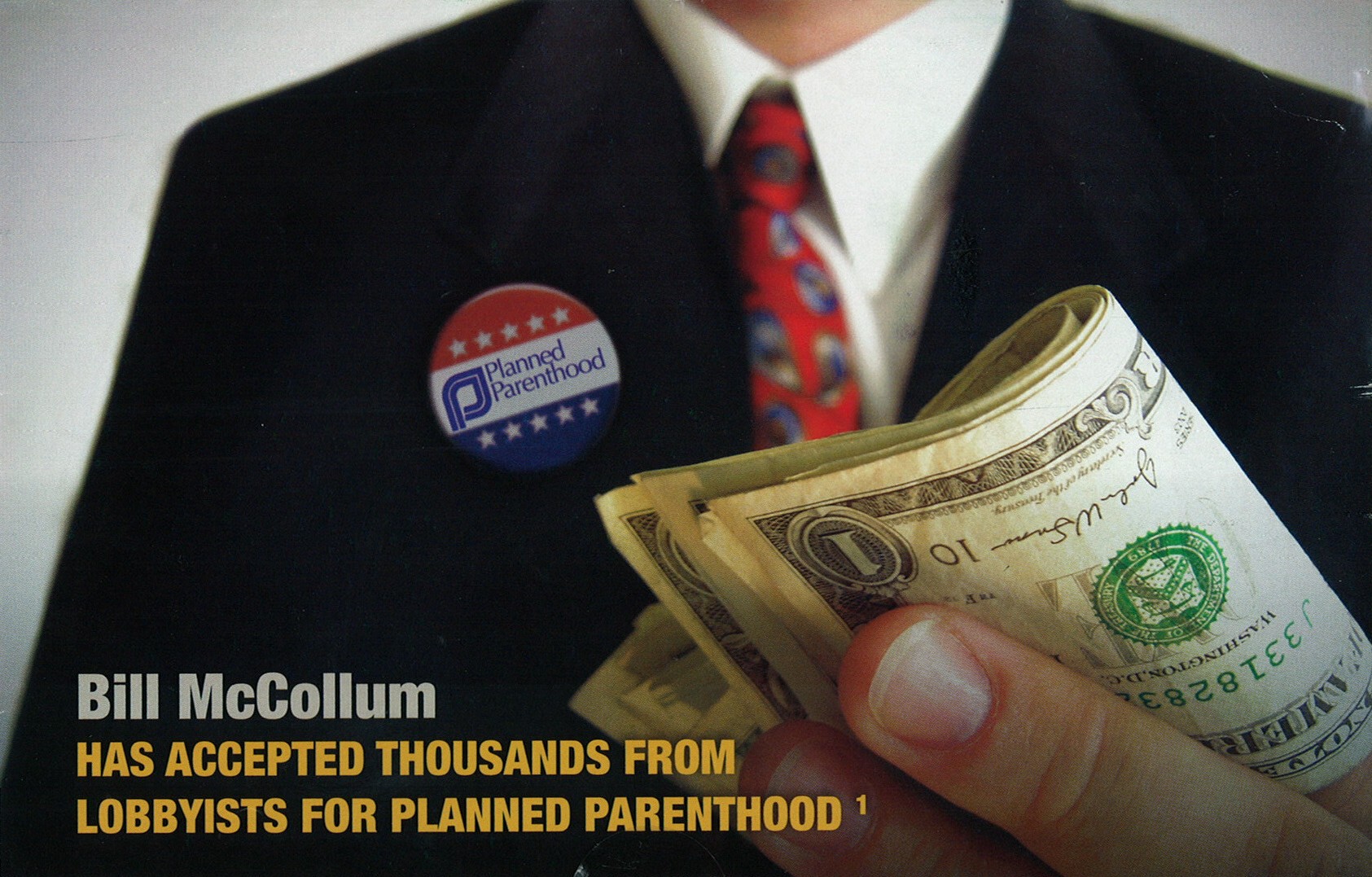 Rick Scott's new campaign mailer is blasting his Republican primary opponent for governor, Bill McCollum, as being in the pocket of the pro-choice group Planned Parenthood.

"Bill McCollum has accepted thousands from lobbyists for Planned Parenthood," says the outside of the mailer. The claim is printed over the top of an image of a faceless man wearing a Planned Parenthood button and taking a stack of money.

The Planned Parenthood claim is repeated inside the mailer, which started appearing in mailboxes around June 23, 2010. The time, the line is next to a picture of McCollum and the Planned Parenthood logo and opposite is a picture of Rick Scott and a logo that reads "100% pro-life."

We've already dipped into Scott's attacks against McCollum's pro-life resume, rating a claim that McCollum and President Barack Obama hold the same position on embryonic stem cell research Mostly True.

In this item we wanted to fact-check McCollum's ties to Planned Parenthood, a connection that -- if true -- could be damaging in a GOP primary.

The mail piece includes a footnote to substantiate Scott's claim, saying the lobbyist in question is the firm Arnold & Porter. The campaign then searched federal campaign finance databases to see Arnold & Porter's contributions to McCollum's previous federal campaigns.

So we did the same thing.

What we found is that if you tilt your head just so, stand on one leg and squint your eyes, Scott's claim might hold up. Maybe.

Let us explain.

The U.S. Senate keeps an excellent online lobbyist disclosure database that allows anyone to see who lobbyists are representing and how much they're being compensated.

We searched to see who Planned Parenthood had retained as a federal lobbyist and indeed, Arnold & Porter is included. The Washington, D.C., firm is a full service law firm that also does legislative lobbying and public policy work. According to the Center for Responsive Politics, the firm earned $4.45 million in 2009 lobbying on behalf of 28 different groups, including BP, the state of Oregon and Major League Baseball's Office of the Commissioner. Its biggest client in 2009 was Altria Group, the parent company of Philip Morris USA.

According to the Senate lobbying database, Arnold & Porter was eligible to lobby for Planned Parenthood from 2000-2007. Arnold & Porter received $60,000 in 2000. The rest of the time, the firm received between $0 and $10,000 every six months for its work (federal rules don't require Arnold & Porter to break out amounts under $10,000). The U.S. House disclosure website lists Arnold & Porter as a lobbyist for Planned Parenthood in 2005, 2006 and 2007, receiving between $0 and $10,000 every six months.
Arnold & Porter, the registered Planned Parenthood lobbyist, did contribute to McCollum -- a whopping $2,000 that we could identify. The firm's political action committee made two $1,000 contributions to McCollum's Congressional campaign account, according to documents filed with the Federal Election Commission. The contributions came in 1997 and 1998.

For the record, Arnold & Porter's political action committee also has donated to Republicans like former Missouri Sen. John Ashcroft, current Florida U.S. Rep. Gus Bilirakis, House Majority Leader John Boehner, and former President George W. Bush (and Sens. Lindsey Graham, Chuck Grassley, Orrin Hatch and John McCain) (and the National Republican Congressional Committee and the National Republican Senatorial Committee) (and Sens. Mitch McConnell and Trent Lott) (and Elizabeth Dole and Dick Armey) (and Sen. Saxby Chambliss and Rep. Eric Cantor, too).

Here's the first problem: Arnold & Porter wasn't registered as a Planned Parenthood lobbyist when it made those contributions to McCollum, records show.

And here's another one: It's a gigantic leap to say those contributions had anything to do with Planned Parenthood. Using the same logic, you can stick Bush, Boehner, Ashcroft and all those other Republicans with the same label.

And then there's this: When McCollum ran for the U.S. Senate in 2000, the National Right To Life Political Action Committee spent $114,835 on his behalf.

Oh, this, too: In his last year in Congress, 1999, McCollum received a 0 percent rating from Planned Parenthood and a 100 percent rating from the National Right to Life Committee. (We should note that when McCollum ran for the U.S. Senate in 2004, the National Right to Life Committee endorsed Mel Martinez over McCollum, because McCollum said he supported an expansion of embryonic stem cell research. But that doesn't have anything to do with Scott's claim in this case).

It appears to us that the Scott campaign is trying very hard to link McCollum and Planned Parenthood in an attempt to attack McCollum's pro-life credentials. They succeeded by finding a Washington law firm that at one point lobbied for Planned Parenthood and at another point gave $2,000 to McCollum.

But there's no evidence -- scratch that. We don't think any logical person would conclude that Arnold & Porter's contributions to McCollum and its future business with Planned Parenthood have anything to do with the other.

The Truth-O-Meter is hot under the collar about this one. We say Pants on Fire!