Campaign mailer says Bill Gunter would cut funding for public schools and give money to out-of-state, for-profit schools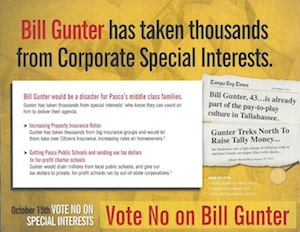 The race to succeed Mike Fasano in the state House is producing a glut of attack ads, including two recent mailers that stand out.
One claims that Democrat Amanda Murphy is out of touch with average voters and wouldn't be available, literally, because she'll be at her "Cancun vacation home."
The other says Republican Bill Gunter would "drain millions" from public education and give the money to for-profit schools.
With the House District 36 election set for Oct. 15, 2013, PolitiFact Florida decided to test the accuracy of these noteworthy mailers.
Here, we'll examine the ad targeting Gunter's view on public education, which showed up in mailboxes a couple weeks ago. (We'll look at the attack against Murphy in a separate fact-check.)
"Gunter would drain millions from local public schools, and give our tax dollars to private, for-profit schools run by out-of-state corporations," the ad says.
The Florida Democratic Party financed the mailer. It cites aTimes article, a preview of the Republican primary, published Sept. 13. In the story, three Republicans seeking the nomination weighed in on whether funding to public schools should be increased.
Gunter said he opposed increased state funding for education and suggested the private sector play a larger role, a statement he alluded to at least twice before: at a Sept. 4 candidates debate and in a questionnaire, where he stated: "Money isn't the issue. . . . Highest per pupil spending districts are some of the worst in the nation."
None of his statements referenced "for-profit schools run by out-of-state corporations."
Joshua Karp, spokesman for the Florida Democratic Party, said freezing educational spending at its present level would result in cuts to Pasco schools to offset rising expenses. Also, diverting state funding to the private sector, or charter schools, takes away money from public schools, he said.
Olga Swinson, chief financial officer for Pasco schools and the past president of Florida School Finance Officers Association, said a state funding freeze might result in budget cuts if costs for salaries, pensions, insurance, utilities, maintenance and other services go up at the same time. Many of those costs have indeed increased in recent years, leading to cuts.
"With every fund that we have, we would have to make do or we would have to start cutting programs," she said.
Whether those cuts would amount to "draining millions" from the district is debatable, but Swinson wouldn't rule out the possibility and explained that the depth of cuts would depend on how much insurance, maintenance, pensions and other costs increase. Enrollment levels and local revenue streams would influence spending as well.
Additionally, there's little evidence to the Democrats' claim that earmarking state funds to charter schools would enrich "for-profit schools run by out-of-state corporations." Most of the seven charter schools operating in Pasco are locally owned. The Imagine Charter School of Land O'Lakes is owned by a Virginia-based company.
The ad makes broad assumptions that district costs would swell by millions of dollars, leading to cuts, that local revenues wouldn't keep pace and that charter schools owned by out-of-state companies would get tax money. That's a lot of assuming. Still, history shows that education costs are consistently on the rise.
We rate the claim Mostly False.