Rubio says he prevented a $2.5 billion taxpayer bailout for Obamacare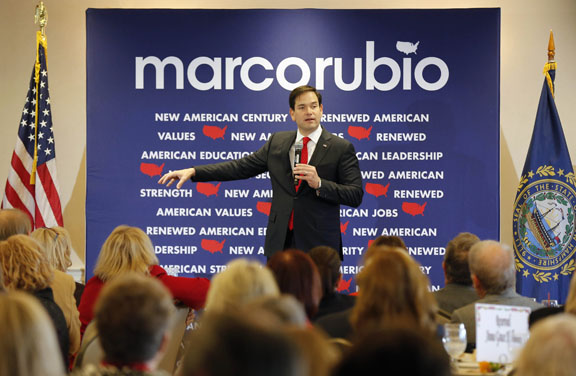 Presidential hopeful Marco Rubio is taking credit for potentially sounding the death knell for Obamacare, claiming legislation he introduced eventually prevented Washington from giving billions of tax dollars to insurance companies.
"Last year, I stopped an Obamacare bailout and saved taxpayers $2.5 billion," Rubio said in a Dec. 1, 2015, tweet. It linked to a Fox News story giving Rubio credit for dealing a blow to President Barack Obama's signature health care legislation.
Declaring he saved heaps of tax money and prevented a government bailout linked to a divisive law is a campaign coup for Rubio, who has risen to second among GOP candidates in the latest national Quinnipiac poll. But can he truly claim he kept billions from being used for a so-called bailout?
Risk corridors rundown
To set the table, we need to take a deep breath and go over a provision of the Affordable Care Act known as "risk corridors."
The ACA upended the traditional health insurance model of selling mostly to healthy people, mandating that insurers must provide policies to everyone, regardless of health or pre-existing conditions. That presented a problem for the companies, which didn't know how much they would need to charge in premiums in order to cover their expenses for all the new policies.
To help companies stay solvent as they adjusted their rates to proper levels, the law provided a three-year period in which the government would spread the risk among all insurers in ACA marketplaces. This program, set to last between 2014-16, is known as risk corridors.
If some insurers are successful in setting their marketplace rates properly and make more than a certain amount, Washington gets some of that extra money, referred to as user fees. Companies that don't do well have a portion of their losses covered by the government.
Rubio has opposed the risk corridors since 2013, introducing legislation in the Senate to repeal the program. His bill didn't go anywhere, but Rubio continued to speak out against the provision, referring to the program as a "bailout" for unsuccessful insurance companies.
But is it really a bailout? Several experts told us no, stressing that a bailout usually refers to a program used to save a company after the fact, not a mechanism in place to deal with a problem that everyone assumes could occur.
The risk corridors program was modeled after a successful plan through Medicare Part D prescription drug coverage set up during George W. Bush's presidency. The Part D program is a bit different than the ACA's version, but it was still designed to spread risk among insurers.
"Then, no one called it a bailout, when a new private insurance market was being created for Medicare drug benefits," said Mark Hall, a law and public health professor at Wake Forest University.
But the problem with Obamacare's risk corridors is really about how it's funded. And that's the heart of Rubio's claim of saving taxpayer money.
Funding fight
The ACA did not specify where it was getting the money to cover any risk corridor payments. To get around this, the Centers for Medicare and Medicaid Services said they would keep the program budget-neutral by making payments strictly from the user fees successful insurers sent to the government.
Rubio's concern has been that CMS promised in 2013 that "regardless of the balance of payments and receipts" in the program, insurers who said they needed money would get it. His point is that if there wasn't enough money to cover the payments, the Obama administration would ask Congress for money.
But CMS said in April 2014 that it didn't plan to ask Congress for an appropriation. If they didn't take in enough money the first year, they would make it up in later years, when marketplaces hopefully stabilized enough to cover losses.
To make sure CMS didn't ask for cash, Rubio wanted to cut off other sources of funding that could be used to pay off those companies. He urged then-Speaker of the House John Boehner in October 2014 to block potential appropriations for risk corridor payments.
When Congress passed a spending bill in December 2014, it included a sentence, or a "rider" in legislative speak, that said the CMS' parent agency, the U.S. Department of Health and Human Services, could not move money around in its budget to pay extra risk corridor expenses. Other legislators have credited Rubio with inspiring this language. Rubio has since reintroduced his bill to repeal risk corridors.
Everyone had to wait until insurance companies turned in their results to see how the risk corridors were working. The first year didn't go as well as CMS and the Obama administration had hoped. In October 2015, CMS announced the risk corridors program took in $362 million for 2014, while less successful insurers asked for a total of $2.87 billion.
That left a $2.5 billion shortfall CMS can't pay.
CMS said it would pay out 12.6 percent of claims from 2014 this year, leading some insurers to leave the marketplaces or even collapse altogether. Rubio now is on the campaign trail trumpeting the move as potentially being "a big part of ending Obamacare for good."
Some legal observers, however, doubt whether Rubio's efforts had any long-term effects.
"All the rider did is say, 'If you're going to go scrape the couch cushions for money to pay for this, don't,' " Nicholas Bagley, a University of Michigan law professor, told PolitiFact Florida. "The Rubio rider is preventing the administration from coming up with a workaround to a problem the law already had."
There are still two years left in the risk corridors program, which the Congressional Budget Office said will likely eventually break even. If the program is in the red after 2016, CMS will either have to somehow find the money or ask Congress to decide whether to approve cash to pay the bill. Otherwise insurers could potentially sue to get what the law says they're owed.
"What he did is throw a wrench in the process," Bagley said of Rubio, who is trying to include the same kind of roadblock in the current spending bill. The deadline for that bill is Dec. 11. "It's perfectly reasonable to assume those insurance companies are going to eventually want the money that was promised to them."
Our ruling
Rubio said, "Last year, I stopped an Obamacare bailout and saved taxpayers $2.5 billion."
He's referring to a provision in the Affordable Care Act called risk corridors, which faced a $2.5 billion shortfall for 2014. Rubio, whose efforts to repeal risk corridors have so far failed, helped persuade Congress last year to prevent Health and Human Services from being able to cover the difference with money from its own budget.
But experts said calling the program a bailout is not accurate. They also noted CMS has said they want the risk corridors to pay for themselves through fees from insurers.
Most importantly, experts also said Rubio did not necessarily save that money in the long run. His best argument is he temporarily limited one way CMS could have tried to pay for insurance companies' losses. The program has two more years to cover its expenses. If any bills are due after that time, CMS or Congress will have to find a way to pay them because they are obligated to do so.
Rubio oversimplified a complex process that is still largely unresolved. We rate his statement Mostly False.