Jeb Bush says he cut 13,000 state workforce jobs as governor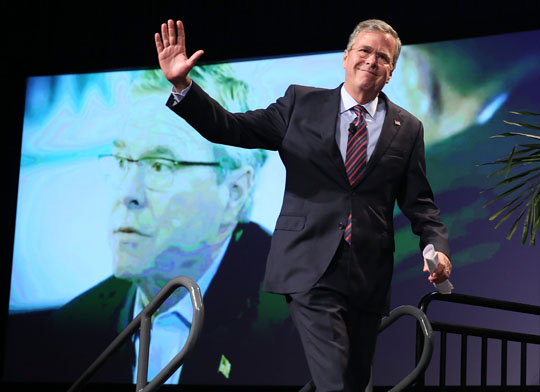 Before announcing that he was going to announce his presidential candidacy, former Gov. Jeb Bush told a crowd at an Orlando event that he was dedicated to conservative principles like reducing the size of government.
"We reduced the government workforce by 13,000, 11 percent, during my eight years," he said on June 2, 2015, at Gov. Rick Scott's Economic Growth Summit at Walt Disney World. He also touted high job-creation numbers during his term.
Bush is expected to officially announce his candidacy on June 15. Meanwhile, we wondered whether his claim about shrinking the state government workforce passed muster.
Working through the cuts
Bush served two terms between 1999 and the start of 2007, and proposed cutting 25 percent of state employees early in his term. He didn't cut that many, but he did oversee a reduction in state workers. His Right to Rise PAC sent us state payroll numbers from Bush's tenure that backed the claim.
A Bush spokesman said the data came from the Legislature's General Appropriations Act (i.e., the approved state budget) each year, minus workers for the State University System and temporary employees for which the governor's office isn't responsible. These are legitimate numbers, but can be hard to parse. To find them in the annual budget, which usually clocks in at more than 400 pages, you'd have to add them up from the positions listed for each state agency.
You can sift through each budget if you'd like, but we decided to look at it a slightly different way to make it a little simpler for you to gauge, using the state's Department of Management Services Annual Workforce Report. That's a general snapshot of state personnel, how much they make and what jobs they do. Part of that count is the State Personnel System, which includes about two-thirds of state employees in more than 30 different agencies and departments. It also excludes university and temporary jobs, and a few others.
The numbers aren't exactly the same as what Bush's PAC provided, but the State Personnel System shows who is employed by state agencies at any given time.
| Year | General Appropriations Act | State Personnel System employees |
| --- | --- | --- |
| 1998-99 | 127,363 | 124,838 |
| 1999-2000 | 126,723 | 124,160 |
| 2000-01 | 125,007 | 123,505 |
| 2001-02 | 120,091 | 120,581 |
| 2002-03 | 117,869 | 117,561 |
| 2003-04 | 116,797 | 115,504 |
| 2004-05 | 116,317 | 113,030 |
| 2005-06 | 116,463 | 108,706 |
| 2006-07 | 113,633 | 108,866 |
| Total change | -13,730 | -15,972 |
| Percent change | -10.8 percent | -12.8 percent |
Either way you slice it, Bush can claim the state workforce he had a say over did shrink during his tenure, generally in the terms he noted.
The Annual Workforce Report has the added bonus of keeping track of how many employees an agency gains or loses each year. That shows that departments like Children and Families, Health, and Corrections all lost plenty of positions under Bush, who focused on privatizing state services.
That privatization of government work has been controversial. For example, contractors working for the Department of Children and Families have been criticized for cost overruns and running an ineffective, or even dangerous, privatized foster care program. Similar problems have been debated for contracts with payroll services and privately run prisons, among others.
Florida International University public administration professors Howard Frank and David Guo said that instead of focusing on how many state jobs were eliminated, it's better to consider whether the moves really saved the state money. The Department of Management Services doesn't dissect the differences between jobs that were cut and the contracts that replaced them. That makes it difficult to untangle exactly how much the state may have saved by privatizing, automating or consolidating government positions.
The state now has the lowest number of government workers per capita in the United States. But Bush's workforce cuts between 1999 and 2007 came as the state's population ballooned by about 3.5 million and the budget jumped from $48.6 billion to $73.9 billion.
Our ruling
Bush said, "We reduced the government workforce by 13,000, 11 percent, during my eight years."
He was referring to a specific count of workers in state agencies cut between 1999 and 2007, and in context we can consider his numbers pretty accurate. Experts told us it's important to keep in mind that privatizing state jobs or cutting positions doesn't mean it's necessarily cheaper or better for taxpayers. The statement, however, is accurate, and we rate it True.