Jeb Bush claims U.S. has enjoyed fastest crude oil production increase in history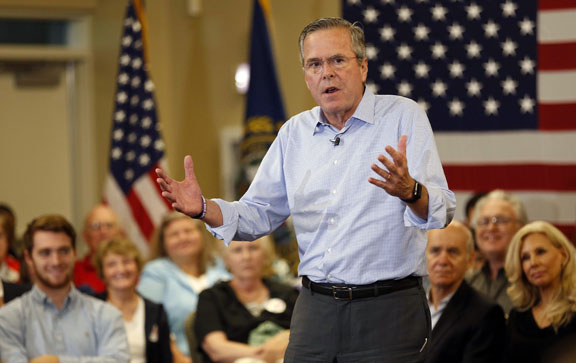 Republican presidential candidate Jeb Bush said in his recently released energy plan that the United States should take advantage of its resurgent status as "a global energy superpower."
Thanks to new means of extracting oil such as hydraulic fracturing and horizontal drilling, there's been an unprecedented spike in domestic oil production, the former Florida governor said.
"Since 2008, U.S. crude oil output has increased by over 80 percent, an increase of over 4 million barrels a day. That is the fastest increase in U.S. history," his plan read.
Has oil production really seen the fastest increase in the nation's history, topping 80 percent or higher since 2008? It sure has, reversing a decline that began back in 1986.
We went to the U.S. Energy Information Administration, which keeps monthly and annual statistics for crude oil production. They said that in 2008, the United States produced 5 million barrels per day, a figure that has jumped to more than 9 million per day in 2015. A Bush spokeswoman confirmed to us that was the same data they were using when drawing up the energy plan.
As you can see, that's a pretty steep spike in production over a seven-year period:
The change is largely because of the reasons Bush gave, according to EIA spokesman Jonathan Cogan. Better technology like fracking and horizontal drilling, which makes extraction from geological formations like layers of shale easier, has led to an overall increase in output. Relatively high oil prices (about $140 per barrel in 2008, as opposed to less than $50 recently) also helped lead to the ramp-up in production.
You may recall that gas prices reached a single-day high in 2008, with a gallon costing $4.11 that July. The highest-ever nationwide annual average of $3.60 per gallon was in 2012.
Mark Perry, a University of Michigan-Flint economics professor working with the conservative American Enterprise Institute, agreed that Bush's take is accurate. He said based on EIA numbers through July, U.S. crude production has gone up 83 percent since 2008. That bumps up to 88 percent if you measure the current 2015 average of almost 9.4 million barrels per day.
(We will note that 2008 includes a storm-related drop in September, when hurricanes Ike and Gustav churned through the Gulf of Mexico and production dropped to less than 4 million barrels per day.)
"It's pretty clear that the production increase from 2008-15 ... has been the largest production increase ever in U.S. history in such a short period of time," he said via email.
From 2009 to 2014, the increase in oil production didn't bring the price drop economists expected, Perry said. Now that oil prices have dropped so much recently, we're just starting to see production back off. The latest EIA data showed production has dropped 144,000 barrels per day since July, with estimates saying it's going to continue to decrease.
"It took a while for the price to finally catch up to the increased U.S. production, and now we're in an adjustment period," Perry said. He said the slowdown was temporary and "will likely be followed by another period of increased production in a year or two when oil prices go back up above $50 and stay there."
Our ruling
Bush said, "Since 2008, U.S. crude oil output has increased by over 80 percent, an increase of over 4 million barrels a day. That is the fastest increase in U.S. history."
That's accurate, as high prices and new extraction methods have led to a significant increase in the amount of crude oil the country produces. Depending on how you calculate it, production has gone up 83 percent through July, or 88 percent if you use the current 2015 average. Production is currently dipping downward, but it's easily the fastest increase in a seven-year span in U.S. history.
We rate Bush's statement True.