Meters tackle history, landfill waste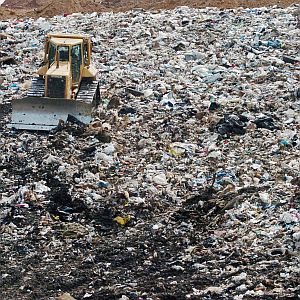 Trust your Truth-O-Meter and Deal-O-Meter to master topics as different as fiscal responsibility, President Ronald Reagan and landfill waste.

Last week, the Truth-O-Meter examined an attack that blamed two Democratic congressmen from Georgia for the nation's fiscal problems.

It also performed a second check of former U.S. House Speaker Newt Gingrich's knowledge of Reagan history. The Republican presidential candidate keeps name-dropping the conservative hero. Now, he's comparing himself to him.

To top it off, the Deal-O-Meter rated a promise by Gov. Nathan Deal that he will reduce landfill waste.

Watch out. PolitiFact Georgia's a quick study.

To comment on our findings, hit the "like" button on our Facebook page. You can also follow us on Twitter.

National Republican Congressional Committee: U.S. Reps. John Barrow and Sanford Bishop and their fellow Democrats "went on a spending spree and now their credit card is maxed out."

Recently, nearly identical news releases from the National Republican Congressional Committee targeted moderate Georgia Democrats Barrow and Bishop with the above claim.

It's safe to say that data show expenditures backed by both parties have helped put the federal government in the red.

And whether you agree with Barrow's and Bishop's votes, the records of these fiscally conservative Blue Dog Democrats show it's unfair to say they're on a "spending spree."

We rule the NRCC's statement False.

Deal-O-Meter
Promise: Reduce landfill waste

Gov. Nathan Deal vowed as governor that he would do more to protect Georgia's natural resources. One way was through landfills.

"Deal also calls for reducing landfill waste by promoting new waste reduction methods," Deal's campaign said in one news release.

State officials point to House Bill 274 as proof of progress. The legislation, signed by Deal on May 11, offers waste facilities a 75-cent credit for each ton of construction or demolition waste that is recycled.

Some environmental activists say the legislation still smells bad. The chairman of the Sierra Club of Georgia contends it was written by the landfill industry and noted a provision in the bill that allows yard trimmings to be disposed in lined landfills.

State officials hope the legislation will encourage more composting, which may result in less landfill waste. We'll keep a close eye to see whether that happens.

For now, we rate this campaign promise as In The Works.


Republican presidential candidate Newt Gingrich: His presidential campaign has "exactly the same" challenges as Ronald Reagan's successful 1980 bid.

Gingrich is comparing his struggles to those of President Ronald Reagan so often it's turning into a habit.

At the Atlanta Press Club on June 22, Gingrich referenced Reagan campaign history to drive home the fairly vanilla point that "campaigns go up and down."

The point Gingrich made five days later on Fox News that he had "exactly the same" problems as Reagan in 1980 is outrageous self-flattery.

Reagan was on an upswing when his staffers left. Gingrich's campaign is in a rut.

Reagan had replacements ready. Gingrich did not.

Reagan pushed out his staffers to run a more competitive campaign. Gingrich's left him because they thought he wouldn't do what it takes to win.

He deserves a Barely True.