PolitiFact checks out toll roads, chickens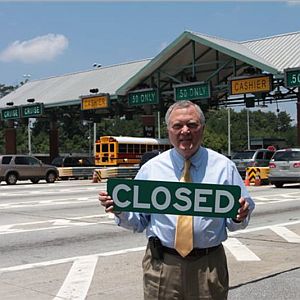 Last week, PolitiFact Georgia did its fair share of cluck-clucking.

Claims about a proposed immigration measure, a reading of the U.S. Constitution by the backer of a "birther" bill and a take on federal law about the U.S. Supreme Court all ruffled the Truth-O-Meter's feathers.

We also updated the progress Gov. Nathan Deal made on his promise to end the Ga. 400 tolls and discerned whether a candidate for Gwinnett County chairman was a faux chicken farmer -- the accuser laid an egg on that one.
Have something to say about our rulings? Squawk away on our Facebook page or tweet our successes or failings on Twitter.
Georgia Association of Latino Elected Officials: Georgia legislation on immigration is a "copycat" of an Arizona immigration bill.

GALEO made the above claim about tough immigration measure House Bill 87 on March 2, just before it passed the House.

HB 87 would, among other things, authorize state and local police to verify the immigration status of a suspect and make it a crime to harbor or transport an illegal immigrant.

Arizona's Senate Bill 1070 is the illegal-immigration measure that stirred so much furor across the nation when it passed last year. It has similar provisions, and a court ruled some of them may be unconstitutional.

GALEO was concerned Georgia's bill would encounter similar court trouble because it may cause racial profiling and create a conflict with federal immigration policy.

Those concerns were valid, but HB 87's backers have made significant effort to tailor Georgia's bill so it withstands a court challenge. Half True.

Gov. Nathan Deal: Deal-O-Meter
Promise: Will eliminate the Ga. 400 toll by the end of 2011

The words from Deal last year were Reaganesque.

"As governor, I'll swing the sledgehammer to bring down the Buckhead Wall," Deal said in a June 22 news release on the Ga. 400 toll.

The 50-cent toll was originally scheduled to be eliminated this summer when the construction bonds were paid off. But in September, the State Road and Tollway Authority board extended the toll until 2020 and told the authority to sell bonds to fund the projects.

They were sold before Deal took office.

Senate Bill 97, which is aimed at ending the toll sooner, was tabled last week. But since the bonds have already been sold, the state risks violating its contract if the bill passes.

This campaign promise is Stalled.

Anti-birther blogger Loren Collins: A bill before the Georgia General Assembly would make presidential candidates meet citizenship requirements that are not in the U.S. Constitution.

House Bill 401, the so-called "birther" bill, would make presidential and vice presidential candidates prove their citizenship to make the state's ballot, and Collins, a local attorney, said it would not pass constitutional muster.

The bill would require presidential candidates to sign an affidavit saying they have never held dual citizenship, which isn't in the Constitution, he said.

"Birthers" believe in the oft-discredited theory that President Barack Obama is not eligible for office because the Constitution says that a president must be a "natural born citizen."

Obama had dual citizenship in Kenya through his Kenyan father but lost it at age 23. HB 401's sponsor thinks the Constitution says this disqualifies him.

Legal experts adamantly agreed with Collins. He earns a True.


U.S. House Rep. Anthony Weiner: "Under the clear letter of the law, [Justice Clarence Thomas] must recuse himself" from the case challenging the constitutionality of the health care law.

A recent Fox News interview of Weiner was compelling TV -- if you enjoy political sparring.

Weiner argued that Supreme Court Justice Clarence Thomas must recuse himself from the federal case challenging the constitutionality of the health care law because his wife, Virginia, made more than $700,000 working for groups that oppose the law.

Must he?

We talked to several experts and found there was a great deal of disagreement on Weiner's claim. Having a wife who works for an advocacy group may not be the same as having a financial interest in the outcome. And ultimately, Thomas will determine whether he ought to recuse himself.

Half True.

Gwinnett County Commission chairman candidate Larry Gause: Says Charlotte Nash "pretends to be a chicken farmer" in order to get property tax exemptions.

This claim had us chirping.

In a flier and on a website, Gause said that to get huge property tax breaks, Nash fakes being a chicken farmer.

Ethics are a big issue in Gwinnett, Georgia's second-most-populous county. One county commissioner was indicted last year on bribery charges. The commission's chairman resigned his position amid a grand jury investigation.

Nash has an exemption for agricultural purposes for one of the two properties under scrutiny and an exemption for timber purposes for the larger plot of land.

There is some skepticism about whether Nash deserves the exemptions, but timber farming is a long-term endeavor. And Nash has never claimed to be a chicken farmer.

False.