About those claims from the General Assembly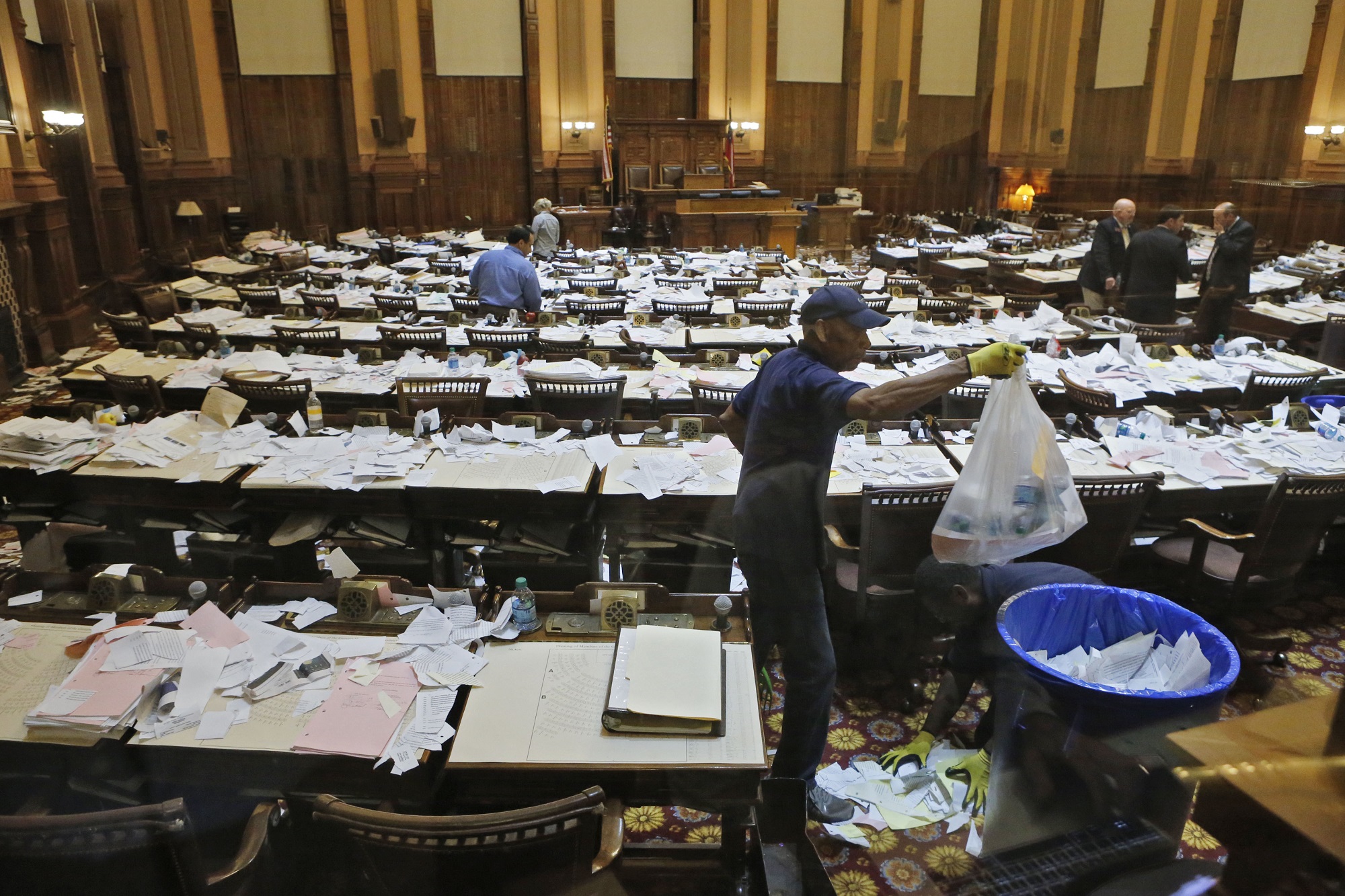 The Georgia Legislature finished its work for the year in the wee hours Friday, having approved efforts as far ranging as a $900 million statewide transportation funding plan and focused as paving the way for the hiring an internal auditor to seek out fraud in DeKalb County.
In between, there were measures big and small and claims true and false. PolitiFact Georgia followed along and had some favorites from the 40-day session.
WEIRD. LIKE, FLORIDA WEIRD.
Taxes, education reform and human-animal hybrids were the early talk of the session.
OK, that last one looked like it belonged in Florida, but the headline called out the Peach State clearly:
"Georgia lawmaker pushes bill banning creation of 'glow in the dark' human-jellyfish hybrids, "the headline on the web news story screamed over a photo of a contorted face adorned in fluorescent paint.
That was overstating House Bill 287. But it did convey the intent: ban human embryos with nonhuman cells injected into them as well as any "human-animal hybrid."
Sponsor state Rep. Tom Kirby, R-Loganville, said he was especially concerned about reports that researchers had successfully put a jellyfish's fluorescent protein gene into a single-celled human embryo.
A scientist pointed out the glow was used to review genetic changes for research, not to fashion potential SpongeBob sidekicks.
We ruled the headline's claim Half True.
But lawmakers left the weird for our neighbors to the south, letting the proposal die in committee.
INSURING YOUR LYFT
Just a few years ago you could be forgiven for not knowing the first thing about rideshare services such as Uber and Lyft.
The app-based services have grown in popularity and visibility for their ability to ferry folks who have had one too many around Atlanta and some college towns.
But state Rep. Rich Golick, R-Smyrna, pushed for House Bill 190 saying the state did not require those operators to carry auto insurance.
The bill would require $1 million insurance coverage for all drivers from the moment the driver accepts a ride request to the time the ride ends.
It also would require minimum $300,000 coverage for bodily injury or death and $50,000 for property damage whenever a driver is logged into the company's system but not carrying passengers.
Uber and Lyft argued against the mandates, testifying they already offer $1 million in coverage every time one of their drivers has passengers.
But insurance firms said that system leaves a gap of private drivers who aren't covered by personal auto insurance when they are looking for fares or on their way to pick someone up.
Golick was more broad in his claim, that Georgia does not have any regulations on the firms now. We rated that claim True.
And lawmakers approved Golick's push to require the companies carry greater levels of insurance. The bill awaits Gov. Nathan Deal's signature to become law.
PROOF THAT GOD LOVES US
There is no proof that Ben Franklin ever said that beer is proof God loves us and wants us to be happy.
But the sentiment would likely spin the Truth-O-Meter towards True anyway.
Oh, not for you? Then you may have missed the debate over Senate Bill 63, a proposal nearly a decade in the making that would allow Georgia beer brewers to sell directly to consumers.
The practice is banned from Prohibition-era laws and changes have long been opposed by the state's beer wholesalers and retailers.
Martin Smith, a lobbyist for the Georgia Beer Wholesalers, testified that allowing brewpubs to sell beer would turn Georgia into Mexico, with only a couple of manufacturers controlling all aspects of market.
Sober review shows that Mexico's beer market has been widely criticized as being effectively controlled by two companies.
But the Georgia proposal contained the same limits on sales and production that have made such market dominance all but impossible in other states that allow to-go sales.
We rated Smith's claim False.
Lawmakers, meanwhile approved a watered down bill, maintaining the ban on brewers and brewpubs from selling directly to consumers. Instead, they loosened the rules on how much beer customers could take home from brewery and distillery visits and allowed a charge for brewery tours and a limited amount of "souvenir" beverages.