GOP hopefuls prepare for another debate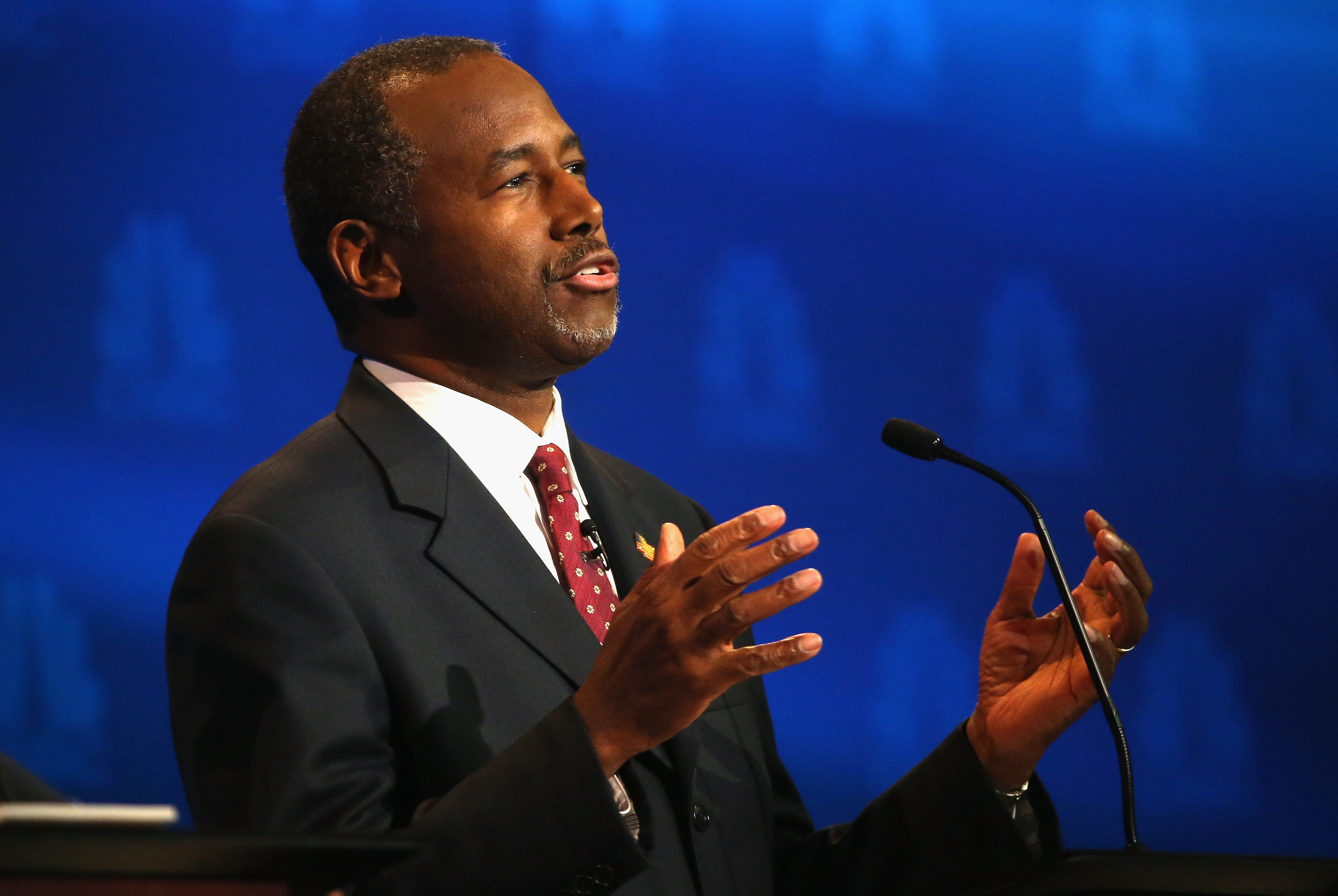 The fourth Republican presidential debate takes place Tuesday in a venue tailor-made for political drama, the Milwaukee Theatre.
Candidate Teddy Roosevelt was shot in the chest by an assassin on Oct. 14, 1912 and instead of heading to the hospital, he headed to what's now the Milwaukee Theatre to deliver a 90-minute campaign speech in front of a horrified audience.
Three debates down in the 2016 presidential race and only eight of the original 15 GOP hopefuls still have a place on the prime time stage, and none of them are likely to pull off a scene-stealer that can compare with Roosevelt's. Nope, not even Donald Trump, the chief provocateur.
Roosevelt is said to have stood with a bullet lodged in his rib and a blood-stained, 50-page speech in his hand and declared: "It takes more than that to kill a bull moose."
This year's GOP candidates were last on stage together in Boulder, Colo. on Oct. 28, when they clashed most notably with members of the news media.
This debate airs in prime time starting at 9 p.m.Tuesday on the Fox Business Network. It also will be streamed for free on foxbusiness.com and will cover the same topics as the previous debate: jobs, taxes, the "general health of the economy" and international issues.
The prime time stage will feature Ben Carson, Donald Trump, Marco Rubio, Ted Cruz, Jeb Bush, John Kasich, Carly Fiorina, and Ron Paul.
We've fact-checked statements from all of the candidate. Here's two of the latest we've done on each of them.
Jeb Bush
Claim: "If you look at the three people on the (debate) stage from the United States Senate, all three of them have a combined two bills that became law that they've sponsored."
Rating: Mostly True
Of all the bills Cruz, Rubio and Rand Paul of Kentucky have sponsored combined, only two have been signed into law.
But experts said that this isn't a great measurement of a legislator's effectiveness, and there are other ways to show impact in Congress. All three senators have their fingerprints on numerous laws as cosponsors or amendment authors.
Claim: "In Florida, we have the lowest in-state tuition of any state."
Rating: Mostly False.
That's not accurate if we look at 2014-15 tuition for four-year public universities compiled by the College Board. That data shows Wyoming had the lowest tuition and Florida was the sixth-lowest.
Bush's campaign said he was referring to Florida's ranking as the lowest in 2006-'07 when he left office, but he didn't specify that timeframe in making his claim.
Ben Carson
Claim: Among manufacturers with fewer than 50 employees, "the average cost in terms of regulations is $34,000 per employee."
Rating: Half True.
Carson cited a figure from a 2014 report from the National Association of Manufacturers. However, the methodology behind the report has some significant shortfalls and no other studies were available.
Claim: His tax plan wouldn't leave the federal government with a $1.1 trillion hole.
Rating: False.
Based on what's publicly known about Carson's plan, his 15 percent flat tax would generate a $1.1 trillion hole between government revenue and spending. By his own math, his plan would create a $1 trillion hole.
Ted Cruz
Claim: My campaign "finished the last quarter reporting the most cash on hand of any Republican in the field … $13.8 million in the bank, $3.5 million more than the Jeb Bush campaign."
Rating: Mostly True.
The figures were correct, but Bush still might remain ahead (perhaps way ahead) in money accumulated on behalf of a Republican. We won't know how much total cash has been stashed to help each candidate until PACs report again in 2016.
Claim: "Under Barack Obama and the big government economy, the median wage for women has dropped $733."
Rating: False.
Wages actually have risen for women since Obama took office. Cruz's spokesperson said Cruz intended to use a different phrase.
Carly Fiorina
Claim: "We have record numbers of people living in poverty."
Rating: Half True
In raw numbers, there are more people who live in poverty. But poverty rate is a much better measure, and tjat has declined signficantly since 1959.
Claim: "92 percent of the jobs lost during Barack Obama's first term belonged to women."
Rating: False
The number of women with jobs increased by 416,000 during Obama's first term.
John Kasich
Claim: "When I left Washington, we had a $5 trillion surplus."
The claim was a 10-year cumulative projection for future surpluses, not than a one-year actual surplus.
Claim: Says he was "one of the chief architects" of balancing the federal budget.
Rating: Mostly True
Kasich pushed for a balanced budget, and contemporary accounts from 1997 place him very much at the center of the action.But more detail is needed.
Rand Paul
Claim: The debt limit deal "allows President Obama to borrow unlimited amounts of money."
Rating: Mostly False
Mandatory spending can be considered unlimited, but that is not something that Obama has unilateral power over, as Paul's claim suggests.The claim contains an element of truth but ignores critical facts.
Claim: "There's never been a direct Supreme Court case on people who were here illegally, whether or not their kids are citizens."
Ruling: Mostly True
Paul is right that the landmark Supreme Court didn't address the specific example of a child born to undocumented immigrants.But he ignores the sweeping language in support of birthright citizenship in the Wong Kim Ark ruling, the fact that the ruling continues to stand more than a century later, and the longstanding practice of granting citizenship to children of undocumented immigrants.
Marco Rubio
Claim: "There was never a single shred of evidence presented to anyone" that the attacks in Benghazi, Libya, were "spontaneous, and in fact, the CIA themselves understood that early on."
Rating: Half True.
Although investigations showed that some officials thought it was a terrorist attack immediately, there at least appeared to be some question about whether a video could have played a role. There were also several suggestions that it was because of a protest. However, Rubio had a point that much of the early evidence pointed strongly to terrorism.
Claim: Said that under his tax plan, "the greatest gains, percentage-wise," will be "at the lower end of our plan."
Rating: Half True.
The largest percentage income gains would show up among people in the bottom 20 percent, according to the Tax Foundation. However, it's important to remember that in raw dollars, these gains are relatively modest compared with the total benefits people would see at the upper end of the income spectrum.
Donald Trump
Claim: Said the Oct. 28, 2015 debate was supposed to be three hours, and he "renegotiated it down to two hours."
Rating: Mostly False
Trump played a role in reducing it to two hours. But the plans were for it to last around two hours and 15 minutes -- not three hours or more.
Claim: Ohio Gov. John Kasich "got lucky with a thing called fracking," which "is why Ohio is doing well."
Rating: False.
Although Ohio underwent a fracking boom in recent years, Trump overstated its impact. Fracking jobs account for about 2 percent of the jobs added in the state during Kasich's tenure. Shale development has improved gross domestic product by about 1 percent and contributed to less than a percent of the state's tax revenue.