Atlanta popular with tourists, but numbers lack clarity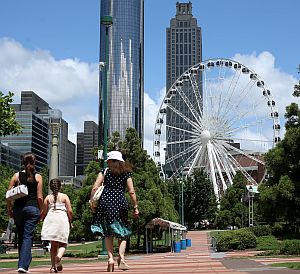 A land deal for the new Atlanta Falcons stadium moved a step closer to completion last week. Atlanta Mayor Kasim Reed announced that an agreement had been reached with one of the two churches currently on the preferred building site. (Discussions are ongoing with the second church)
Reed later discussed the details of the agreement and next steps during a radio interview on Atlanta's 680 The Fan.
At the end of the interview, Reed was asked about the impact of Atlanta's two newest attractions, the already operating SkyView Atlanta Ferris wheel and the planned College Football Hall of Fame, which is expected to open in fall 2014.
Reed said these types of attractions equate to an "extra day," or features that influence visitors to remain in the city an additional 24 hours. Atlanta's tourism is doing well, and Reed wants to continue that theme.
"Last year we broke a record. We had 42 million people visit the city of Atlanta. We've never had that many visitors before," the mayor said. "... We now have as many visitors as Las Vegas, Nevada; San Diego, California, and Los Angeles, California. Orlando and New York City still have more visitors than us. So that's why this is so important."
We know Atlanta is a popular place, but more visitors than Sin City and L.A.? We had to check it out.
Reed's statement was based on information provided by the Atlanta Convention and Visitors Bureau, the mayor's spokeswoman said.
According to the Atlanta CVB, the city saw 42.3 million visitors from across the country last year, setting a single-year visitation record. The Atlanta CVB uses a private research company, Virginia-based D.K. Shifflet and Associates, for tourism data.
According to its methodology information, each month DKSA surveys traveling and nontraveling households to generate the best estimate of travel volume within the total U.S. population. Travel is defined as either an overnight trip and then returning home, or as a day trip, defined as a place away from home and back in the same day. Information collected includes: travel destination at a city level, hotel stays, purpose of stay, expenditures, length of stay and demographics.
We also checked with Georgia's Department of Economic Development, but it does not have access to city data, a spokeswoman said. That office stands by the figures provided by DKSA.
So how did Atlanta's 2012 numbers stack up against the cities Reed mentioned? We visited each city's tourism website to compare the numbers.
Based simply on the numbers, Reed is correct.
Atlanta's tourism standings could be even better than he claims. Data for Orlando, New York City, Los Angeles and Las Vegas, for example, include foreign and domestic visitors to those cities, according to tourism officials in those cities. But Atlanta's figure includes only U.S. visitors to the city, said Rachel Peavy, the public relations director for the Atlanta CVB.
City # of visitors in 2012*
Orlando 57.3 million
New York City 52 million
Atlanta 42.3 million
Los Angeles 41.4 million
Las Vegas 39.7 million
San Diego 32.3 million
*Based on city CVB data, which could be compiled by third-party research firms
But visitation data are difficult to verify and compare. Methods of estimating and defining visitation vary from city to city, with no generally accepted standard.
Each destination has its own research vendors and methodology for calculating visitor volume, so in many cases they are not directly comparable, said Jamie Faulkner, director of research products for the U.S. Travel Association, a top travel industry group. Her company does not publish any visitor statistics beyond the national level, so Faulkner had no data of her own to test Reed's claim. But according to other sources, his statement appears correct, she said.
Based on DKSA's visitation data, the Atlanta CVB estimates that the ATL was the sixth-most-visited metro area in the country for U.S. visitors last year. DKSA did not provide rankings. That ranking is in line with a 2010 Forbes magazine ranking that put Atlanta at the seventh-most-visited U.S. city in 2009. Forbes used third-party data to judge cities on things such as hotel occupancy rates, number of foreign arrivals and visitor numbers provided by the cities' individual convention and visitors bureaus.
So was Reed correct in his claim that Atlanta's tourism numbers have met or exceeded those of other popular travel destinations?
Reed said Atlanta's tourism rates were in the realm of other major cities such as Los Angeles and Las Vegas. His claim is based on information from the city's convention and visitors bureau. The CVB's data are provided by a third-party research firm that conducts household surveys to determine Atlanta's visitation numbers.
But that's where the clarity stops. There is no industry-accepted method for calculating tourism. Each city, tourism office and research company uses its own methods and search criteria. Other firms say Reed's claim appears correct. But there is really no concrete way to tell.
The mayor's statement needs that bit of detail to clarify his claim.
We rated the statement Mostly True.
Staff writer Eric Stirgus contributed to this article.