Carter's numbers largely on target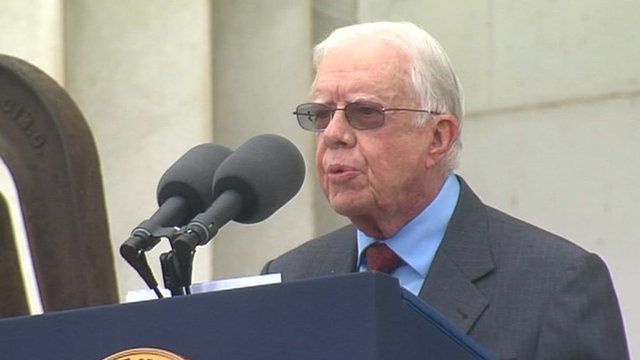 Former President Jimmy Carter joined tens of thousands of Americans last week to commemorate the 50th anniversary of the March on Washington and its leader, the Rev. Martin Luther King Jr.
Carter reflected on the progress America has made since 1963 to achieve King's dream of racial and economic equality. But Carter, a former Georgia governor, spoke about some issues he believes would pain King, a fellow Georgian. Carter said one trouble spot would be the number of African-American men in prison. Carter included some specifics that made us curious about whether they were accurate.
"I think we all know how Dr. King would have reacted to having more than 835,000 African-American men in prison, five times as many as when I left office," Carter told the massive crowd on the National Mall.
Carter continued by saying about one-third of black men are "destined to be in prison in their lifetimes," a statistic frequently cited in news reports. PolitiFact Georgia wondered whether the number of black men in prison had increased that much since Carter left the White House. We thought we'd do some research, considering the speech was broadcast live and Carter's statistics have since been widely reported in various news outlets.
When Carter left the White House in January 1981, the U.S. Bureau of Justice Statistics reported there were 160,442 black men in American prisons. That was nearly the same amount as the number of white men in prison (183,202), although at that time there were more than seven times as many white men as black men in the U.S.
The number of black men in the United States increased by more than 45 percent between 1980 and 2010, U.S. Census figures show, from 12.5 million to 18.2 million. Their incarceration rates have been a constant subject of consternation and conversation among many civil rights activists, conservatives and criminologists. One often-repeated claim is that there are more black men in prison than in college. The most recent statistics suggest that assertion is false.
Ivory Toldson, an associate professor at Howard University, talked about such claims earlier this year during an interview with NPR, citing numbers that support Carter's claim concerning how many African-American men are currently in prison.
Toldson pointed us to a table from a June 2010 U.S. Bureau of Justice Statistics report that said about 841,000 African-American men were in prison or in jail in 2009.
An estimated 694,000 white men were in prison or jail that year. That is nearly four times the total number of white men in prison or jail in 1981.
Carter, too, based his claim on that report, said Steven Hochman, the director of research for the former president.
Case closed? Not entirely.
A BJS statistician cautioned us that the number of African-Americans in prison may be misleading as some inmates could be counted twice. For example, a person who served part of the year in jail and part of the year in prison might be counted as two inmates -- one while incarcerated in a local jail, another after a transfer to prison.
At the end of 2011, the BJS reported about 555,300 African-American men in state and federal prisons. In 2011, the BJS reported that about 276,400 African-Americans were in local jails. There was no breakdown for how many prisoners in local jails were men. Typically, about 90 percent of incarcerated inmates, regardless of race, are men, BJS statistics show.
We must also note another point. Many law enforcement officials will point out that there is a difference between a prison and a jail.
"Jails are designed to house people awaiting trial," said Terry Norris, executive director of the Georgia Sheriffs' Association.
Prisons, Norris said, were created to house people once they're sentenced.
Norris noted that some people still sit in county jails after being sentenced, due to a variety of issues, including prison overcrowding. In August, 6 percent of state-sentenced inmates were housed in county jails, according to numbers compiled by the Georgia Department of Community Affairs.
The percentage of state-sentenced inmates in county jails was as high as 13 percent in 2009. Norris believes the percentage will decrease in the future as a result of the state's recent changes to the criminal justice system. Georgia has removed the mandatory minimum sentencing requirement in some limited cases involving nonviolent offenders.
To sum up, Carter said in a speech that the number of African-American men in prison has increased fivefold since he left office in 1981. Carter would have been more accurate if he had said "incarcerated" instead of "prison" because his count included inmates in jail.
In 1981, the number of black men incarcerated was about 160,000. A 2010 federal report said it was 841,000.
Federal officials have cautioned that some of those inmates in the 2010 report may have been counted twice. The BJS reported that about 555,300 African-American men were in state and federal prisons as of 2011. That's about 3.5 times as many as when Carter left office. But if you add in jail inmates -- prisoners awaiting trial and serving sentences locally -- you approach Carter's numbers.
Carter's overall point is that the number of African-American men incarcerated has increased substantially since he left office. He's right about that. But you have to include some context to get the whole picture.
We rate Carter's statement Mostly True.