Price's point about rising deficits on the money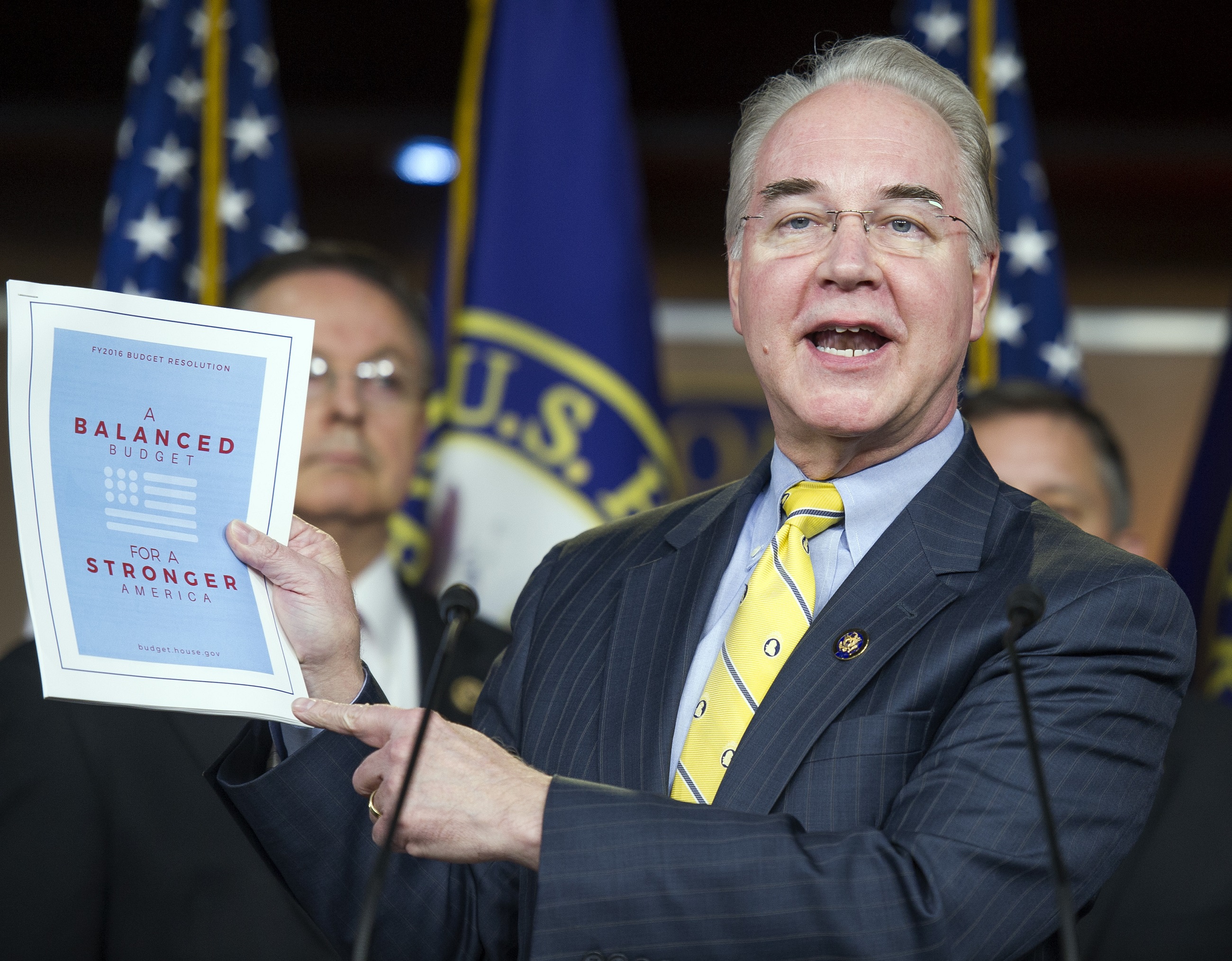 It's budget time in the nation's capital. And, as the GOP produces its first spending proposals since President Barack Obama took office, a metro Atlanta voice is central to the discussion.
U.S. Rep. Tom Price, R-Roswell unveiled his 2016 budget resolution as House budget chair last week. It would reduce spending by $5.5 trillion in the next 10 years in a bid to produce a budget surplus by 2025.
The House on Thursday narrowly approved a budget that follows much of Price's blueprint but also adds $38 billion in war funding.
The original plan, though, made it clear that even with attention to military spending, the focus would be spending cuts.
"Under current conditions, by 2023, interest payments on the nation's debt alone will be $722 billion," Price wrote in the budget blueprint. "That will be larger than (Congressional Budget Office's) projected defense spending budget of $696 billion."
Most budget watchers have played down those claims, since fiscal conservatives and defense hawks have just worked to pass a budget that opens up Senate negotiations over a so-called reconciliation package that can go after Obamacare.
But is the Price blueprint right? Without spending reductions, will taxpayers be paying more to carry debt than to have a standing military? PolitiFact Georgia decided to check it out.
Price cites the Congressional Budget Office for his projections. The CBO is a federal, nonpartisan agency that has provided Congress with budget and economic information since its creation in 1974.
The agency publishes projections several times a year, based on its detailed formulas that look at current laws, historic spending, revenue trends and other previous projections.
The figures that Price cites are in the January budget and economic outlook for 2015 to 2025.
Based on information from December 2014, the report estimates that the nation's debt will be about 2.6 percent of the Gross Domestic Product for the year. That's the smallest deficit relative to the nation's economic output since 2007 but just under the 50-year historical average of 2.7 percent of GDP.
And, tucked into the tables that help examine the rising deficits are the exact numbers that Price cites. On page 13, a table of the agency's budget projections shows an estimated $722 billion bill for 2023. Deeper into the report, on page 86, the report projects defense spending will total $696 billion.
So is it settled?
Not quite.
First, it's important to recognize that defense total is a projection based on the spending caps, or sequestration, in effect through 2021. Those cuts are what some of the additional funding restored in the House budget version approved this week.
Looking at the CBO projections without the automatic spending reductions, defense spending in 2023 is forecast to be $752 billion – substantially ahead of the projected price tag on the nation's debt.
Then again, that is a short-lived balance. By 2024, even stopping sequestration on defense spending, the CBO projects $777 billion in interest payments and $771 billion on defense.
Price has a point when raising concerns about the projected cost of our national debt. And using the CBO projections gives a broad credibility, given the agency's reputation for high-level, nonpartisan analysis.
But there are caveats, said Laura Wheeler, a senior research associate at the Center for State and Local Finance at Georgia State University.
After all, the projections are not hard and fast expectations but highly refined estimates on known factors at a snapshot in time.
When the January report was released, for instance, the calculations could not account for recent financial woes in Europe, which undoubtedly affect the U.S. economy, or the possibility that American troops could be sent abroad, Wheeler said.
"Based on what we know is going to happen and what has already occurred by trend, this is what the future looks like," she said. "There is a lot that can change, especially in 10 years."
The question then becomes whether defense spending is the yardstick to measure the nation's rising deficits. That becomes a political discussion, with some favoring military spending as the benchmark and others looking instead at costs such as medical spending.
Wheeler, an economist, said many outside analysts prefer to examine the debt level compared with the GDP.
As the CBO report points out, the 2014 rate is expected to be just a tenth of a percentage point below the historic rate of 2.7 percent.
By 2025, the CBO projects a steep increase, 4 percent of GDP.
That goes back to Price's point, that interest on our national borrowing is projected to grow faster than the economy.
That could change, especially if the sluggish economic recovery ramps up. But the projected increases are enough to get people – read political leaders – concerned, Wheeler said.
"This becomes a philosophical debate about how to best handle that concern and when it becomes a problem," Wheeler said. "This is a place to start that conversation."
A big part of Price's job, for Georgians and all Americans, is to frame that conversation. His first budget proposal claims without change, the nation will be paying more in interest on our debt than our military.
His figures are based on the best-available data, which tries to project a decade out. Those projections can and will change, though how is impossible to know.
The decision to compare military spending with debt is not a common way to benchmark projections. But even the broader comparisons Price could have made – about the share of the nation's economic output being spent on interest payments – support that broader argument.
We rate his claim True.