Truth-O-Meter tests claims on Chris Christie's role in pension funding, job creation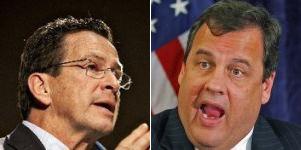 Gov. Chris Christie took a pounding from the Truth-O-Meter this weekend, from a claim about his refusal to fund pension contributions at their full amount, to confusing the difference between jobs and people when it comes to tracking employment gains.

In case you missed it, Connecticut Gov. Dannel Malloy received a Mostly True ruling Sunday for his claim about Christie's funding of New Jersey pension accounts. Christie then received a False on Monday for his claim about how many New Jerseyans have returned to work since he's been in office.

Malloy claim

Malloy and Christie aren't strangers: last year, Christie blasted Malloy, a Democrat, for raising taxes. So Malloy took a verbal swing at Christie in a July 23 radio interview on WNPR's Colin McEnroe Show, charging that Christie "has refused to fund pensions by billions of dollars," and got legislative approval allowing him to delay "properly funding pensions" until 2018.

Much of Malloy's claim is true: Christie's first spending plan outlined in March 2010 did not include billions in recommended pension payments, and the governor did sign legislation delaying a full annual contribution until fiscal year 2018. But Malloy failed to mention that Christie later started making partial payments into New Jersey's pension funds. A nearly $485 million payment was made in fiscal year 2012 and a $1.03 billion payment is scheduled in fiscal year 2013.

Christie claim

The governor said during a July 23 news conference that 9,900 New Jerseyans returned to work in June and that about 90,000 people had gained employment since he took office. But Christie left out an important fact: the U.S. Bureau of Labor Statistics counts jobs and people in separate surveys, meaning jobs created in a state does not mean an unemployed person returned to work. As a result, it's possible for jobs to increase while the number of employed people decreases.

Looking at Christie's claim and federal labor date, some 17,000 fewer New Jersey residents were employed in May than June, despite 9,900 new jobs created last month. And nearly 39,000 -- not 90,000 -- people have found employment in New Jersey since February 2010, Christie's first full month as governor.
To comment on this story, go to NJ.com.

Questionable claim?

Have you heard a politician's claim that makes you wonder if it's accurate? Share the claim with us in an e-mail to [email protected] and we may test it on the Truth-O-Meter.