Menendez, Kyrillos trade flawed criticism of each other's record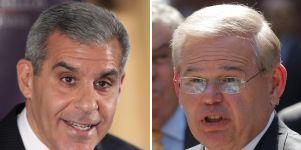 Both opponents in New Jersey's U.S. Senate race are using political marksmanship to shoot holes in one another's record.

But recent claims from the candidates -- incumbent U.S. Sen. Robert Menendez, a Democrat, and Republican state Sen. Joe Kyrillos -- have misfired.

The 'King' of Wall Street Cash

Kyrillos criticized Menendez for raking in tons of cash from the banking industry.

In a June 6 interview on NJToday, Kyrillos said he has not "raised any Wall Street money at all," but Menendez is "the king of raising money from Wall Street, over a million dollars, one of the leaders in the United States Senate."

PolitiFact New Jersey found Kyrillos was wrong about his own fundraising: data on OpenSecrets.org shows he's received nearly $60,000 from the Securities & Investment industry for his current campaign.

The same data also shows it's an exaggeration to call Menendez "the king of raising money from Wall Street," but among sitting Senators he places 15th for raising the most money from that industry.

Read our Mostly False ruling here.

A 'Raid' of Pension Funds

Menendez, on NJTV's "On the Record," accused Kyrillos of fiscal mismanagement during his time in Trenton.

Menendez said: "Here's someone who raided the state's -- voted to raid the state's pension funds by $2.8 billion that is costing New Jersey taxpayers still today to the tune of nearly $15 billion dollars to repay that money."

The vote Menendez mentions is a reference to a 1997 proposal -- which Kyrillos voted for -- that approved issuing $2.8 billion in bonds and using the proceeds of those sales to bolster the state's pension funds. So, about $2.8 billion was added to the funds because of that vote, not withdrawn.

Also, overall, paying off that borrowed money will cost $10.1 billion, according to the state Treasury Department, not nearly $15 billion.

Read our False ruling here.

If you hear a claim you think needs checking, send it to PolitiFact New Jersey.

You can also follow us on Facebook and Twitter.