Truth-O-Meter checks items on Menendez support of taxes; 1980 Reagan, Carter race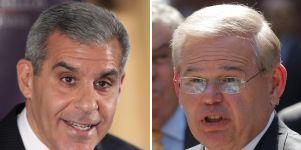 Taxes and claims of a comeback were at the center of weekend items on the Truth-O-Meter, but neither focused on Gov. Chris Christie's Jersey Comeback.

In case you missed it, the Truth-O-Meter on Sunday handed down a Mostly False to state Sen. Joe Kyrillos for a claim about higher taxes. Christie received a Half True ruling on Monday for his claim about the 1980 presidential debate between Ronald Reagan and Jimmy Carter.

Kyrillos claim

The Monmouth County Republican said in an Aug. 29 news release that incumbent U.S. Sen. Bob Menendez, a Democrat, voted in favor of higher taxes more than 70 times. We reviewed a list of 72 votes from 2006 to 2011 sent to us by the Kyrillos campaign and found that more than half of the votes had no effect on tax policy or law, or were procedural matters. Menendez did vote in favor of higher taxes on several occasions, but not nearly as often as the Kyrillos campaign claimed.

Christie claim

The governor said in late September that Reagan trailed Carter in the 1980 polls but after their televised presidential debate, Reagan went on to win 40 states. Reagan actually won 44 states, but there's no clear evidence that the former governor of California trailed Carter. In fact, a number of polls at the time showed Reagan behind or ahead of Carter but given the margins of error in those polls, the two politicians were in a virtual dead heat going into the Oct. 28, 1980 debate.
To comment on this story, go to NJ.com.