How much has the NYC graduation rate increased since mayoral control began?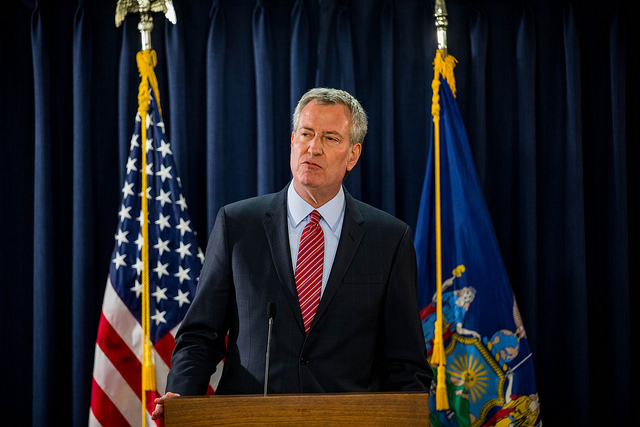 Schools in New York City have one feature the rest of the state's schools do not: They're under the exclusive control of the mayor.
New York City Mayor Bill de Blasio claimed graduation rates have soared since that power was granted.
"Since mayoral control of education came in, the graduation rate in New York City has increased by 50 percent in 13 years," de Blasio said at a news conference in Albany.
The New York State Legislature gave then-Mayor Michael Bloomberg control over the city's schools in 2002. Only about half of students graduated before 2002. The change allowed Bloomberg to appoint a manager of the school system to replace the Board of Education.
The legislature has since renewed mayoral control four times, with a sunset scheduled for 2019 unless lawmakers extend control again. De Blasio has been unable to convince Republicans in the State Senate to give permanent control to the city's mayor.
Is de Blasio right that the graduation rate has increased by 50 percent since then?
Graduation rates
About 17,000 more students graduated from New York City schools in 2016 than 2005, according to the New York City Department of Education.
The graduation rate was 46.5 percent in 2005. The state changed the way the graduation rate is calculated that year, so numbers prior to 2005 are not comparable.
The graduation rate increased each year until 2011, when the rate dropped from 61 percent to 60.9 percent. The rate also decreased in 2012, but has increased each year since.
The most recent data shows the graduation rate for New York City schools at 69.6 percent in 2016. The rate for 2017 had not been released.
The 2016 rate is about 23 percentage points higher than the rate for 2005, a 50 percent increase between the two years.
The numbers count students who graduate in June of their fourth year of high school.
The state also began tracking the graduation rate for students who graduate in August after their fourth year of high school in 2008. The graduation rate was 72.6 percent in 2016 when the August graduates are counted.
The same success has not been felt in every district. District 8 in the Bronx still had a June graduation rate of 50 percent in 2016, up slightly from 44.6 percent in 2005.
Our ruling
De Blasio said "the graduation rate in New York City has increased by 50 percent in 13 years."
The increase between 2005 and 2016 is about 50 percent.
We rate de Blasio's claim True.