Checking John Boehner on millionaire taxes, impact on small businesses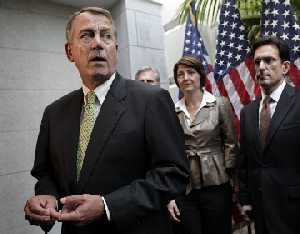 Will increasing taxes on millionaires squelch job creation?

That's been an often repeated assertion of Republican leaders like House Speaker John Boehner.

Boehner made the claim again in his remarks on ABC's This Week with Christiane Amanpour, criticizing President Barack Obama's jobs bill.

The bill, which so far has been stymied in Congress, calls for a 5.6 percent surtax on incomes greater than $1 million to pay for tax cuts for workers, infrastructure spending, hiring incentives and cash for local governments to keep teachers and police from being laid off.

Polling data has found a strong majority of Americans support the idea, but Republicans have voiced opposition, saying it will check investment and expansion by business owners, stifling creation of new jobs..

"Over half of the people who would be taxed under this plan are, in fact, small businesspeople. And as a result, you're going to basically increase taxes on the very people that we're hoping will reinvest in our economy and create jobs. That's the real crux of the problem," Boehner told Amanpour during his interview.

PolitiFact Ohio's partners at PolitiFact.com decided to look further. When they checked the facts, they found the speaker's argument to be lacking. They rated the Boehner's claim False.