Wife's assets in company not a conflict of interest in casino vote, Josh Mandel says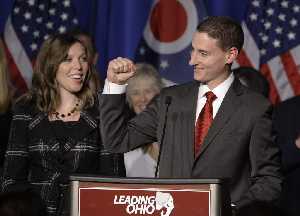 Now that Ohio Treasurer Josh Mandel has submitted his personal financial disclosure statement to the U.S. Senate, where he hopes to serve if he can win the election next year, the scope of his holdings are in focus.

Nearly all of his household wealth is his wife's, and her assets -- worth anywhere from $1.95 million to more than $7 million in 2010 -- are held in a family trust that she will not control until later in life, the Republican candidate says.

Reporters and political operatives were eager to see the extent of Ilana Shafran Mandel's assets, and not merely because of an interest in wealth. There is also a political and journalistic reason for poring over financial disclosure reports: They reveal the trip wires over which politicians can stumble.

Which brings us to Forest City Enterprises, the real estate development, management and investment firm headquartered in Cleveland. The company started as a lumber business, founded by siblings who emigrated from Poland. Mandel's wife is the granddaughter of one of them, the late Fannye Shafran, whose maiden name, Ratner, is well known in Northeast Ohio.

Forest City went public in 1960, and as recently as last year, Ilana Shafran Mandel owned Forest City stock worth anywhere from $315,003 to $650,000, according to her husband's disclosure statement. Exact amounts are impossible to ascertain because Senate financial disclosure forms only report values in ranges.

This information about Forest City is important because of a statement made by Mandel spokesman Joe Aquilino when the financial disclosure report was distributed to reporters on Nov. 4:

"First, Josh has no interest whatsoever in Forest City Enterprises. Second, Forest City Enterprises is not a 'family company.' … Third, Ilana's investment in Forest City Enterprises constitutes significantly less than 1 percent of the total issued and outstanding shares."

It's that last part that PolitiFact Ohio decided to take a look at. Why would this matter? Well, remember what we said about potential trip wires?

Prior to his sending in his financial disclosure statement, there had been whispers about a trip wire concerning Mandel and Forest City. Mandel's political opponents, including former GOP Senate contender Kevin Coughlin, suggested the answer might be in this disclosure filing.

This was specifically what Coughlin was alluding to when he said in September on "Capitol Square," an Ohio News Network public affairs program, that "there may be some issues about interest in the family business, which is involved in development, involved in casino development -- and he cast a vote last June on casinos in Ohio."

The vote, when Mandel served in the Ohio legislature, was to approve a wide set of rules governing casinos in Ohio. One of those casinos, opening in 2012, will operate for at least the first five years in the Higbee Building in downtown Cleveland. The building is owned by Forest City, which is leasing it to Rock Ohio Caesars Cleveland LLC. It is next to Forest City's Tower City office, hotel and retail center.

In addition, Forest City in February sold 16 acresof downtown Cleveland land to the casino developer. This land, too, is next to Tower City, and it is for the casino's second phase.

Let's check the score: As a state legislator, Mandel voted to approve casino rules after Ohio voters passed a constitutional amendment allowing casino gambling. One of those casinos, opening next year, is buying and leasing property from Forest City Enterprises. And Mandel's wife, the granddaughter of a Forest City founder, owns stock in Forest City, or at least did in 2010, as the new financial disclosure report shows.

Is there a problem here? Mandel, through Aquilino, says no. But anticipating questions,
Aquilino included his statement when giving the disclosure report to reporters. (He gave it to the press before the Senate even received it.) He said the implication of a conflict of interest in Mandel's casino vote "is legally incorrect and absurd."

That's the second piece of Mandel's claim that PolitiFact Ohio took a look at.

PolitiFact Ohio is not qualified to pass legal judgment. But we verified two important points made by Aquilino, on behalf of the treasurer.

First, Forest City, which trades on the New York Stock Exchange, had a market capitalization as of Nov. 7, 2011, of $2.35 billion, according to YCharts and MarketWatch, which track data on publicly traded companies.Market capitalization is a measure of the company's value. You get it by multiplying the share price by the number of outstanding shares. We do not know how many Forest City shares Ilana Shafran Mandel owns, but we know the maximum value in 2010 was $650,000.

That means, based on Forest City's market capitalization, her stake in Forest City amounted to less than 0.03 percent in 2010. We can get somewhat higher figures by looking at Forest City's stock price at various periods in 2010, but they still don't even amount to a rounding error.

This percentage is important because of an advisory opinionissued in 1999 by the Ohio Joint Legislative Ethics Committee. The opinion said that Ohio's conflict-of-interest statute "does not prohibit a member of the General Assembly from voting on legislation which specifically grants money to a company in which the member owns less than 5 percent of the issued and outstanding stock of the company."

If that's not clear enough, the opinion also put it this way: "It would appear from this statute that where a public official owns less than 5 percent of the issued and outstanding stock, that amount is not considered substantial enough to cause a conflict of interest and therefore prohibit the official from participating."

Call us obstinate, but we've known a few lawyers, and what if this opinion applied to only a very narrow set of circumstances or a specific legislative vote? So we called the Joint Legislative Ethics Committee and spoke with Pete Russell, the general counsel.

Nope, Russell said. That 5 percent threshold is generally the rule for when a member should abstain..

That's not to say Ilana Shafran Mandel doesn't own a healthy amount of Forest City stock. And it isn't to say that Democrats won't look at her roughly half-a-million-dollar stake in Forest City and ask whether her husband should have abstained from voting, strictly on principle. We're willing to bet on that.

But the Mandel campaign is accurate in describing her share of Forest City ownership as minor. And it is correct in citing the 1999 advisory opinion that would appear to apply to Mandel's legislative vote.

On the Truth-O-Meter, that makes Mandel's statement True.