Rob Portman says FBI director said Syrian refugees can't be adequately vetted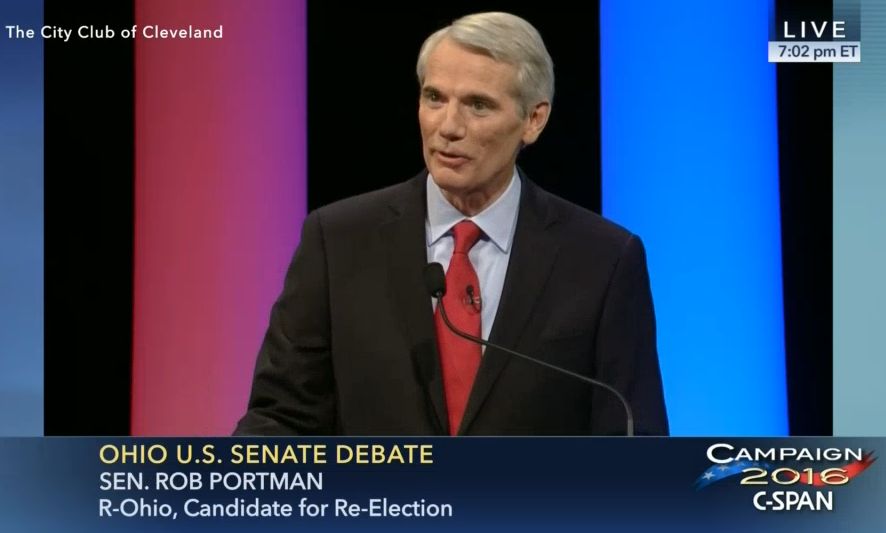 During a U.S. Senate debate at the City Club of Cleveland, incumbent Republican Sen. Rob Portman was asked for his views about refugees from Syria and what the U.S. role should be.
Portman said that refugees face a dire situation due to actions of the Syrian government, but it would not be wise for the United States to increase the number of refugees admitted.
"Before the Homeland Security Committee, the director of the FBI said that we cannot figure out who these people are, what their intentions are, because we have no information on them, because we don't have any contact with the Syrian government or any people on the ground to be able to determine that," Portman said. "That to me is not a good thing for the United States to do."
Is that what FBI Director James Comey said? Let's take a closer look.
The United States vets all refugees through an extensive process that involves the FBI, the State Department, the Department of Homeland Security, the Defense Department and other agencies.
The process can take two or even three years, as Democrat Ted Strickland said during the debate. Refugees undergo several rounds of security clearance checks, and because of special concerns about terrorism, Syrian refugees actually have to go through extra hurdles.
Experts have told us repeatedly that refugee background checks are the most extensive security screening the country has for any type of visitor.
Comey spoke to the Homeland Security Committees of both chambers of Congress last year, sharing much the same opinion both times. His opinion was not exactly what Portman implied.
When Comey spoke before the House Homeland Security Committee on Oct. 21, 2015, Rep. Bennie Thompson, D-Miss., asked Comey whether there is concern that the FBI could miss a potential terrorist infiltrator because intelligence databases don't contain complete information for every refugee.
Comey said the procedure isn't perfect. "We can only query against that which we have collected," Comey said. "If someone has never made a ripple in the pond in Syria in a way that would get their identity or their interest reflected in our database, we can query our database until the cows come home but ... there will be nothing show up because we have no record on that person."
So Comey was saying that, despite the thoroughness of the process, he couldn't guarantee there would never be a problem or that no terrorist would ever slip through the cracks.
Comey noted that when the United States performed background checks on Iraqi refugees, they had a much larger database because the United States has had a presence there for more than a decade. Not having the same intelligence infrastructure in Syria has resulted in much less information with which to cross-reference an applicant.
Homeland Security Secretary Jeh Johnson said at the same hearing that it's possible a refugee could have an unknown criminal past or suddenly commit a terrorist act after entering the United States.
That said, despite the pitfalls of admitting refugees from war-torn regions, Comey said the process works and has been improving over the years.
"The good news is we are much better doing it than eight years ago," Comey told U.S. Rep Jeff Duncan, R-S.C., later in the hearing. "The bad news is, there is no risk-free process."
Comey was echoing concerns he voiced to the Senate Homeland Security and Governmental Affairs Committee on Oct. 8.
"There is risk associated with bringing anybody in from the outside, but especially from a conflict zone like that," he told the Senate committee. "From the intelligence community's perspective, as I said, I think we've developed an effective way to touch all of our databases and resources to figure out what we know about individuals. … I don't think that's a cumbersome process. My concern there is that there are certain gaps."
He repeated that sentiment to the House Judiciary Committee on Oct. 22.
"We have gotten much better as an intelligence community at joining our efforts and checking our databases in a way that gives us high confidence. If we have a record on somebody, it will surface. That's the good news," Comey said. "The challenge we face with Syria is that we don't have that rich set of data. So even though we've gotten better at querying what we have, we certainly will have less overall. And so as I said to a question earlier, someone only alerts as a result of our searches if we have some record on them. That's the challenge we face with Syria."
We'll also note that, especially given the extra scrutiny for Syrian refugees, experts have told us it "makes no operational sense" for ISIS to take advantage of the refugee program.

"Given how easy it is to send a European extremist to the U.S. via Europe, why would an ISIS guy in Syria wait the three years it takes to get refugee status?" Anne Speckhard, a counterterrorism expert at Georgetown University, told us previously.
Finally, we should note that we've looked at claims from Donald Trump before that the United States doesn't have a system to vet refugees. That more extreme claim is False. Portman's claim offers more nuance and context.
Our ruling
Portman said, "The director of the FBI said that we cannot figure out who (Syrian refugees) are, what their intentions are, because we have no information on them, because we don't have any contact with the Syrian government or any people on the ground to be able to determine that."
Portman had a point that Comey expressed concerns about information gaps on potential Syrian refugees. However, he exaggerated the extent of Comey's concerns when he said that Comey indicated that "we cannot figure out" who they are, and that we have "no information on them." All told, Comey said the vetting process is thorough, but imperfect.
The statement is partially accurate but leaves out important details, so we rate it Half True.