Hillary Clinton, Obama's VA silence, a Common Core claim in flames: PolitiFact Oregon Roundup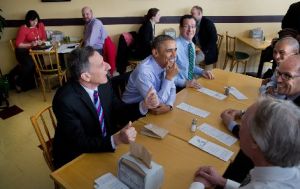 Today's PolitiFact Oregon Roundup contains two distinct themes.
The first looks at claims surrounding the brewing storm over just what the heck has been going on at VA care facilities around the country. The other bundles two claims involving Hillary Clinton since she appears to be virtually certain to launch a 2016 presidential bid.
For good measure, we're rounding out the roundup with a Florida legislator's take on national education standards. Is the country's foundation, as he asserts, really being attacked?
1. Katrina misses the mark on vets' care claim
Both Republicans and Democrats are in an uproar over reports about lengthy delays that may have contributed to veterans' deaths. On CBS' Face the Nation, Katrina vanden Huevel, the editor and publisher of the liberal magazine The Nation noted that part of the problem is that "Congress has cut funding, has slashed funding, for veterans' benefits over these last years."
PunditFact's check showed that VA health care and 'veterans' benefits' aren't the same thing – something vanden Heuvel later acknowledged. They rated the claim she made on television was False.
2. "Where's the president been?"
CBS chief White House correspondent Major Garrett pushed back recently, when handlers described President Barack Obama as being 'madder than hell' about the VA situation. He told White House chief of staff Denis McDonough, "It's been nearly three weeks since the president has commented publicly. Where's the president been?"
The check turned out to be relatively easy, when the White House confirmed that Obama last weighed in on the issue April 28. The claim was rated True.
3. Clinton gets it mostly right on Canadians bringing home the bacon
Hillary Clinton said in a May 16, 2014 speech that "Canadian middle class incomes are now higher than in the United States. They are working fewer hours for more pay,…living longer on average, and facing less income inequality." The check found that Clinton is "indisputably correct on four of these five measures, and the data is more mixed on the fifth. On balance, we rate her claim Mostly True."
4. She was against it before she was for it
Louisiana Republican Gov. Bobby Jindal, no fan of the Affordable Care Act, thinks he has found an ally in – Hillary Clinton? He's asserting that Clinton, in 1993, opposed the same individual mandate that is now central to the new law.
"…When it comes to reciting history," PolitiFact National found, "Jindal is largely correct. Clinton had serious misgivings about an individual mandate to buy health insurance, and strongly preferred an employer-based model. On that point, we give Jindal a Mostly True."
5. Trousers aflame in the Sunshine State
In Florida, state Rep. Charles Van Zant, R-Keystone Heights, claims that a firm to do testing for the controversial Common Core State Standards "will attract every one of your children to become as homosexual as they possibly can."
PolitiFact Florida's check found a "somewhat limited connection between the testing company and gay and lesbian issues and then blows it up into a wild claim that lacks evidence." Van Zant, for his troubles, walked away with his trousers aflame.
Health care mandates, troubled VA facilities, burning pantaloons in Florida – it all leaves us exhausted. Time for readers to toss some thoughts of their own. Pitch 'em here and let's get the conversation started.