Sharpton: The people's priorities are a minimum wage hike, a path to citizenship, and gun background checks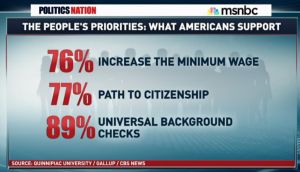 Liberals like to claim that Republican policies are out of step with the views of most Americans. The Rev. Al Sharpton drew on some polling results to argue that point on his MSNBC show Politics Nation.
Sharpton teed up his attack with an excerpt from a floor speech by House Speaker John Boehner, R-Ohio.
Boehner: House Republicans are listening. The Senate, the president continue to stand in the way of the people's priorities.
Sharpton: The people's priorities? Let's take a look at some of those priorities. 76 percent want an increase in the minimum wage. How about focusing on that? 77 percent want a path to citizenship for illegal immigrants. There's a priority you should focus on. And nearly one year after the Newtown tragedy, 89 percent support background checks.
We see two facets to Sharpton's claim. First, do better than three-quarters of Americans support a higher minimum wage, a path to citizenship for illegal immigrants and enhanced background checks for gun-buyers? And second, are these "the people's priorities"?
On the first question, Sharpton largely has it right.
For starters, he's correct about how the congressional GOP's stance contrasts with that of Americans as a whole. Republicans, with some help from a few Democrats, stymied a Senate bill to require background checks for sales at gun shows and over the web. Most congressional Republicans oppose raising the minimum wage. The idea of a path to citizenship divides the party, but opposition to it is significant and passionate.
And Sharpton also has pretty good support for the notion that three-quarters of Americans back each of the three policy positions he cited.
Sharpton had a graphic with the poll results and at the bottom were the sources: Quinnipiac University, Gallup and CBS. We reached out to MSNBC to get the specific polls they used but did not hear back.
Here is what our research turned up.
| | | | |
| --- | --- | --- | --- |
| Sharpton's claim | Quinnipiac | Gallup | CBS |
| 76% increase minimum wage | NA | 76% | 69% |
| 77% path to citizenship | 57% | 87% | 77% |
| 89% gun buyer background checks | 89% | 83% | 88% |
By and large, the polls Sharpton cited back up his claim. On raising the minimum wage and background checks, he chose the highest percentage, but certainly with the latter, all of the results are in the same range. On the matter of citizenship for illegal immigrants, he chose the middle value.
There was some variation in the way the polls asked their questions. On the minimum wage, Gallup asked about raising it to $9 an hour, while CBS simply asked if it should be raised and gave no dollar amount. On a pathway to citizenship, Quinnipiac was the outlier because it didn't include the details of paying fines, waiting 10 years and other conditions before citizenship would be possible. (We'll get into why that matters below.) On gun background checks, all three asked pretty much the same question.
We also looked at other polls to see if they were in line with the ones Sharpton used. The results were mixed, possibly because some polls worded the question differently. We've marked those with an asterisk.
| | | | | |
| --- | --- | --- | --- | --- |
| Claim | NBC/WSJ | Pew | Bloomberg | ABC/WP |
| 76% increase minimum wage | 58%* | 70% | | |
| 77% path to citizenship | 65%* | | 74% * | 58%* |
| 89% gun buyer background checks | | 81% | | 67% * |
What we glean from these polls is that support for raising the minimum wage might not be as strong as Sharpton said, but a healthy chunk of the public is behind it. The question on the NBC/Wall Street Journal survey was relatively complex. Pollsters asked people to assess whether they thought increasing it would be good because it would reduce poverty and spur growth, or bad because it would hurt small businesses and make it harder for low-skilled people to find jobs. That definitely was not as simple as asking whether the minimum wage should go up to $9 an hour, as most of the other polls did.
Looking at background checks for gun buyers, we again see broad support. The ABC/Washington Post asked people what they thought about the Senate's failure to pass a background check bill, a change that makes the responses more difficult to compare.
Immigration is the thorniest topic and here's where how the question was asked seemed to make a big difference.
Both Bloomberg and NBC/Wall Street Journal put the question two ways. When they simply asked if people supported a pathway to citizenship, support stood at 46 percent in the Bloomberg poll and 52 percent in the NBC/Wall Street Journal survey.
When they added details about applicants paying fines, passing a criminal background check and waiting 10 years, opinions sharply spiked towards approval. With the Bloomberg poll, support jumped to 74 percent. In the other, it went to 65 percent.
Adding those policy details matches the question to the language in the Senate immigration bill.
Where Sharpton's summary fails to capture an important dimension is on the second part of our inquiry -- do these positions represent the public's "priorities"? The reality is that these polls test the public views one issue at a time, and they don't tell us where voters rank those issues in importance compared to other issues.
There is a poll that tackles that question head on. The Pew Research Center for People and the Press has been looking at public's policy priorities since 1994. The latest findings, from January 2013, show a very different picture than what Sharpton presents.
Out of 21 issues, strengthening gun laws and dealing with illegal immigration rank near the bottom at 19 and 18 respectively. Pollsters didn't ask specifically about the minimum wage. However, improving the job situation ranked second and helping the poor and the needy ranked ninth. It's possible that raising the minimum wage would fit into those issues but the poll is otherwise silent on this point.
Our ruling
Sharpton said the "priorities" of more than three-quarters of Americans are to increase the minimum wage, create a path to citizenship for illegal immigrants, and require background checks for gun buyers. Polling generally backs up his claim about how Americans view those three issues, though there's some variation in the polls, often depending on how the question is worded.
However, it does not seem that these issues are "priorities" for the American public, as Sharpton claimed. In fact, he used the word three times in the space of a few sentences. So we give that part of the claim significant weight. We rate his claim Mostly False.