O'Reilly denies accusing WH of political motives in early Benghazi response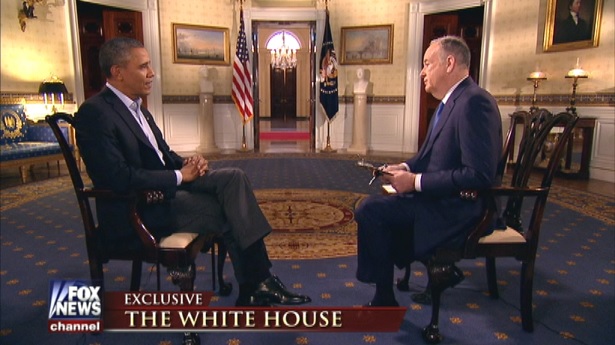 The real fireworks of Super Bowl Sunday happened long before the snoozer of a football game between the Denver Broncos and the Seattle Seahawks. The matchup: Fox News host Bill O'Reilly versus President Barack Obama.
For 10 minutes in the lead-up to the big game, O'Reilly grilled the president about the botched rollout of the government's health care website, IRS officials who scrutinized conservative advocacy groups and the president's reaction to the fatal attack on the U.S. compound in Benghazi, Libya, which left the American ambassador and three other Americans dead.
On Benghazi, O'Reilly and the president had this testy exchange:
O'Reilly: Your detractors believe that you did not tell the world it was a terror attack because your campaign didn't want that out.
Obama: Bill, think about...
O'Reilly: That's what they believe.
Obama: -- and they believe it because folks like you are telling them that.
O'Reilly: No, I'm not telling them that.
The exchange was taken by some as Obama lashing out at Fox News and others as O'Reilly grandstanding. O'Reilly, who has been with Fox News since 1996, drew more than 4 million viewers for his Feb. 3, 2014, episode, which included more of the Obama interview.
As fact-checkers, we can't address either notion. But we wondered about O'Reilly's claim that he did not peddle a narrative that Obama withheld information about the Benghazi attacks in order to advance his presidential campaign.
A Benghazi timeline
To refresh your memory, ground zero in this part of the Benghazi debate came Sept. 16, 2012, when U.S. Ambassador to the United Nations Susan Rice said on national television that the attack on the compound began spontaneously and was not pre-planned. The reality is murkier than that statement would imply, though the exact nature of the attack remains at least somewhat unclear.
O'Reilly didn't press Obama on what happened on the ground in Benghazi. He focused on how the administration characterized the attack. Rice's interview came less than two months before what looked to be a very tight presidential election. So let's look at what the White House said in the days surrounding the attack.
Sept. 11 - A mix of a mob and armed attackers launch grenades and set fire to the American compound.

Sept. 12 -- Obama said "No acts of terror will ever shake the resolve of this great nation." He repeats those words on Sept. 13 and 14.

Sept. 13 -- White House spokesman Jay Carney referred to an inflammatory video and said, "The protests we're seeing around the region are in reaction to this movie. They are not directly in reaction to any policy of the United States or the government of the United States or the people of the United States."

Sept. 14 -- A State Department spokeswoman said, "We are very cautious about drawing any conclusions with regard to who the perpetrators were, what their motivations were, whether it was premeditated." But she ended with this: "Obviously, there are plenty of people around the region citing this disgusting video as something that has been motivating."

Sept. 16 -- Rice said, "We do not have information at present that leads us to conclude that this was premeditated or preplanned."

Sept. 20 -- Carney told reporters, "It is, I think, self-evident that what happened in Benghazi was a terrorist attack. Our embassy was attacked violently, and the result was four deaths of American officials."

Sept. 20 -- Obama told an audience at a town hall meeting, "What we do know is that the natural protests that arose because of the outrage over the video were used as an excuse by extremists to see if they can also directly harm U.S. interests."

Sept. 21 -- The administration as a whole stated publicly that the attack was planned and executed by a terrorist group.
Based on that record, O'Reilly isn't 100 percent correct to say Obama "did not tell the world it was a terror attack." But our question is whether O'Reilly advanced that argument and said it was for political reasons.
O'Reilly on the record
We searched transcripts and videos of The O'Reilly Factor and found that O'Reilly did not exactly say he personally believes that political strategists intervened to shape what Rice and others said. However, for more than a year, O'Reilly continued to raise the question when other news networks had less interest. And O'Reilly consistently cast the question of what happened during those 10 days in the worst possible light.
A conversation between O'Reilly and retired Lt. Col. Ralph Peters on May 6, 2013, is a prime example.
O'Reilly: You believe the Obama administration did not tell the truth to the world, not just the American people, on purpose, for political reasons. That's what you believe?
Peters: I believe that President Obama lied to the American people.
O'Reilly: Himself.
Peters: Himself. Sec. (Hillary) Clinton lied to Congress. Susan Rice lied to the U.N.. Jay Carney lied to the media. And the mainstream establishment media have protected this administration right down the line.
O'Reilly then said, "Those are very serious charges, impeachable charges, if proven. How likely are we to get proof this week or going onward about what you believe?"
Peters said the proof is already there for those who want to see it.
O'Reilly didn't challenge Peters to prove his case. He did say that concrete proof would be needed. Then he pivoted to another Fox News analyst who described an Israeli airstrike on a Syrian weapons compound. With this, O'Reilly raised the specter of American military intervention in Syria.
"You know what Bill Clinton did when he got in trouble with Monica Lewinsky. He started to bomb," O'Reilly said. "To divert attention and the 'wag the dog' theory. But we're not going to speculate on that. All we're going to do is report the facts."
Presumed political interference
A few days later on May 10, 2013 -- eight months after the Benghazi attack -- O'Reilly interviewed ABC News reporter Jonathan Karl on Fox News and posed a question in a way that assumed a cover-up.
"Here is the bottom line," O'Reilly said. "We need to find out who in the White House drove this, whether it was the president or somebody else trying to protect him in a re-election campaign. That's the main story, is it not?"
In a November interview on ABC with George Stephanopoulos as part of a book tour, O'Reilly asked, "Who told her (Rice) to mislead the American public?"
On other occasions, O'Reilly invoked Watergate and the impeachments of Presidents Richard Nixon and Bill Clinton. In 2012, during his Talking Points Memo segment, he asked if "the Libya situation is another Watergate?" While conceding that this could turn out to be a "big nothing," O'Reilly pressed the comparison.
"Look at it this way," O'Reilly said. "Back in 1972, Richard Nixon denied he had anything to do with a low-level political break in. If the press had not been aggressive, Nixon would have gotten away with it. And certainly the break in at the Watergate Hotel was not nearly as important as failing to define a terrorist attack that killed four Americans."
In addition, O'Reilly told his viewers that they would not get the complete story from other large news organizations.
"We all know the media is sympathetic to Barack Obama," he said in his May interview with the Fox analysts. "We all know they nurture him. They root for him. And they even promote his policies. That is beyond a reasonable doubt."
Appealing to Fox viewers
O'Reilly's enduring interest in Benghazi fits with the Fox News audience. A May 2013 survey by the Pew Research Center for the People and the Press found that Republicans were twice as likely as Democrats to follow the latest news about Benghazi and that over half of Republicans and Republican-leaning independents regularly watch Fox News.
This group voiced the greatest frustration with the Benghazi situation.
"Fully 79 percent of Republicans who regularly watch Fox News say the Obama administration has been dishonest," the report said.
That O'Reilly might stick with the Benghazi story comes as no surprise to Mike Conway, a journalism professor at Indiana University.
"The Fox audience would like the news to reflect what they believe," Conway said. "If it makes a Democrat look bad, that story will resonate stronger and if a story resonates with your core audience, that's a reason to stay with it."
Our ruling
O'Reilly said he didn't tell viewers that the Obama campaign hid news about the motives behind the attack in Benghazi because he was running for re-election. While O'Reilly did not use those exact words, he consistently said that someone was trying to mislead the American public. He repeatedly compared the situation to the impeachments of Richard Nixon and Bill Clinton.
O'Reilly nurtured suspicion. We rate his claim Mostly False.