No, Fox News is not snubbing Mueller's testimony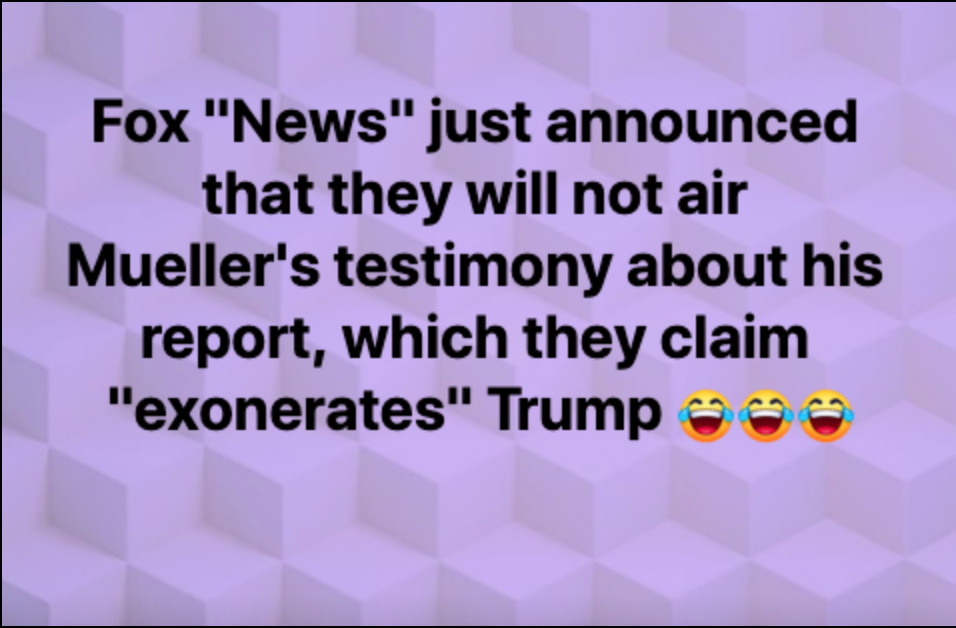 A popular liberal Facebook page claimed Fox News would not be providing live coverage of Special Counsel Robert Mueller's testimony before Congress. But the meme posted by Occupy Democrats, a progressive advocacy group, was based on false information that fooled social media users and TV talking heads alike.
"Fox 'News' just announced that they will not air Mueller's testimony about his report, which they claim 'exonerates' Trump," said the meme, which was posted to Facebook on July 22.
That's demonstrably false, as Fox News anchor Bret Baier pointed out on Twitter.
A Fox News press release issued earlier that day said Baier and fellow Fox News anchor Martha MacCallum will be leading the network's live coverage of Mueller's testimony before both the House Judiciary Committee and the House Intelligence Committee on July 24.
Occupy Democrats eventually updated the meme, setting the record straight with a correction in its caption. But the meme had already been shared almost 5,000 times on Facebook.
The rumors claiming Fox News would be snubbing Mueller's testimony are a textbook example of how misinformation spreads online.
It began with a now-deleted July 21 tweet from MSNBC contributor Joyce Vance, who said Fox News was not airing the testimony because President Donald Trump "is afraid of what will happen if his base gets to hear Mueller's testimony for themselves."
Hours later, Vance deleted the tweet, saying it was "intended ironically" and apologizing for "unintentionally misinforming people."
But the tweet had already left its mark, having racked up thousands of retweets from social media users, including some with large followings such as author Stephen King.
The rumors also made their way to the TV screen, with GOP strategist Rick Wilson telling MSNBC's Nicole Wallace on July 22 that Fox News would be tuning out.
"Fox isn't covering the hearings, which should also tell you how scared they are of what could happen on this morning," Wilson said. "It's going to be a very interesting and consequential moment. They're apparently not going to take them live. Everybody else is taking them live."
"Really?" Wallace replied. Shortly after he got off air, Wilson corrected himself on Twitter, and Wallace retweeted his correction.
The next day, former Democratic congresswoman Donna Edwards repeated the claim again on MSNBC, only to have anchor Stephanie Ruhle correct her.
"Actually, I don't believe that's true, I think they are going to air it," Ruhle said.
Occupy Democrats did not respond to a request for comment in time for publication.
Our ruling
A meme from Occupy Democrats said, "Fox 'News' just announced that they will not air Mueller's testimony about his report."
Fox News announced its plan for airing the testimony live in a July 22 press release.
We rate this statement False.
Clarification: This fact-check has been updated to clarify that Rick Wilson and Donna Edwards are MSNBC on-air guests, not MSNBC contributors.​