Jon Stewart: "What has you, governor, fed up?"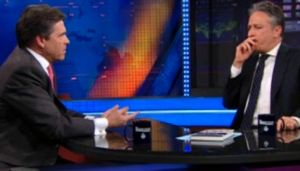 Seems Gov. Rick Perry wasn't put off by Jon Stewart's lefter-leaning politics — after "The Daily Show" host interviewed him, Perry encouraged his Twitter followers to watch the exchange on Comedy Central, calling Stewart "one smart and engaging dude."
Last night's appearance was one of many Perry has made in the days following the election to promote his book, "Fed Up! Our Fight to Save America from Washington."
Kicking off Monday's interview, Stewart asks: "What has you, governor, fed up? Succinctly, what would you say?"
Perry dives in: "Watching Washington tell the states how to run their business, all the way down from whether you put too much salt on your food all the way up to incandescent light bulbs."
Both of those statements appear in "Fed Up!" And they both happen to be statements we've tested.
In the first chapter, Perry writes: "We are fed up with being overtaxed and overregulated. We are tired of being told how much salt we can put on our food, what windows we can buy for our house, what kind of cars we can drive, what kinds of guns we can own, what kind of prayers we are allowed to say and where we can say them, what political speech we are allowed to use to elect candidates, what kind of energy we can use, what kind of food we can grow, what doctor we can see, and countless other restrictions on our right to live as we see fit."
On Saturday, we rated False Perry's claim that the federal government restricts "how much salt we can put on our food." While the the Institute of Medicine issued an April report recommending that the U.S. Food and Drug Administration "expeditiously initiate a process to set mandatory national standards for the sodium content in foods." However, the FDA isn't working on any regulations, and importantly, nobody is telling Perry how much salt he can shake on his veggies.
We also rated Barely True Perry's claim that Washington is "telling us what kind of lightbulb we can use."
Perry didn't just parrot the book. He also touched on some campaign-trail fodder that we've previously looked at.
He told Stewart that "850,000 jobs were created in Texas in the decade of 2000." That's a number he's cast at least a couple of different ways. In September, we rated True his claim that Texas has "created more than 850,000 jobs, more than all the other states combined." From June 2001 to June 2010, Texas had a net gain of 853,400 jobs. During the same period, California lost 827,800. In October, we also rated True his claim that "more Texans have new jobs today than the entire population of Fort Worth," which had a population of 736,200 as of Jan. 1, according to the City of Fort Worth's website.
In a portion of the interview that landed online only, Perry said Texas has waited four years for two different federal administrations to approve the state's request to establish its own health-care delivery program targeting needy residents — without getting approval.
"Health care delivery; it costs a monstrous amount of money," Perry said. "We think we could save the federal government and the State of Texas $60 billion over the next six years — $60 billion over the next six years."
Stewart: "But in Texas, you have an enormous problem with the uninsured."
Perry: "The strings that are attached ... I've had a waiver (request) up there for four years — two years under the (George W.) Bush administration, two years under this administration — to allow us to differently administer the program where we know we can more efficiently reach more people with an insurance program."
We checked into that waiver request this May, rating False Perry's statement in an April 15 interview that Texas has "had for over two years, waiver requests in front of the Health and Human Services committee — before this administration (of Democratic President Barack Obama) got into place, I might add — that allowed us some flexibility ... to use dollars differently than what are mandated by the federal government to create insurance opportunities for those that are uninsured today."
We confirmed that Texas sought federal permission in April 2008 to redirect Medicaid hospital funds into a state pool intended to help some low-income Texans get private insurance. Since then, state and federal officials had gone back and forth, with no resolution. A federal official told us the ball was now in the state's court, saying that as of that time, the waiver request wasn't considered complete.
This morning, we touched bases afresh with the Texas Health and Human Services Commission on whether there have been significant developments since we published our May article. We'll update this story if there has been a new turn.