Back to Basics ad demands Rick Perry face Texans and debate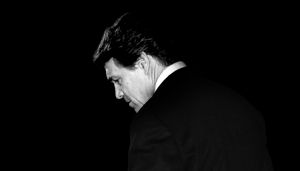 The Back to Basics political action committee, which has spent big bucks attacking Republican Gov. Rick Perry, took another shot this week at goading the guv to debate Democratic gubernatorial hopeful Bill White.
Six weeks after the PAC backed by Houston trial lawyer Steve Mostyn ran ads calling Perry a "coward" in 24 Texas newspapers, Back to Basics upped the ante Oct. 5 with fresh full-page ads the group said it placed in 41 newspapers, including the Austin American-Statesman.
The latest ad features a photo of Perry, turned partly away from the camera with his head hung, looking like an overgrown child told to stand still in the corner. "FACE US" is stamped across the black-and-white photo in bold letters. "Perry owes Texans the truth," the ad starts. "It is time to debate."
"Perry brags that he's responsible for an economic miracle in Texas," its text continues. "The real miracle is that Texas is still kicking after Perry's disastrous 10-year career as governor, and a looming $21 billion budget shortfall. After enjoying a record 10 years as governor, Rick Perry travels from one campaign stop to the next, spinning the yarn that everything's A-Okay in Texas." The ad then tells voters not to believe him.
Back to Basics levies unemployment-related charges that we'll put to the Truth-O-Meter soon. Meanwhile, other claims reflect statements we've already reviewed.
First, the ad says Perry would rather "hide out in his $10,000-a-month, taxpayer-funded rental mansion than defend his miserable record."
We're not getting into whether Perry's hunkering down. But we have checked the costs to the state for Perry to live in a rental house while the Governor's Mansion undergoes repairs. White and Sen. Kay Bailey Hutchison, who Perry defeated in the Republican primary, have both harped on the cost to taxpayers of Perry's temporary digs.
Back story: In fall 2007, the state rented a home for the governor and his wife, Anita, about 11 miles southwest of downtown Austin so the Governor's Mansion could be renovated. The lease for the house was initially for one year starting Oct. 1, 2007; monthly rent was $9,900.
Less than a year after the Perrys moved into the gated community near Barton Creek, the Governor"s Mansion, just southwest of the Capitol, was heavily damaged in an arson fire. After work was stopped on the mansion pending a decision on options for rebuilding the historic structure, the lease on the rental home was renewed in fall 2008 to extend through October 2011, with the rent lowered to $9,000. Through this April, the state had paid $290,700 in rent.
Toss in the eight months left in Perry"s current term — as White did — and the total rental payments to that point came to $362,700. That wasn"t including housing-related expenses, like $197,000 spent on utilities and other costs, according to the Texas Facilities Commission and State Preservation Board.
Second, the ad says Perry brags about balancing the Texas budget, but he "always fails to mention, however, his letter to President Obama accepting his $16 billion share of Washington D.C. stimulus money to fill the gaping budget in his last budget."
In June, we outlined various ways of tallying the stimulus aid flowing to Texas, including $14.4 billion appropriated by state lawmakers for state budgets extending through August 2011.
The $787 billion federal stimulus package, otherwise known as the American Recovery and Reinvestment Act, became law in February 2009, with the goals of boosting struggling U.S. economy, and creating and saving jobs. The law specified that governors had to certify that their state would request and spend provided funds. On Feb. 18, 2009, Perry sent Obama the requisite letter of certification, telling the president that the state would use the funds "in the best interest of Texas taxpayers."
We've also documented instances of Perry commenting on the state budget. In February, he said "we balanced five state budgets and cut spending." What he doesn't mention is that he had no choice — the state constitution requires a balanced budget. We rated Barely True his April claim that in 2003, Texas "cut $10 billion out of the entire budget" yet "put $1.8 billion more into public education" and "$800 million more into health and human services." And we rated Barely True his claim that Texas has "billions in surplus," because while Texas has billions of dollars in reserve, next year the state is expected to confront an even greater budget shortfall.
In June, Perry quibbled with one estimate pegging that shortfall as high as $18 billion, which he said was "a number that somebody just reached up in the air and grabbed." We rated that description False. A month earlier, Wayne Pulver, the assistant director of the Legislative Budget Board had termed $18 billion a "reasonable" projection, while detailing factors expected to increase the shortfall, including increased spending to meet the rising demand for programs like Medicaid and the Children's Health Insurance Program.
In the new ad, Back to Basics also forecasts what will happen with the looming shortfall. While PolitiFact Texas tries to steer clear of judging predictions, two of the new ad's forecasts touch on issues we've explored.
The ad says the shortfall will foster "skyrocketing tuition rates." In January, we said a national Democratic group overshot in saying tuition set by public college and university boards "skyrocketed" 136 percent on average from fall 2003 to fall 2008. The Austin American-Statesman had earlier concluded that average tuition and mandatory fees — every student faces such fees — at the state's public universities climbed 86 percent, to $6,300 a year, by fall 2008.
The ad also says key Perry allies will balance the budget "on the backs of schoolchildren by stuffing more kids into already crowded classrooms." The PAC ties that claim to a May newspaper article that we reviewed last month in finding Barely True a TV ad by Kendra Yarbrough Camarena, a Houston Democrat running for the Texas House. In her ad, the narrator says Austin politicians "want to cram more kids into classrooms so they don't have to make the tough decisions to balance the budget." Key Republican legislators told us they might call to ease the 22-student cap for most elementary school classes, but we found that idea has yet to gain momentum.