Watson's online meeting hits on familiar themes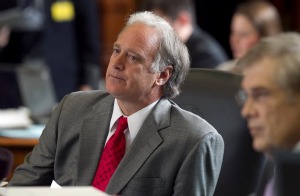 In an online town hall meeting Tuesday, state Sen. Kirk Watson reflected on this year's legislative session and in the process covered some ground previously trodden by PolitiFact Texas.
Watson, an Austin Democrat, kicked off the meeting by telling his viewers that the 2011 session was "defined" by the process of writing the state's next two-year budget. And he noted that speculation about the size of the state's projected revenue shortfall started long before the first official day of the session.
In June 2010, the figure being floated was $18 billion, and during an interview, a TV reporter asked Gov. Rick Perry whether he agreed with that estimate. Perry's reply: "I think it's a number that somebody just reached up in the air and grabbed."
The PolitiFact Texas Truth-O-Meter rated that statement False. We found that the $18 billion budget gap figure had been cited by state leaders using the best information available at the time, and an official at the Legislative Budget Board, whose staffers are longstanding experts on number-crunching, had called that figure "reasonable." Projections might be uncertain, but that doesn't mean they're pulled from the air.
By the start of the session in January, estimates of the shortfall had grown to more than $20 billion.
Watson next turned his attention to the recently passed 2012-13 budget's impact on public education. Guest speaker Richard Kouri of the Texas State Teachers Association noted that the new budget gives school districts $4 billion less than they would have gotten under existing funding formulas intended to cover enrollment growth.
Watson later said that "it's been said over and over again that this is the first time in really known memory that we didn't actually fund enrollment growth." He asked Kouri to explain the situation.
Kouri obliged: "Funding enrollment growth means that if you have 80,000 more students show up, we're going to send you however much money we spend per student in the state of Texas to pay for the education of those 80,000 new kids. We didn't."
Kouri said the last time that happened was during the Great Depression.
In June, we tested a similar statement by state Sen. Wendy Davis, D-Fort Worth, who said that "for the first time, we are not funding student population growth." Davis received a Mostly True for that claim. An April memo from a Legislative Budget Board analyst said that since 1984, the state had explicitly appropriated enough money to pay for enrollment growth. Somewhat fuzzier information indicates that Texas has allocated education dollars on a per-student basis since the 19th century.
As Watson's education conversation continued Tuesday, Kouri pointed out that the 2012-13 budget also cuts more than $1 billion in grant money for school districts. "That was money that was going out to schools for pre-K programs, for middle school science labs, for special programs for students who were having trouble passing the standardized tests," Kouri said.
In an item published today, we tested a related statement by liberal advocacy group Progress Texas on its anti-Perry website — "Perry ended full-day pre-K for 100,000 Texas children" — rating it Mostly False. The 2012-13 state budget, which Perry signed, eliminated grants that some districts used to extend pre-K from half-day to full-day. But half-day pre-K funding continues, and some districts are finding other ways to keep offering full-day pre-K.
During Watson's town hall, Kouri raised a subject that has gotten a lot of time on the Truth-O-Meter: federal stimulus funding that lawmakers appropriated in the current two-year budget, which was written in 2009. Schools got nearly $4 billion of the federal aid, Kouri said.
That reminded us of our fact-check of President Barack Obama's statement to a Dallas TV reporter in April that "Gov. Perry helped balance his budget with about $6 billion worth of federal help, which he happily took, and then started blaming the members of Congress who had offered that help." According to a July 2009 House Research Organization analysis of the 2010-11 budget, lawmakers used $6.4 billion of federal stimulus funding to help pay for programs that have historically been financed with state general revenue. Of that, $3.6 billion went to public education.
We rated Obama's statement Mostly True. The president was correct that Perry accepted $6.4 billion in stimulus money that was used to help balance the budget. But we didn't find evidence that he then started "blaming" members of Congress who had supported the stimulus legislation, although Perry criticized the plan specifically and the policies of Washington in general.
Wrapping up the education-focused portion of the town hall, Watson said Texas is "one of the bottom states of the 50 states" in per-student spending. In January, we tested a similar statement by Sen. Davis, who said in a press release that Texas ranked 44th nationally in education funding per pupil.
Davis received a Mostly True. We found that rankings on per-pupil spending vary by year and methodology but that Texas has consistently trailed most states.
Watson's next guest was Bee Moorhead, executive director of Texas Impact, an interfaith advocacy organization. Among the subjects the two discussed was the state's so-called rainy day fund. Watson suggested that when lawmakers come back into session in 2013, it's likely they will have to quickly dip into the reserve fund to pay for some costs that weren't covered in the 2012-13 budget.
A colleague of Watson's at the Capitol, Rep. Charles Perry, R-Lubbock, touched on the same topic during a June 24 interview with the Texas Tribune, saying that "there's been a lot of misinformation out there that there's $6 billion in the (rainy day) fund that's not been used. It's been used." His argument: In writing the 2012-13 budget, the 2011 Legislature left unpaid Medicaid and education expenses totaling about $6 billion — obligations that the 2013 Legislature will have to dip into the rainy day fund to meet.
We rated his statement Mostly False. Although the Legislature adjourned amid expectations that when they next gather, they will lean on the fund to cover the $6 billion in expenses, the money has not yet been used and hasn't even been earmarked for this purpose.
Watson closed his town hall meeting by reviewing some of his legislation that was passed into law, including one related to "sexting" — the practice of sending nude photos via text message.
Watson's legislation created a misdemeanor offense charge for Texans 17 and younger caught sexting. Before the bill passed, he said that the only charges prosecutors could bring in youth sexting cases were based on felony child pornography laws, "which are more geared toward predators." We tested a similar statement made Feb. 9 by co-host Whoopi Goldberg on ABC's talk show The View. Goldberg said that in Texas "right now, sexting is a felony offense for teenagers – that can mean up to 10 years in prison."
We gave Goldberg a Half True. At the time she made her statement, it was correct that a Texas "sexter" could end up with a 10-year prison term if he or she were prosecuted for child pornography — apparently a rare occurrence. But contrary to Goldberg's declaration, sexting in itself was not a felony in Texas for anyone, including teenagers.