Perry's abortion shift latest fodder for Flip-O-Meter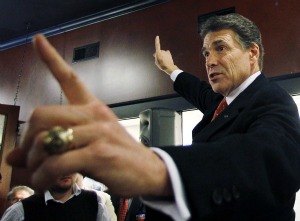 Gov. Rick Perry, who is seeking the Republican presidential nomination, is the latest Texas official to receive a rating from the PolitiFact Texas Flip-O-Meter.
At a campaign event in Iowa on Dec. 27, 2011, Gov. Rick Perry told a pastor that his position on abortion had undergone a "transformation." We found that Perry, who has long maintained his opposition to most abortions, had changed his mind about whether there should be exceptions to any abortion ban for cases of rape and incest. However, he continues to support an exception when the life of a woman is threatened. We called that a Half Flip.
Some of our other Flip-O-Meter items:
** In November, we looked at whether Texas Comptroller Susan Combs had flip-flopped on her promise to advance race promoters $25 million in state money to bring Formula One racing to the Austin area. Full Flop!
** Combs last faced the Flip-O-Meter in August, when we checked whether she had changed her position on abortion rights. Again, Full Flop!
Our colleagues from other PolitiFact state operations have also employed the Flip-O-Meter recently:
** In November, PolitiFact Wisconsin examined the changing position on using embryonic stem cells for medical research of U.S. Senate candidate Tommy Thompson, who served as secretary of health and human services for President George W. Bush. Half Flip.
** Before Herman Cain suspended his presidential campaign Dec. 3, PolitiFact Georgia checked into whether Cain altered his stance on auditing the Federal Reserve. Half Flip.