Statements about the budget shortfall fall short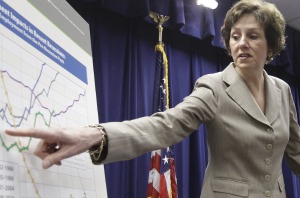 State Comptroller Susan Combs ended months of speculation Monday when she predicted that in fiscal 2012-13, state government will collect $72.2 billion in state revenue, which is nearly $27 billion shy of what agencies say they need to maintain current programs and services through those years.
Exactly how large the revenue shortfall would be has been a debatable question for months. Remember last March when some Texans were fretting about a shortfall in the neighborhood of $11 billion?
Then $18 billion in May? That's the estimate that Gov. Rick Perry on June 4 called "a number that somebody just reached up in the air and grabbed." At the time, we rated Perry's disclaimer False because the number was based on the best information available when Perry made the claim. And an official at the Legislative Budget Board, whose staffers are longstanding experts on number-crunching, called the $18 billion figure "reasonable."
Now that the estimated shortfall stands at more than twice the original speculation, we figure it's timely to recap other budgetary claims we've checked.
Perry: "We have billions in surplus."
Before he won the GOP nod for governor again, Perry boasted in a February TV ad about his "tough conservative decisions" that resulted in "billions in surplus" for the state. Perry's campaign pointed to a report by Combs estimating that the state would have $8.2 billion stowed in its rainy day fund, which lawmakers can tap to balance the budget. Unsaid: John O'Brien, director of the Legislative Budget Board, which advises legislators, had already estimated that spending would exceed incoming revenue by $11 billion — more than the rainy day fund alone could cover — by the time the 2012 fiscal year starts next September. We rated Perry's statement Barely True.
Perry: In 2003, Texas cut "$10 billion out of the entire budget, yet we put $1.8 billion more into public education. We put $800 million more into health and human services."
Responding to an April question about the predicted $11 billion shortfall, Perry pointed out that the state had closed a similar gap in 2003. We rated that Barely True: The Legislature closed the $10 billion revenue shortfall, but actually cut only $3.2 billion from the budget. And that extra money that the state put into public education and health and human services? Federal dollars.
Bill White: Republican state leaders are using "Soviet-Style" budget management.
During an April interview with Texas Tribune editor Evan Smith, the Democratic gubernatorial nominee derided Perry's request to state agencies to cut their budgets by 5 percent. Professors called White's characterization hyperbolic and inaccurate. We called it Pants on Fire.
Stephen Colbert: "It turns out that Texas has an $18 billion budget shortfall and can't afford its new science textbooks."
The Colbert Report host had his tongue firmly in cheek when he skewered the Texas State Board of Education for revising social studies curriculum standards "so the books would no longer say that Sen. (Joseph) McCarthy was engaged in a witch hunt, but, instead, was the star of 'Bewitched.'" We let that one slide, but jumped on Colbert's claim that the state couldn't afford to buy new textbooks for science classes. Our finding: Mostly True. We dinged Colbert for cherry-picking the highest estimate of the state's shortfall. But the board did put off buying the books to save money, and it used the same budget estimate Colbert did.
State Sen. Kirk Watson: More than $3.5 billion in state revenue that is supposed to be dedicated to basic needs and functions is being diverted to make the books look balanced."
In a Nov. 15 speech, the Austin Democrat expressed concerns that past legislatures have balanced the budget by dipping into state income that's supposed to fund specific programs. We rated his statement Mostly True: He accurately recapped the amount of money allocated from specific-purpose accounts for the 2010-11 state budget. But those dollars actually helped balanced the budget; they didn't make the books look balanced.