Checking Obama, Paul, gas prices and border fence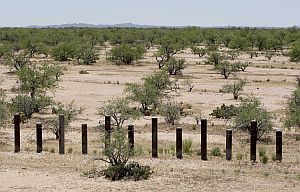 President Barack Obama figured into fact checks of gas prices and border fencing last week. We also looked into a comparison by GOP presidential hopeful Ron Paul of Texas and Texas Democrats' budget claims.

The Flashback:

On Twitter, GOP U.S. Senate hopeful Michael Wiiliams of Texas urged online pals to join him in seeking a national policy encouraging all forms of energy production, writing April 26: "Gas prices have gone up $2 since Obama took office. We need More American Energy."

Williams adds on his campaign website: "If I didn't know better, I'd think President Obama is actually trying to see what $5 gasoline looks like."

The former member of the Texas Railroad Commission correctly pegged the price at the pump in Obama's first two-plus years as president. No other president in the past 35 years saw such an increase at this point of his presidency. However, the statement's implication that the president is at fault doesn't hold up; key factors driving gas prices are beyond a president's control. We rated this Half True.

Asked during the first debate of the 2012 presidential campaign about his concern that Israel will start a war with Iran, U.S. Rep. Paul shifted the focus to his position that the United States should stop sending money to other countries.

"I don't want any of this foreign aid — Pakistan or anybody else — because the principle is wrong and because it doesn't achieve anything," the Lake Jackson Republican said during the May 5 debate. "If we stopped all the foreign aid, you say, 'Oh, you're going to hurt Israel.' But, you know, the Arab and the Muslim nations get twice as much money."

On the face of it, stacking one nation's foreign aid dollars against 40 others may not be a meaningful comparison. Regardless, 40-plus Arab and Muslim countries drew far more than double what Israel got in the last decade, figures show. We rated his statement Mostly True.

President Obama's May 10 El Paso speech on immigration reform included his claim that the fence along the border with Mexico is "now basically complete."

That so?

Obama went on to predict that many Republican opponents won't be satisfied. "We have gone above and beyond what was requested by the very Republicans who said they supported broader reform as long as we got serious about enforcement," Obama said. "All the stuff they asked for, we've done. But even though we've answered these concerns, I've got to say I suspect there are still going to be some who are trying to move the goal posts on us one more time."

"They'll want want a higher fence," Obama said. "Maybe they'll need a moat. Maybe they want alligators in the moat. They'll never be satisfied. And I understand that. That's politics."

Per the Department of Homeland Security, there is now fencing for 649 of the 652 miles described in the congressionally-approved Secure Fence Act of 2006. Then again, the vast majority of the requirement was met with vehicle barriers and single-layer pedestrian fence--some of which a critic suggested "your grandmother could hop over."

The original act called for double-layer fencing; only 36.3 miles of double-layered fencing currently exist. However, the act was later amended to allow Border Security the discretion to determine which type of fencing was appropriate for different areas.

So, Obama can make a case that the vehicle barriers and single-layer pedestrian fences meet the amended letter of the law. But we also think Obama misleads, particularly when he mocks Republican opponents, saying that even though the fence has been built, "they'll want want a higher fence. Maybe they'll need a moat. Maybe they want alligators in the moat." The Border Patrol has not gone "above and beyond" what Republicans requested, as Obama claimed. What they originally requested was a double-layer fence, and they didn't get much of it. And so we rated Obama's statement Barely True.

Back in Texas, state Sen. John Whitmire explained why he couldn't support the Texas Senate's version of the 2012-13 state budget by saying he didn't know how state agencies could cope with further cuts. Whitmire singled out the Texas Board of Nursing as an example.

"I asked them for their backlog of investigations," he said in floor debate May 3. "They've got 3,000 complaints against nurses, many of them sexual assaults, malfeasance."

That's Mostly True. Many of about 3,000 backlogged complaints allege malfeasance by nurses, though a smaller number involve sexual assaults. However, no one can determine the precise breakout without access to confidential board information.

Nearly two weeks later, state Sen. Rodney Ellis appealed unsuccessfully to spend more money from the state's so-called Rainy Day Fund. In floor debate, he told colleagues: "Members, this legislature has voted to use virtually all of the Rainy Day Fund four times" since its creation in the late 1980s.

He got his recap right. The 1991, 1993, 2003 and 2005 Legislatures did those deeds.

Hear a questionable claim in Texas politics? Write us at [email protected] . We're also on Facebook and Twitter.