Testing Ryan and the Texas GOP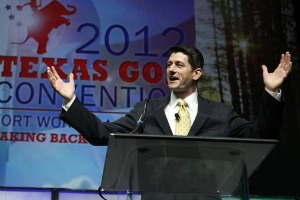 PolitiFact has checked out 14 statements by U.S. Rep. Paul Ryan, and the two most recent checks are by PolitiFact Texas. Ryan, announced as Mitt Romney's running mate Saturday, gave the keynote speech at the Republican Party of Texas convention June 9, 2012.

And our newest item concerns a claim about the GOP party platform adopted at that convention: New York Times columnist Gail Collins echoed a claim that had gone viral saying the Texas GOP opposed "critical thinking." Those words appear in the platform, but the complete sentence makes it clear the GOP was opposing only a specific education model called outcome-based education, rendering Collins' claim Half True.

Ryan told the Texas audience, "If the amount of Americans were in the workforce today like they were when President Obama took office, the labor force participation rate, our unemployment rate would be 11 percent today."

We checked the numbers and found Ryan's claim is True: Nearly 66 percent of the U.S. population was in the workforce in January 2009, compared with nearly 64 percent in May 2012. That 2 percent translates to 4.6 million Americans, meaning that if the rate had held steady, 17.3 million would have been looking for work in May 2012 -- 10.9 percent unemployment.

On a lighter note, we were unable to confirm a story Ryan told the crowd about state pride: "I remember reading a few years ago a story about how Coca-Cola did this big, exhaustive marketing study about how people love their states. First place: Texas. Second place: Wisconsin." We found a splash of factual support, but no proof, making it Mostly False.

The national PolitiFact site rounds up the complete Ryan file, which includes items from the House Budget chairman's home-state fact-finders, PolitiFact Wisconsin. The tally: Two were rated True and two Mostly True; four were Half True and four Mostly False; none were False and two were Pants on Fire.