PolitiFact Texas at the Texas Tribune Festival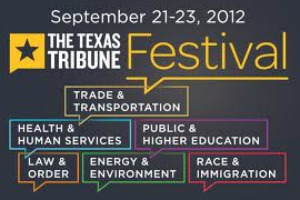 Beefed up by a clutch of University of Texas journalism students, we caught many of the panels and solo speakers taking their shots at the Texas Tribune Festival, which kicked off in Austin on Friday night with an appearance by Gov. Rick Perry.
Numerous political figures -- including Republican U.S. Senate nominee Ted Cruz, Attorney General Greg Abbott, plus San Antonio Mayor Julián Castro and state Sen. Kirk Watson -- were among the Texans to speak.

The festival ended Sunday with breakfasts featuring key figures including Joe Straus, the Texas House speaker, followed by a closing panel of journalists talking about the 2012 presidential race: Maggie Haberman, a senior writer for Politico.com; Hendrik Hertzberg; senior editor for The New Yorker; Gwen Ifill, moderator and managing editor of Washington Week and senior correspondent for the PBS NewsHour; and Julia Mason, host of Sirius XM's "The Press Pool with Julie Mason," a daily look at national politics.
Hear something we might have missed? Write or call (512-445-3644).