Dewhurst: 45 days "lost" to state testing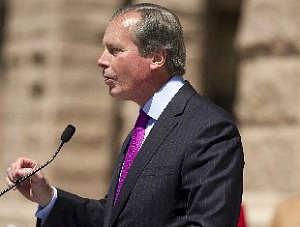 In a radio interview, Lt. Gov. David Dewhurst said legislative debate about reducing the number of state-mandated end-of-course exams in high school reflects concern that too much time is devoted to such exams.
On the program, hosted by Mark Davis on KSKY-AM 660, Dewhurst said he wants to "reduce this excessive number of days that our school systems lose every year, some 45 days on testing."
So precise--and hard to confirm.
After scrutinizing news reports and state testing calendars, we concluded that a district could end up using portions of 26 to 54 days for various tests, though neither Dewhurst nor other sources bear out the idea that districts are losing 45 days to such tests.
We rated this claim as Mostly False. The detailed fact check is posted to the right along with a similar check we undertook last year.