Michele Bachmann didn't say Bible written in English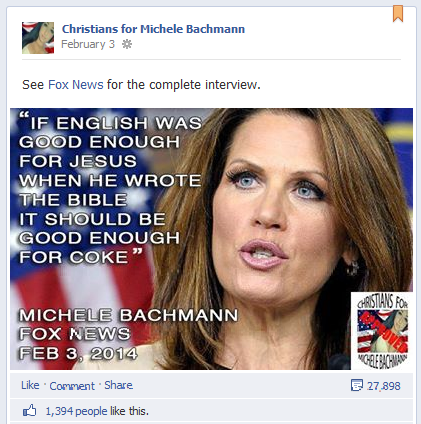 After Coca-Cola aired a multilingual Super Bowl ad, a photo-quotation circulated via Facebook suggesting U.S. Rep. Michele Bachmann, R-Minn., disapproved.
The Coke ad, featuring "America the Beautiful" sung in seven languages, provoked a backlash on Twitter and criticism from conservatives who objected to hearing parts of the patriotic song performed in tongues other than English. "If English was good enough for Jesus when he wrote the Bible it should be good enough for Coke," Bachmann was quoted as saying in the graphic posted Feb. 3, 2014, by "Christians for Michele Bachmann."
Except, we and others confirmed, Bachmann said nothing of the kind.
Hope you're enjoying your holidays.
See our full check of this claim -- our sixth-most-read story of the year -- here.