The fact-checked skinny on Pete Sessions of Texas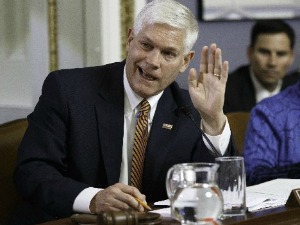 Pete Sessions -- the Dallas Republican potentially bidding for House majority leader now that Jeb Hensarling has reportedly decided not to go for it -- already has a PolitiFact report card. He could be vying to succeed the defeated Eric Cantor.
Most recently, in December, we rated as Half True a Sessions claim that federal law for Obamacare navigators "does not bar — or even require screening for — convicted felons, including individuals convicted of identity theft or fraud."
That's right, though he left out significant information. For instance, the federal government has an Excluded Parties list that prevents grants from going to agencies not in good standing. Also, states are permitted to impose background checks. A Texas agency was weighing such a mandate when Sessions made this claim while nationally, other states had done so or were considering as much. Finally, the biggest Texas contractor for navigators had already reported conducting a background check of each navigator it hired.
In 2010, we looked into a Democratic group's charge that Sessions "held at least two fundraisers at adult-themed clubs and made no apologies."
Half True; Sessions held one fundraiser in an adult-themed venue and another in a restaurant separated from its nightclub featuring nearly nude dancers.
See Sessions' full Truth-O-Meter report card -- which includes a check of David Axelrod -- here.