Mailbag: 'What is this – something like the immaculate immigration?'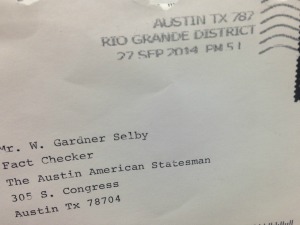 As the election year warmed up -- remember the Republican primary runoffs? -- readers found fault in fact checks.
For instance:
A reader objected to our rating Mostly True an April claim by Julián Castro, then San Antonio's mayor, that up "to 45 percent" of illegal immigrants "are not people that physically crossed the southern border or northern border. They are visa overstayers."
"I think the statement by Julián Castro" that immigrants staying in the U.S. "'are not people that physically crossed the southern or northern border' is impossible, thereby making it FALSE. How does one get into this country, legally or illegally, without physically crossing the border? What is this – something like the immaculate immigration? I would have judged the statement at best Mostly False."
Another challenged our rating Pants on Fire a Greg Abbott claim that Wendy Davis raised money for a U.S. House Democrat who is a member of a Democratic socialists group. Davis had appeared at a fundraiser for Rep. Jan Schakowsky of Chicago.
The reader said our "conclusion regarding the Abbott claim that Davis spoke at a socialist gathering---was an example of your status as an apologist for Democrats. (Eugene) Debs, (James) Harrington and Norman Thomas were self-proclaimed socialists. Maybe Schakowsky wasn't a card-carrying or dues-paying member, but she was actively involved in their activities, including speaking engagements. It isn't a stretch to assume that Davis shared some of the DSA's and Schakowsky's philosophy… The next time you write a column, ask yourself the question: How would I evaluate this if I were a Republican? Then, somehow, rewrite it with a moderate tone."
Another reader, also critical: "If it quacks like a duck, it is a Schakowsky. Why do you continue to make disingenuous pontifications dressed in sheep's clothing? It portrays you as spouting incredulity and it misinforms the public (although it may be technically correct). Pure lameness."
One reader marveled at our explorations of claims by Dan Patrick and David Dewhurst leading to their runoff for the Republican lieutenant governor nomination: "I keep being reminded of that pithy and cutting remark made by Mary McCarthy to Dick Cavett when asked about Lillian Hellman: 'I said once in an interview that every word she writes is a lie, including 'and' and 'the.'" The reader added: "Even given that political campaigns are not, and should not, be beanbag, this one will go down in the annals of sleaze and immediately vault into the lowest of the low hall of fame."
Another reader expressed discomfort with our research into proclaimed teacher union contributions to Davis' campaign: "In discussing whether the tweet of the Republican Party of Texas was correct about contributions to the Wendy Davis campaign from teacher unions, you did a good review of contributions from various organization associated with teachers. However, you never sought to clarify that the term 'union' was misleading. Which can only mean one thing: you intended to perpetuate the conservatives' tagging of Wendy Davis with the 'friend of unions' label. And yet I'm sure you realize that teachers are not unionized in Texas."
Another reader had an idea for print editions of our parent newspaper, the Austin American-Statesman: "I would like to see a scorecard published periodically that shows how some of our prominent local, state and national politicians' statements stack up against the facts and the truth. It would be easy to see how often many of these folks are stretching or ignoring the facts."
We promise to share more reader mail soon. Stay in touch!