Five years of truths and not-so-truths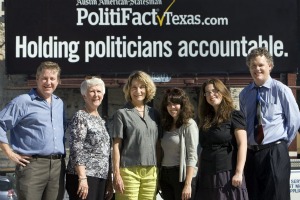 Know what Marc Katz, Farouk Shami, Barbara Ann Radnofsky, Kay Bailey Hutchison and Rick Perry have in common?
It's not philosophy, and, no, it isn't eventual obscurity, you troublemaker you.
Five years ago, each then-candidate made a curious factual claim. On Jan. 12, 2010, our fact checks of those claims — the Truth-O-Meter ratings ranged from Mostly True (not bad) to Pants on Fire (oof) — launched the Austin American-Statesman's PolitiFact Texas, the first state-level fact-checking arm of the Pulitzer Prize-winning PolitiFact.com.
Nowadays, PolitiFact also has spinoffs in Florida, Georgia, New Hampshire, Rhode Island, Virginia and Wisconsin. Here in Texas, we've now fact checked more than 1,000 political claims, and you can read all those fact checks on our site -- and we also provide web links to supporting evidence with each article. You may also click on the names of the people we've fact checked and see their Truth-O-Meter records.
Notably, we've checked about 150 statements by departing Gov. Perry, some of them from his bid for president. More than half of his claims have come out Half True or better. We also tracked the status of Perry campaign promises on the Perry-O-Meter. Incoming Gov. Greg Abbott stands to get his own promise meter soon, and the new mayor of Austin, Steve Adler, is landing one as well.
Readers can get hot about our findings; that's welcome. Email us here or comment on Twitter of on our Facebook page. We also encourage anyone to point out a claim that might bear scrutiny. The other day, a reader launched us into checking a declaration that lower fuel prices were tantamount to a 2 percent pay raise for taxpayers; Mostly True, we found.
The reader responded: "Very happy subscriber!"
Time for cake! Thanks for reading.