Texans legislating about permitting clergy not to perform gay marriage ceremonies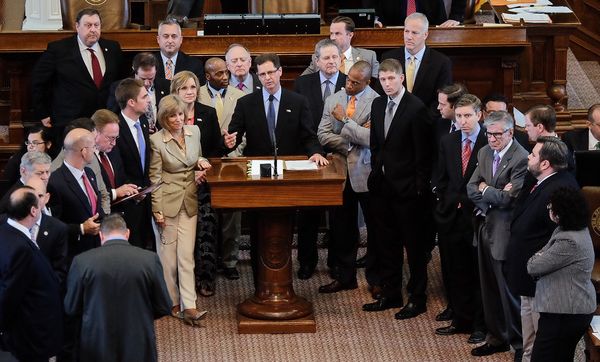 In April, we found Mostly True a declaration by Apple Inc.'s ceo, Tim Cook, that legislation "being considered in Texas would strip the salaries and pensions of clerks who issue marriage licenses to same-sex couples — even if the Supreme Court strikes down Texas' marriage ban later this year."
Cook fairly summarized House Bill 623, filed by state Rep. Cecil Bell, R-Magnolia. But clarification was missing in that the proposal wasn't "being considered" by lawmakers either when Cook spoke or when we completed our review. Like a lot of bills, HB 623 awaited legislative attention.
That proposal, legislative records indicate, never did make it out of a House committee.
On the other hand, Texas House members this week almost unanimously approved legislation pitched by proponents as necessary to protect clergy from performing gay marriages if that's not their preference.
Austin Rep. Celia Israel, a Democrat, urged colleagues to vote for Senate Bill 2065, carried by Rep. Scott Sanford, R-McKinney, which protects a religious organization or affiliated individual, such as a member of the clergy or officiant, from being sued if he or it refuses to perform a same-sex marriage.
Israel said she will one day marry her longtime lesbian partner in Texas. She said pastors who don't support their union shouldn't worry about her trying to get them to conduct the ceremony. SB 2065, Israel argued, would ensure that a clergy member that wants to support the ceremony can.
The 141-2 vote occurred after proponents said the protection would not extend to individuals in their official capacities as elected officials.
The proposal headed back to the Senate. See news accounts of the action here, here, here and here.