George W. Bush and the (olden) Truth-O-Meter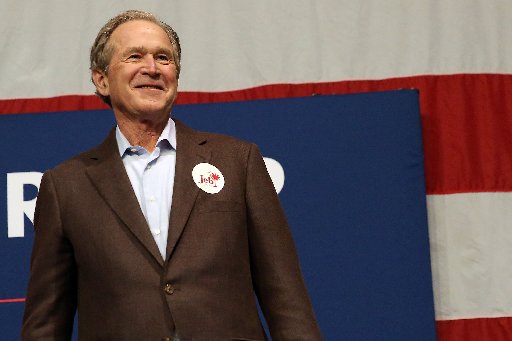 We didn't hear a curious checkable factual claim in President George W. Bush's call for South Carolina voters to support his younger brother, Jeb, for president. How about you?
But seeing the former Texas governor afresh reminded us that he was toward the end of his White House years when the Tampa Bay Times debuted PolitiFact in 2007.
You may be surprised to learn that few of W's claims were fact-checked. PolitiFact's focus at inception was on the various aspirants to succeed him.
Then again, Bush's actions and statements often came up in Truth-O-Meter articles.
Most recently, commentator Rich Lowry said last May that when Bush was president, someone wrote a book saying he was intent on leading a fascist government takeover. That's TRUE: Lowry was referring to a 2007 book by Naomi Wolf called The End of America: Letter of warning to a young patriot. The book uses events during the Bush administration and compares them to events that happened in the build-up of totalitarian regimes around the world. And in an interview in the run-up to the 2008 presidential election, Wolf said a coup was underway and that Bush may declare martial law and prevent the 2008 election.
In November 2013, Texas Sen. Ted Cruz said: "Under President (George W.) Bush, prosecution of gun crimes was 30 percent higher than it is under President Obama." MOSTLY FALSE: It's possible to get a decline that big by cherry-picking the data, but the most inclusive method actually produces an increase. Cruz also overstates the role of the president in determining prosecution rates.
Way back in 2007, Hillary Clinton charged "that under President Bush, the National Institutes of Health have been basically decreased in funding." FALSE: Regardless of which years you choose to compare, or whether the numbers are adjusted for inflation, such funding went up on Bush's watch.
Peruse all PolitiFact's compiled claims about the George W. Bush administration here.
Scroll through each of the checked Bush claims.