Did Texas House protesters hold signs declaring 'selves illegal immigrants?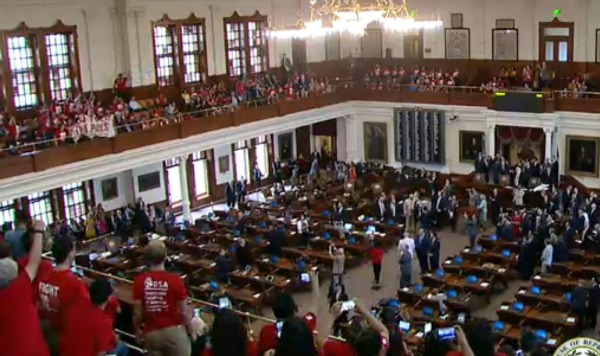 Just after protesters in the Texas House shouted objections to a pending state law targeting unauthorized immigrants, state Rep. Matt Rinaldi approached Latino colleagues on the House floor and said he'd reacted by alerting federal immigration authorities.
As the 2017 regular legislative session came to a close on Memorial Day, the Irving Republican followed up the raucous moment — recapped in news stories here, here, here and here — with a Facebook post stating in part: "I called ICE on several illegal immigrants who held signs in the gallery which said 'I am illegal and here to stay.'" ICE refers to U.S. Immigration and Customs Enforcement.
His post:
That night, a reader asked us to check if such signs were waved by the red-shirted objectors to Senate Bill 4 who jammed the multi-rowed gallery looking down on the House floor.
Gov. Greg Abbott signed that proposal, intended to keep local governments from shielding immigrants from deportation, into law on May 7, 2017. It takes effect Sept. 1, 2017.
Rinaldi offers no backup
Seeking factual elaboration on the signs Rinaldi described, we repeatedly reached out to him, not hearing back.
Ultimately, our reviews of photos and videos taken inside the House chamber, by the House and others, didn't uncover any signs with the described declaration though, we concluded, that didn't prove no such signs were flashed. After we posted this story, too, we learned that Rinaldi gave interviews three days after putting up his Facebook post in which he said he saw signs causing him to call ICE before he entered the House chamber that day. See more on those interviews here.
Legislators with different recollections
At the outset, our probe of what Rinaldi said in his Facebook post led us to interview a couple legislators about Rinaldi's claim--one who affirmed what Rinaldi said, the other having no recollection of such signs.
Rep. Jonathan Stickland, R-Bedford, told us by phone he and a few other members saw a poster-board sign with the message described by Rinaldi. "It all happened pretty fast," Stickland said. "There were a number of us talking about it as we saw it" and, Stickland said, those observations occurred before Rinaldi called an ICE tip line.
A Democratic House member, Diego Bernal of San Antonio, said by phone that he didn't recall seeing the signs Rinaldi cited. Bernal said he did see large signs that referenced SB 4 directly that were held up by several people. Bernal also said that when Rinaldi explained to colleagues that he'd called ICE, he didn't say it was because he saw people holding signs that said they were "illegal and here to stay."
Searching photos and video
Next, we scoured for photo evidence of signs shown in the House gallery during the demonstrations.
Around 48 minutes into the day's session, according to House video of the day's proceedings, House leadership called on officers to clear the gallery. A look at the House video didn't uncover any such sign though we recognized too that none of the materials had a 360-degree view of the entire protest--so it seems possible Rinaldi saw signs not captured on camera.
Here's what we came up with:
— Video from United We Dream, which helped organize the demonstrations. At the 1:25 mark, a chant began of "Here to Stay."
— A photo within an online album emailed to us by a United We Dream communications staffer, Chris Valdez, of a woman holding a sign stating: "Daughter of Immigrants - Unapologetic and Here to Stay." From the photo, it looked to us like she wasn't in the House gallery.
— Another photo in the same album sent by Valdez of a woman, perhaps standing in the Rotunda, holding a sign that read: "We are here to stay," with cartoon drawings of five different people.
— Another photo of a red sign that read: "No Hate, Texas Immigrants are Here to Stay."
— Video from CBS Austin, which at the 4:48 mark shows a black-on-white hand-lettered sign held aloft in the Rotunda, stating: "I'm Here to Stay."
— Video from the Texas Observer. Around the 26:01 mark, a sign in the background in the Rotunda, stating (possibly in part): "Here to Stay."
Organizer describes banners
Among individuals we reached who said they were at the Capitol during the protests, Sheridan Aguirre, communications coordinator for United We Dream, said by email that there were "no signs that said 'I am illegal and here to stay.'"
Aguirre said the group otherwise had banners including these messages:
• See you in court
• See you at the polls
• Here To Stay in TX and USA
• (Outline of Texas) Here To Stay
Aguirre said participants' red shirts said: "Fight Back, No SB4."
No confirmation from newspaper photographer
We also emailed Nar Dorrycott, chief of staff for Rep. Ina Minjarez, whose video of the scuffle on the House floor was linked in a Texas Tribune article, but didn't hear back.
San Antonio Express-News photographer Jerry Lara looked through his photos from that day and only recalled seeing signs that said "Here to Stay." We also checked with three other photographers present that day but didn't hear back.
No Truth-O-Meter ruling
Summing up: Rinaldi said he called ICE after seeing "several illegal immigrants" holding signs in the gallery stating, "I am illegal and here to stay."
Signs saying "Here to Stay" were present, we find, but we didn't confirm that anyone held a sign calling himself or herself an illegal or unauthorized immigrant.
Because the absence of photo evidence doesn't mean there wasn't such a sign, however, we're not rating the accuracy of Rinaldi's statement.