Dan Patrick: PolitiFact 'just wrong' about tax-savings claim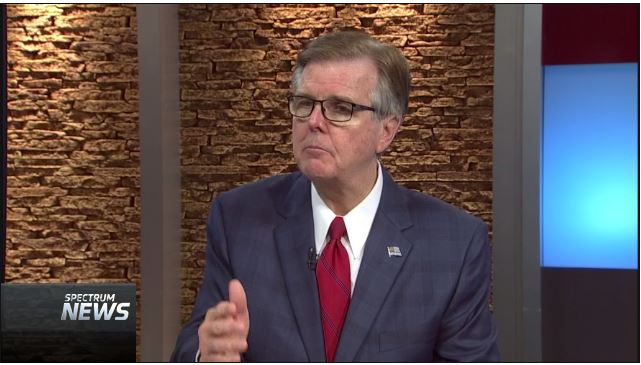 Dan Patrick, saying reporters "don't understand basic math," says PolitiFact Texas erred in finding his recent tax-savings claim incorrect and ridiculous.
In a Tuesday interview on the Capital Tonight program, which is cablecast by Spectrum News, anchor Karina Kling asked the Republican lieutenant governor about the Pants on Fire rating we bestowed May 23 on Patrick's claim that Senate Bill 2, which would make it easier for voters to roll back city, county and special district tax-rate increases, would "save the average homeowner in Texas $20,000 a year over the next 20 years or so."
In our ruling, we found Patrick's amended description of $20,000 in savings for an average homeowner through 20 years to be unrealistic because the figure presumes that affected governments would annually maximize tax rates, which hasn't been the pattern of late. From our ruling: "To reach that" $20,000 "amount, one must assume that every city, county and special taxing district will raise tax rates by 8 percent every year without this legislation in place and by 5 percent a year with it. Neither assumption is in line with recent history, making the total savings figure highly suspect, at best a wild guess."
Patrick told Kling: "They're just wrong." He added: "I can't help it if a couple of media writers don't understand basic math and compounding interest. They're wrong, we're right." (Watch the full interview here.)
Gov. Greg Abbott has said he'll soon share whether he's calling a 30-day special legislative session. Patrick has said he hopes the governor includes property-tax reform like SB 2 and legislation governing bathroom choices in the session's call.
Patrick, responding to Kling, said of the fact-check's findings: "Look, they're just wrong."
He went on:
"Let me tell you what, the media that has come out and said that the bill that we passed, Senate Bill 2, would not save, and we said the average homeowner $20,000. Some would save less, some would save a lot more, depending on the cost of their house.
"But today--look, this is common sense, if today governments can grow 8 percent and we cut them to 5 percent, well that's a significant reduction on compound interest. And I can't help it if a couple of media writers don't understand basic math and compounding interest. They're wrong, we're right. Depending on the size of the home you have and the price of your home, you will save a little less or a little more."
Patrick didn't say, but we'd guess his reference to "media writers" folded in Ross Ramsey, executive editor of the Texas Tribune. Ramsey's May 19 news analysis said the predicted $20,000 in savings from SB 2 ties to "two unproven assumptions: That local taxes are growing 8 percent per year, the highest rate allowed before a rollback election can be called; and that if the law passes, they'll rise 5 percent per year, the new maximum." That's "highly unlikely," Ramsey wrote.
It looks to us like Patrick is standing by math presented in charts that we noted in the fact-check. We found no flaws in that math. It was the tax-rate assumptions behind the math that lacked factual footing.
Kling pressed Patrick on this aspect, pointing out that the $20,000 savings figure assumes "that every time," entities affected by the legislation will levy the maximum-allowable tax rates.
Patrick replied: "There are a lot of assumptions, a lot of assumptions. There are assumptions what will the tax rate be. Will the local counties and cities reduce their tax rates? There are a lot of issues involved in there. That's why I said the average. Every homeowner, like today, every homeowner's property taxes are different depending on where they live, what the rate is, what the increase of growth.
Patrick further said: "Here's the bottom line: The people in Texas understand their property taxes are too high and keep growing. And it's common sense that if we cut growth from 8 percent a year, which they can grow at a minimum today, down to 5 percent or even less, then property taxes are going to go down."