Texas Democrat says half of Hispanic college students rely on Pell grants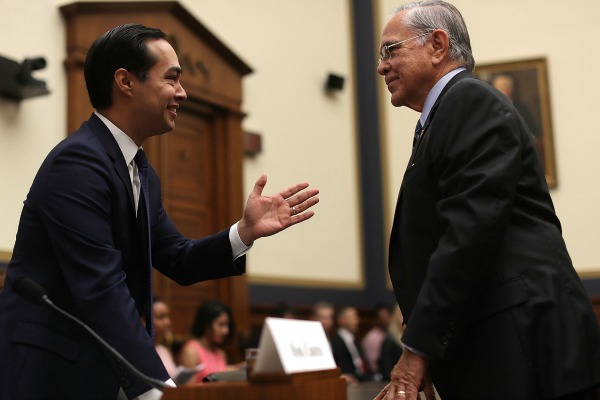 Proposed education appropriations legislation from the Republican-controlled U.S. House would cut Pell Grant funding in fiscal 2017 by $1.3 billion to $21.1 billion.
Despite the overall funding cut, Pell Grant maximum amounts are due to rise in the 2016-2017 award year to $5,815 from $5,775 in the 2015-2016 award year. Pell Grants, started by Congress in 1972, are awarded to financially needy students who haven't yet earned a bachelor's or professional degree.
The proposed funding "cut" is because some -- like Rep. Tom Cole, R-Okla., who chairs the House subcommittee that drafted the legislation -- says the Pell Grant program has been running a surplus for years and that money would be better spent elsewhere.
Yet the proposal drew rebukes from education groups and more than 100 Democratic members of Congress. While there is a $7.7 billion surplus in Pell dollars, Kelly McManus of the Education Trust, a Washington-based group focused on academic achievement by students that has registered opposition to the proposed reductions, said that money should be devoted to providing grants to more students.
Opponents of the proposed cuts include retiring U.S. Rep. Ruben Hinojosa, D-Mercedes, who tweeted in June 2016:
"50% of Hispanic students count on Pell Grants to pay for college: 1.usa.gov/1WNY90D #ProtectPell https://twitter.com/USRepRHinojosa/status/743577402299777024"
We wondered if Hinojosa got it right that half of Hispanic students lean on Pell Grants for college.
Emails to his office went unanswered. But a web search led us to a 2011 report by Mark Kantrowitz, author of "The Distribution of Grants and Scholarships by Race," a report tracking Pell Grant distributions by race and ethnicity based on data collected for 2003-04 and 2007-08 about how students and their families paid for postsecondary education. According to the U.S. Department of Education, the National Postsecondary Student Aid Study (NPSAS) is conducted every three to four years by the National Center for Education Statistics (NCES), which draws on administrative records plus parent and student interviews
At the time of Hinojosa's tweet, Kantrowitz told us by email, the most recent available data were from 2011-2012. Otherwise, Kantrowitz advised, data covering 2015-16 will available in 2017.
So, what do the latest numbers show about the share of Hispanic students getting Pell grants? According to the 2011-2012 NPSAS data, 50 percent of Hispanic undergraduates received a Pell Grant that year; the average award to those students was $3,500.
At our request, Kantrowitz did his own analysis of the 2011-2012 counts of grant recipients using race/ethnicity -- setting aside foreign students -- and looking at all recipients of a federal Pell Grant during 2011-2012.
Kantrowitz told us: "50.8% of students in the Hispanic or Latino category received federal Pell Grants, compared with 33.7% of students in the White category and 62.7% of students in the Black or African American category. If I group together all the minority students, 53.7% of minority students received Pell Grants."
In recent years, the share of Hispanic students drawing the grants has surged, according to a custom report compiled by the National Center for Education Statistics for PolitiFact that showed Hispanics, excluding Puerto Rico, had sat in the mid- to high-20s for percent with Pell Grants through the 1990s. The biggest jump was between 2007-2008 and 2011-2012, when the number of Hispanics receiving the grants increased from 35.7 percent to the 50 percent mark.
Wondering why the percentage of Hispanic students getting grants has surged, we reached out to Deborah A. Santiago with Excelencia in Education, a D.C.-based nonprofit organization that says it "accelerates Latino student success in higher education."
Santiago said by email that the increase in Hispanic students receiving grants tracks with a 30 percent increase in Hispanic enrollment in higher education between 2008 and 2012. That spurt, Santiago said, included a 4 percent uptick in Hispanic enrollment in four-year institutions, which are typically more costly to attend than two-year schools. Santiago agreed too that the Great Recession helps explain the increase "since incomes decreased and more who could not find jobs enrolled in higher education," she said.
And did other ethnic groups experience similar spikes?
Black students did. Per the NSPAS data, nearly 62 percent of such students got grants in 2011-12 compared with 46 percent in 2007-2008.
The figures show that in 2011-2012, 33.5 percent of white students received Pell Grants valued at an average of $3,300, while 61.9 percent of black undergraduates received Pell Grants at an average of $3,400 per scholarship. About 34 percent of Asian/Pacific Islander undergraduates had Pell Grants at an average of $3,800 each -- but they also had the highest average price of attendance at $20,000.
But Hispanic Pell Grant recipients had the lowest rate of student loans, with only 50.1 percent having student loans compared to 64.7 percent of white Pell Grant recipients and 65.8 percent of black grant holders.
Our ruling
Hinojosa said "50% of Hispanic students count on Pell Grants to pay for college."
According to federal figures, 50 percent of Hispanic undergraduates received the grants for 2011-2012, the latest year for which figures were available.
We rate this statement True.
---
TRUE – The statement is accurate and there's nothing significant missing. Click here for more on the six PolitiFact ratings and how we select facts to check.
https://www.sharethefacts.co/share/7758e89e-1c31-4343-a227-1b065826032f