Annie's List: Men hold 80 percent of 'lawmaking power' in Texas Legislature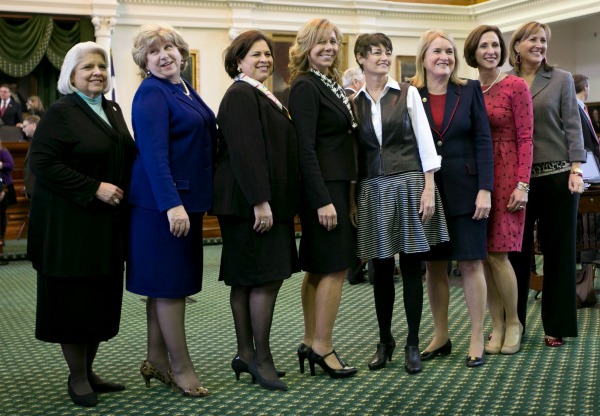 Annie's List, a group that tries to elect progressive, pro-choice women in Texas, sees a lacking in your Texas Legislature: "Although Texas is one of America's largest and most diverse states, and even though men comprise 49% of the population, they hold 80% of the lawmaking power in the Legislature (144 of 181 seats)."
Note: When all seats are filled, the state Legislature has 181 members, including 31 senators and 150 Texas House members. Edith Wilmans of Dallas, elected to the House in 1922 before losing re-election two years later, was the state's first female legislator. In 1926, Margie Neal of Carthage proved the first woman elected to the Texas Senate, where she served until 1933.
But women did not hold more than a few legislative seats until the 1980s. The Legislative Reference Library's listing of women members shows that the 70th regular session, in 1987, included 21 female House members and four women in the Senate. From then, the number of female House members escalated -- reaching a record 38 members in 2009 and dipping after that -- while the number of female senators stayed in the low single digits until the 2007 session began with five female senators; that body has had a record eight females since 2015.
So, is male dominance just as Annie's List declared in a November 2016 press release?
Let's first consider the group's contention about the minority status of men in the state's population. We turned to the Texas Demographic Center at the University of Texas at San Antonio, which says in its latest available estimate that the state's total 2014 population of 26.9 million people broke out to 13.4 million men (48 percent) and 13.5 million women (51 percent).These estimates, which are posted on the center's website, are the product of baseline projections from the 2010 Census population of each county.
Second, we checked the Legislature's makeup. Given the somewhat fluid nature of its membership -- some lawmakers retire, others are defeated -- we looked first at its composition on Jan. 13, 2015, the first day of the 2015 regular session.
Membership by Gender of 84th Legislature, Jan. 13, 2015
| | | | |
| --- | --- | --- | --- |
| Gender | House | Senate | Total |
| Male | 120 | 23 | 143 |
| Female | 28 | 8 | 36 |
| Total | 148* | 31 | 179 |
Expected Membership by Gender of Newly Elected Texas Legislators, Jan. 10, 2017
| | | | |
| --- | --- | --- | --- |
| Gender | House | Senate | Total |
| Male | 15 | 0 | 15 |
| Female | 7 | 1 | 8 |
| Total | 22 | 1 | 23 |
Members by Gender of the 85th Legislature, Jan. 10, 2017
| | | | |
| --- | --- | --- | --- |
| Gender | House | Senate | Total |
| Male | 121 | 23 | 144 |
| Female | 29 | 8 | 37 |
| Total | 150 | 31 | 181 |