Mostly False: Claim that as Texas mayor, Julián Castro got big referral fee from 'notorious' lawyer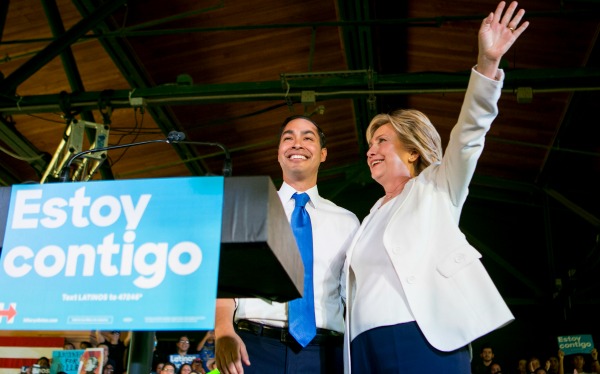 San Antonio golden boy Julián Castro shot to national attention as a possible running mate for Hillary Clinton.
Among observers, Republican consultant Matt Mackowiak, former vice chair of the Travis County Republican Party, wrote that Texas would be proud to have one of its own (even a Democrat) again serving as vice president. Then again, Mackowiak called the U.S. secretary of Housing and Urban Development and former mayor of the Alamo City "unquestionably unqualified."
"Perhaps most seriously," Mackowiak said in a July 2016 commentary published in the Austin American-Statesman before Castro fell out of consideration, "how Castro earned a living while serving as mayor will come under intense scrutiny. In 2009, his first year as mayor, Castro received a seven-figure referral fee from notorious personal injury lawyer Mikal Watts, a major Obama donor. What Castro did to earn this fee, which smells like a dirty financial gift from a wealthy trial lawyer to a sitting elected official, will receive a lot of attention — especially since Watts was indicted on federal fraud charges in 2015."
That sounds call-the-authorities seamy.
We sought to check the facts, confirming that Castro, who is a lawyer, once received a reportedly substantial referral fee from Watts. But the matter played out when Castro was in private practice, a couple years before he became mayor.
Castro and Watts
Timeline: Castro served as mayor of San Antonio from 2009 until 2014 when President Barack Obama picked him to join his cabinet. Prior to 2009, Castro was a San Antonio City Council member from 2001 to 2005, the year he lost his first bid for mayor to Phil Hardberger. It was after that loss that Castro worked as a trial lawyer in private practice and, news stories state, referred a client to Watts, a well-known San Antonio personal-injury lawyer.
More recently, as Mackowiak wrote, Watts was indicted for allegedly faking the number of clients he represented with claims against BP Oil after the 2010 Deepwater Horizon oil spill, according to an Oct. 21, 2015, San Antonio Express-News article, with some counts later dropped.
Watts also has been a major Democratic donor. A Nov. 5, 2008, Wall Street Journal news article says 10 partners, including Watts, raised $285,000 for Obama during this first run, with Watts personally contributing $28,500. The newspaper classified Watts as a "mega-bundler." (Bundlers for candidates are people who reach their individual contribution caps and then look to others to write checks to candidates, generating a big bundle.)
In 2012, Watts was listed as an Obama bundler by Open Secrets, the website run by the Center for Responsive Politics that tracks federal campaign contributions. According to the Express-News story, in July 2012 Watts hosted an event where more than 1,200 people paid $250 each to see Obama. Later that month, Watts hosted 75 guests in his home for a private, $35,800-a-plate Obama fundraiser.
Mackowiak cites 'seed money' story
We asked Mackowiak the basis of his seems-dirty-for-the-mayor "seven-figure" claim.
By email, he noted two articles, starting with a May 18, 2014, news story about Castro's rise in the Washington Examiner, a right-leaning weekly magazine and website.
That story doesn't say Castro fielded a big fee while serving as mayor. It does say the "seed money for Castro's time in the mayor's office -- he was first elected in 2009 -- was a controversial seven-figure 'referral fee' that Castro, a Harvard-educated lawyer, received from a well-connected trial lawyer and Democratic donor in a personal injury lawsuit in which Castro may or may not have played a major role."
After a 2006 accident left three people dead, the story says, a survivor chose Castro's law firm to represent him against the drunk driver of an oilfield services truck involved in the accident--and Castro referred the "case" to Watts and his larger firm. The story says Watts then "won the case, and a big award and Castro was paid a seven-figure 'referral fee' for bringing the suit to Watts' firm." The figure hasn't been disclosed, the story says, while Castro and Watts have said Castro "played an important role in the case."
An Oct. 22, 2015 commentary by Gilbert Garcia of the Express-News, also noted by Mackowiak, credits the "reported seven-figure referral fee" with giving Castro lasting financial stability.
San Antonio client: Castro 'a good lawyer'
Next, we found coverage of the described fee in Express-News news stories indicating that Castro indeed accepted a sizable referral fee from Watts--about two years before Castro won his first term as mayor.
The fee came up the first time in a front-page story published March 22, 2009, less than two months before Castro won election. At the time, per the story, Castro opponents questioned the sourcing of a $215,000 personal loan Castro had made to his campaign the summer before.
According to that news report, around Christmas 2006, members of a Mexico-bound San Antonio family died in a wreck involving a drunken-driving suspect. The father of the family, Enrique Mayoral, survived but lost his mother, wife and youngest son, the story said.
Mayoral told the newspaper that after the accident, he was besieged by lawyers trying to pick up his case -- some knocking on his door and offering cash -- but he liked the idea of hiring Castro, who seemed trustworthy and connected. Mayoral said he knew Castro through connections in the Edgewood neighborhood where Castro grew up, and when a close family friend suggested that Castro could help him, he took that advice.
Mayoral went on to say Castro led an active role in the case, attending attorney-client meetings and taking him to appointments because Mayoral, who had suffered a stroke two years earlier, was unable to drive. "He was a good lawyer and he knew the people who could help me in this case," Mayoral said. "He was always with me, right there. If I had a question, he got the answer. I was glad he was on my side."
The legal battle was expected to be costly since the drunken-driver suspect had been in a vehicle owned by an oilfield services company so, according to the story, Castro said he did what many small legal practices do by referring the case to a bigger firm and turning to Watts.
Castro told the paper he continued to help Mayoral's cause by working on his original court petition and doing background research, also joining mediation and settlement negotiations. The story said the fee was paid after the suit was settled in June 2007.
Undisclosed fee amount
The dollar amount of the fee isn't stated in any of seven stories we found and wasn't disclosed, several stories say, due to a confidentiality agreement. A judge, the March 2009 story said, sealed related records. Otherwise, then-mayoral hopeful Trish DeBerry-Mejia was quoted in the March 2009 article saying: "Mr. Castro professes to be a man of the people, but how many people have seven-figure referral fees dropped in their laps?" Later, according to an April 2009 Express-News story, DeBerry-Mejia (who didn't respond to our inquiry) said the fee was $1 million.
Our search for other relevant accounts didn't turn up anything and when we reached Watts, he said by phone he couldn't confirm the amount due to the confidentiality agreement.
We also didn't draw fresh comment from Castro. By email, a HUD spokesman, Jaime Castillo, told us only that the reported fee didn't relate to HUD business.
We reached out to Mackowiak to share that the fee he associated with Castro's time as mayor was evidently earned and paid years before. Mackowiak suggested the fee still proved vital for Castro to resume his political career, also saying: "If I got the year wrong, then I admit the error. If you think he 'worked' for that enormous referral fee, then you must also believe in the tooth fairy."
Our ruling
Mackowiak wrote that as mayor, Castro received a seven-figure referral fee that smells like a dirty gift from Obama donor and personal-injury lawyer Mikal Watts.
We find that Watts once paid a hefty referral fee to Castro's law firm--the amount undisclosed. Mackowiak's declaration that Castro shadily landed the fee while he was mayor, though, doesn't stand up.
All told, we see an element of truth about the legal referral, but Mackowiak was critically wrong about timing — a distinction that puts his statement in a different light.
We rate this claim Mostly False.
---
MOSTLY FALSE – The statement contains an element of truth but ignores critical facts that would give a different impression. Click here for more on the six PolitiFact ratings and how we select facts to check.