PAC: Austin plans to cut 27-plus car travel lanes to make way for buses, bikes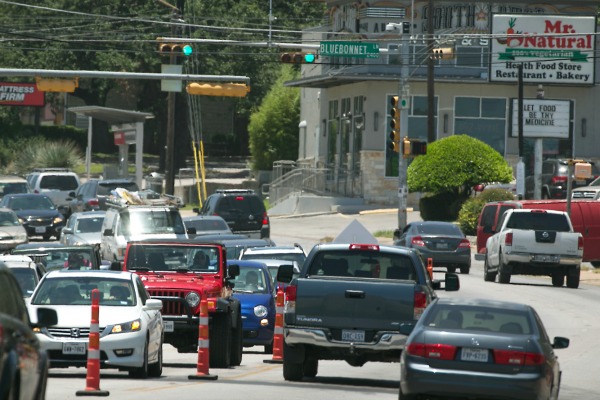 Advocates of a $720 million transportation bond proposal on Austin's November 2016 ballot say the proposed spending will ultimately relieve traffic congestion all over.
Yet a group opposing Proposition 1 warned that the plans touted by Austin Mayor Steve Adler entail handing over 27 miles of existing car lanes to buses and bicycles.
An ad from the Sensible Transportation Solutions for Austin PAC in the Oct. 23, 2016 Austin American-Statesman had this statement: "The mayor has promised that passage of this proposition will ensure a decrease in traffic congestion. How will the mayor's removing 27+ miles of traffic lanes around the city and replacing them with lanes dedicated to usage by bicycles and lots of increasingly empty buses help ease congestion?"
We wondered if all those lane removals are penciled in to make way for buses and bikes.
Travel lanes on stretches of major roads would be wiped out, we found, though more than half the reductions would make way for raised medians and turn bays—not buses—and, with the exception of part of Guadalupe at 24th Street, no lane removals are planned just to carve space for bikes. Also, the group didn't take into account car lanes that would be added with bond funding.
Group cites citizen's research
By phone, Michael Levy, the PAC's treasurer, told us he drew the count of 27-plus lost miles of traffic lanes from research by Roger Falk of the Travis County Taxpayers Association that focused on major city byways that would be affected by $482 million in the bond intended to reconfigure parts of nine "smart corridors."
The smart corridors: North Lamar Boulevard from U.S. 183 to Howard Lane; South Lamar from Riverside Drive to Ben White Boulevard; Burnet Road from Koenig Lane to MoPac Boulevard; Airport Boulevard from U.S. 183 to North Lamar; East Martin Luther King Jr. Boulevard from U.S. 183 to Decker Lane; East Riverside from Interstate 35 to Texas 71; Guadalupe Street from MLK to West 29th; and unspecified sections of William Cannon Drive and Slaughter Lane.
A note: Not all the identified changes would happen right off. According to an Oct. 23, 2016, Statesman Q&A, city studies aren't even complete for two of the corridors and the $482 million would cover only a quarter to a third of the corridor projects' total estimated $1.56 billion-plus price tag.
Another aspect: At least 14 travel lane miles would be funded by $101 million of the proposed bond spending limited to local street improvements, according to an Oct. 1, 2016, Statesman news story. Projects in this category, the story said, include three miles on Parmer Lane and congested roads in west and northwest Austin.
PAC's backup
To our inquiry, Falk emailed a document showing what he said he calculated based on city-posted smart corridor studies. All told, Falk's document indicates that one to two lanes on portions of seven major roads would no longer be available to car traffic, for a total 32.1 "vehicle lane miles removed." Some 4.4 lane miles would be "returned" in spots, the document says, leaving a net loss of 27.7 lane miles.
The document doesn't talk about removed lanes becoming bus or bike lanes nor does it take note of the car travel lanes that would be added outside the smart corridors, which wasn't considered in the PAC's count of lost lanes, Levy acknowledged by phone.
City and newspaper analyses
After we shared Falk's document with city officials, mayoral spokesman Jason Stanford said by phone the city's corridor plans actually show only 4.4 lane-miles of traffic lanes that would definitely give way to bus lanes--specifically, a lane in each direction on a 1.2-mile stretch of Guadalupe near the University of Texas and a lane in each direction on a one-mile portion of East Riverside Drive.
Meantime, Jim Wick of Move Austin Forward, a pro-proposition group, called to say Stanford had told him about our inquiry into the lanes-lost claim. By email, Wick said that by his calculation, city plans to replace two-way center turn (or chicken) lanes along parts of multiple corridors would lead to 14.8 lane miles getting replaced with raised medians. Wick said that another nine miles of the two-way center turn lanes on corridors have either already been taken up by medians or stand to be converted, under city plans, to left-turn "turning bays."
Stanford and Wick each said city plans don't call for any traffic lanes to be replaced by bikeways. Separately, Falk said by email he wasn't aware of any lane removals specifically planned to make space for bike paths.
On the other hand, the Oct. 1, 2016, Statesman story mentioned travel lanes potentially becoming bikeways under the city plans, the rationale being that bond-connected losses of travel lanes in each direction on a stretch of East Riverside Drive would partly be explained by the corridor plan's call for new bike lanes on top of new parking, wider sidewalks and bus-only lanes on the street. Also, some new bus lanes would be open to bikes too.
The story mentioned the addition of 14 miles of travel lanes that would be funded outside of smart corridors and said that roughly 15 lane-miles would be lost to through traffic in other spots, most of that to make way for buses.
Under city plans, the story specified:
--Three miles of East Riverside Drive would see one travel lane in each direction replaced by a bus-only lane while a 3.3-mile portion of South Lamar would see one lane become bus-only during rush hours and a lane in each direction on a one-mile part of Guadalupe would be replaced by bus-only lanes--which adds up to 14.6 lane miles.
--Some 20 center or chicken lane miles would be replaced by medians: 3.3 miles on South Lamar, 5 miles on North Lamar, 6.5 miles on Airport and 5 miles on Burnet.
By the newspaper's analysis, then, it looks like city plans call for up to 35 lane miles to be removed with more than half the removals (20 lane miles) making way for medians and the rest yielding space for buses only--including part of South Lamar having dedicated bus lanes during rush hours.
Stanford told us the newspaper's future bus-lane count ran high in that the rush-hour bus lanes on part of South Lamar are only to take effect "when supported by ridership," as the South Lamar corridor plan states.
Too, Stanford said, the story overcounted total traffic lane removals because the city intends to skip recommended short-term improvements on North Lamar between Parmer Lane and Howard Lane (about a one-mile stretch, we calculated using Google maps) that would eliminate a travel lane in each direction by putting in a center-turn lane. Instead, Stanford said, the city plans to leap to long-term improvements leaving in place two travel lanes in each direction and adding a raised median and separate bike tracks, per the North Lamar/Burnet corridor plan.
University of Texas expert
For another perspective, we asked Chandra Bhat, director of the University of Texas Center for Transportation Research, to assess the lanes-lost claim. Bhat told us that he reviewed some of the city corridor plans before concluding that the expected removal of center/chicken lanes will make way for medians and turning bays--not lanes for buses or bikes.
Otherwise, Bhat said, there are stretches such as part of Guadalupe for which the corridor plan indicates auto travel lanes becoming bus lanes. Bhat estimated such conversions could remove up to three-to-eight existing travel lane-miles in total, depending on engineering decisions. Asked to assess the PAC's full claim, Bhat said: "From all that I can see, I don't see how they could come up with that magnitude of reduction in auto lane mileage."
Levy: 'Hyperbole?'
Levy in a follow-up interview stressed by phone that motorists stand to lose more than 27 miles of travel lanes, plus or minus a couple, even if they're not mostly set to give way to buses or bikes. He said a future ad would specify the major streets likely to lose those lane miles.
"Was there hyperbole in the bike and bus" lane mentions in the ad, Levy said. "I was writing real fast."
Our ruling
The PAC said transportation plans linked to Proposition 1 on Austin's ballot remove "27+ miles of traffic lanes around the city," replacing "them with lanes dedicated to usage by bicycles" and buses.
About that many car travel lane miles stand to go away if the bond proposition passes. However, 20 removed lane miles would be converted from center-turn lanes to raised medians and turning bays—not bus lanes. Also unsaid: The bond proposal would support the addition of at least 14 lane miles open to car traffic outside the city's smart corridors.
We rate the claim Mostly False.
---
MOSTLY FALSE – The statement contains an element of truth but ignores critical facts that would give a different impression. Click here for more on the six PolitiFact ratings and how we select facts to check.
CORRECTION, 3:25 p.m., Oct. 27, 2016: After this fact check posted, Levy said we'd overlooked portions of city plans converting pieces of existing car travel lanes to make way for bicycles. We have amended the story, also removing a sentence stating that no lanes would be yanked to make way for bikes. These revisions didn't change our rating of the full claim.
https://www.sharethefacts.co/share/a53a0ab5-2f99-4ece-abbf-6804da3616b8